The House of Maliban created history by setting a new Guinness World Record by creating the world's Biggest Lemon Puff which today is the most popular lemon cream biscuit in the market at present. Maliban is the first biscuit manufacturer to achieve a such a great height from Sri Lanka.
The reason behind this ground breaking achievement was to commemorate the birth anniversary of the company's Founder Mr. A. G. Hinni Appuhami which fell on the 2nd of December and also to celebrate 50 years of exceptional service by the current Chairman Mr. A. G. R. Samaraweera (Founder's son).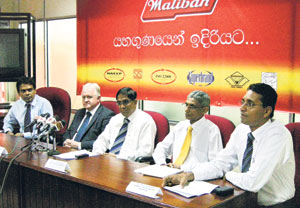 Seated from left Mr. Ravi jayawardena (CEO Sales and Marketing, Mr. Grahame Hackney the General Manager Flavour Division of UNGERER Ltd., Mr. D.L. Weerasuriya the CEO, Mr. Piyal Jayalath the Formulation and Recipe Manager, Mr. Hashan Haputhanthri Marketing Manager at the brief.
Mr. Samaraweera's 50 year service anniversary fell on the 29th of November this year and therefore both incidents are definitely causes of celebration and what better way to celebrate than breaking all traditional norms and enter to the Guinness Book of World Records.
The previous Guinness World Record for the largest cream biscuit was held by Executive Chef Paul Thacker and amateur biscuit master Simon Morgan of the United Kingdom for creating the biggest custard cream filled biscuit measuring 59 cm in length, 39 cm in width, 6.5 cm in height.
This record which was set on 18th November 2010 and was broken by reputed local biscuit manufacturer House of Maliban of Sri Lanka. The massive Lemon Puff created by the company stands at a final production size in length 7"5" (2260mm), breadth 3"9" (1143mm) and Sq.Metres 2.58 m2. This one of a kind biscuit can be served to 1012 persons.
This new achievement was announced to the public through a specials press conference held on the 09th of December 2010. Addressing the media gathering Mr. Piyal Jayalath the Formulation and Recipe Manager said, "We are indeed honoured to be able to mark our Chairman's 50th service anniversary as well as honour and commemorate our Founder's Birthday with an achievement of this nature. This was an idea by our Marketing Manager Mr. Hashan Haputhanthri who heads innovations and portfolio A which comprise SMART Cream Cracker. Also as an organization that has over the years become the household name of families throughout the island is proud to present to the world one of our most loved biscuit brands the Lemon Puff to set a new Guinness World Record."
Mr. Ravi Jayawardene CEO Sales and Marketing said that this achievement by the House of Maliban shows to the world that Sri Lanka being a small speck of a country has the ability and technology to create the world's biggest biscuit. He went on to say that this not only showed the strength and capabilities of the House of Maliban but also shows the innovative and trendsetting capabilities that the organization was capable of.
Adding his thoughts to this momentous occasion Mr. D.L. Weerasuriya the CEO said, "We have already won the hearts and trust of the Sri Lankan people. We are a brand that is loved by all segments of society irrespective of race and religion. This achievement however is the icing on the cake of our achievements."
A special invited guest to address the gathering was Mr. Grahame Hackney the General Manager Flavour Division of UNGERER Ltd. in the UK. UNGERER which was established in the year 1893 is one of the largest flavour manufacturing companies in the world and has been supplying flavours to Maliban for the past 30 years.
"Initially UNGERER commenced operations as a fragrance company where we provided a wide range of fragrances for the industrial markets which included shampoos, lotions and potions etc. At present we also manufacture flavours as well as essential oils. UNGERER is a family run business enterprise that is in its 5th generation of ownership and therefore offers a very friendly and family type of work environment for all.
| | |
| --- | --- |
| | |
| Mr. Grahame Hackney General Manager UNGERER Ltd. UK | Mr. Priyantha Amarasinghe Production Manager eats the Mega Biscuit |
We have been supplying Maliban flavours for the past 30 years and we are very honoured to have been associated with a prestigious brand such as Maliban who always demands the highest of quality from all its suppliers.
Maliban is the only local biscuit manufacturer that we supply our flavours to as we feel that the Maliban brand is one that has established itself in the market where quality always comes first.
Maliban Lemon Puff is a natural lemon cream biscuit comprising of natural lemon oils which has been the secret behind its success. Having become a brand that has dominated the market with regards to high quality the House of Maliban has and will always be a brand that is seeped in traditional values with the right balance of state-of-the-art technology, thereby becoming a brand name that all Sri Lankans will always respect and love.
It is a fact that Maliban Lemon Puff is undoubtedly the best Lemon Puff Biscuit in Sri Lanka.
Maliban Biscuit innovations hits the market to cater for the Season
House of Maliban, which is better known as the trendsetter and respectable innovator of the local biscuit manufacturing industry has launched three sensational products to the market, which are specially geared for the Christmas season.
Speaking to the Sunday Times Supplement Desk Mr. Hashan Haputhanthri Marketing Manager Said Maliban was known for innovations and set new trends by identifying consumer needs and wants. We simply follow the idealogy of our geat founder and the legendary Mr. A.G. Hinni Appuhamy's words as he said 'Make biscuits that are best in quality for our consumers, and also the visionary, leadership of our current Chairman Mr. A.G.R Samaraweera who believes, practises and has told us to treat quality and innovations as the religion. He further said Maliban Biscuits one of the few companies that have introduced seven new products during the recession period. Having identified that there is a demand for biscuit products that directly cater for festive occasions Maliban Biscuits has introduced new product offerings which are ideal for gift giving and parties.
'Strawberry Crunch' is at present only available in supermarkets and manufactured using natural strawberry flavours. This delicious biscuit is filled with strawberry cream and has the most tantalizing strawberry jam filled centres. This brand new product was mainly launched to better cater to the seasonal celebrations taking place throughout the country.
The other products which include 'Tea Time' and 'Gift Selection' are products that were already available in the market but have been revamped with a new seasonal splash in order to add to the festive cheer.
All three products are affordably priced at just Rs. 100/- per pack and are the ideal gift solution for those who want to celebrate the season in style.
Summing up the interview Hashan stated after indepth consumer research we introduce products. This indicated that Maliban Biscuits were aware about the changing needs of the consumers.