The Reverend Roy Henry Bowyer Yin, former Chaplain of S. Thomas' College, Mount Lavinia, passed away at his home in Singapore on December 14. He was 100 years old.
The Reverend Canon Roy Henry Yin, MA (Cantab), lived in retirement in Singapore and celebrated his 100th birthday on October 7, 2010. He was Chaplain and Director of the Choir of the Chapel of the Transfiguration, and also mathematics teacher at S. Thomas' College, Mount Lavinia from 1946 to 1962. Previously, he had served as Chaplain of King's College, Cambridge and Hurstpierpoint College, Sussex, England.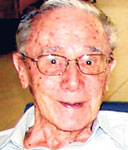 Rev. Roy Henry Bowyer Yin
He is best remembered for introducing Anglican choral music and the traditional Festival of Nine Lessons and Carols to S. Thomas' College. He was also responsible for initiating and approving the chapel mural of Christ's Transfiguration, which was realised by Sri Lankan artist David Paynter in 1967.
Roy Henry Bowyer Yin was born in Singapore in 1910 to a respected Chinese doctor and a British mother. He attended boarding school in Surrey, and later followed his older brother to Cambridge where he read mathematics and later law at King's College.
During his time in Cambridge he became a Christian and joined the priesthood, and on October 8, 1933, he was ordained a deacon; it was the first ordination to be held at King's College. At 23 years, he became chaplain of the King's College Chapel.
At the time, the Dean of Chapel was Eric Milner-White, and the Director of Music was the distinguished choirmaster Boris Ord, under whom Rev. Yin developed a lifelong passion for church music. Rev. Yin took this passion for music and the experience in choir training he had gained under Boris Ord to Hurstpierpoint College, Sussex, where he was Chaplain from 1937 to 1945.
It was after World War II, in December 1946, that Rev. Yin came to Ceylon and took up the post of Chaplain of "the school by the sea." He stayed with the school for 17 years, a period he later described as one of the happiest in his life.
Active well into his late eighties, Canon Bowyer Yin kept his routine of teaching Ordinary Level and Advanced Level students, attending church, and volunteering at a weekly Action for AIDS clinic.
He was often visited by former students, especially the S. Thomas' College choristers whom he had trained. He enjoyed recalling his times in Sri Lanka and life at S. Thomas'.
He never married but adopted a son, Peter Ang, one of his students at the University of Malaya, where he taught in the 1960s. In his later years, he was cared for by Peter Ang's son Andrew and his family.
Rev. Bowyer Yin's funeral was held on Friday, December 17, at St. Andrew's Cathedral, Singapore, where he had served as parish priest.
Two of the hymns sung at the service were compositions of Rev. Yin – "O Holy God, I Love Thee", which he wrote at the age of 25, and "Lord, Thou Hast Brought Us To Our Journey's End", a work that generations of Thomians have sung at end-of-term services. Reverend Roy Henry Bowyer Yin will be mourned and missed by old Thomians, who remember his care and concern for them and his legacy of mathematics and choral music.