The first load of imported coconuts are set to land in the country sometime before Christmas, with two Pettah traders given the 'go ahead' for this historic import, sans tenders and other related procedures, the Sunday Times learns.
Authorities sanctioned the hurried import after the price of local nuts continued to rise islandwide, with allegations that certain individuals were involved in hoarding and price fixing. Trade Secretary Sunil. S. Sirisena confirmed to the Sunday Times that the nuts imported from Kerala, will be in the local market as soon as the quarantine green light is given by the Agricultural Department, but added that he knew little of the purchasing price and the quantity imported.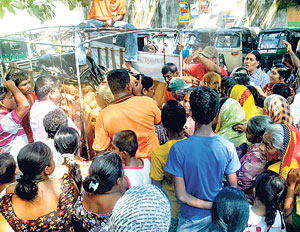 They all want coconuts: A truck load of coconuts sold at a lower price than the going price was besieged as it drove into the Pettah market last week. Pic by Saman Kariyawasam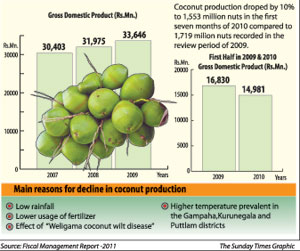 However, he said the nuts will be sold at between Rs. 25 and 30 depending on the size, and the two traders instructed to stay within this price range.
"The Government will not get directly involved in the import or sale of the coconuts, but has offered the State-operated wholesale and retail outlets, such as the co-ops and Sathosa for the traders to sell the stocks", Mr. Sirisena said.
He added that investigations carried out by the Ministry revealed that hoarding and price fixing by unscrupulous local traders had largely contributed to the prevailing coconut crisis, among other issues.
Newly appointed Minister for Coconut Development, Jagath Pushpakumara told the Sunday Times that, apart from price fixing and hoarding, the wide-scale destruction of prime coconut estates by private companies for property development was also another significant factor that has contributed to this crisis.
He added that there has also been a steep increase in demand, within the coconut oil industry, which is consuming a sizeable percentage of the nuts islandwide.
"For example, coconut oil production has risen to some 69,000 tons per year, compared with 37,000 tons some three years ago. An estimated 9,000 nuts are used to produce one ton of oil. Thereby, a large part of the production is going towards this end," he explained.
On the proposed import of coconuts, he said the Government has to be cautious about not harming local producers. On the other hand, he called on local producers to release their stocks into the market, affording relief to the consumers.
He further added that they were currently in the process of drawing up new legislation that will limit the clearing of coconut land for property development and other purposes. Coconut production also dropped by 10% to 1,553 million nuts in the first seven months of this year, compared with 1,719 millions nuts for the corresponding period in 2009.