A charitable trust has recently been established to promote the vision and ideas of the late Dr Ray Wijewardene, engineer, inventor and specialist in tropical farming. The Ray Wijewardene Charitable Trust will recognise and support innovation in sustainable agriculture, renewable energy, engineering and aeronautics – disciplines and pursuits that were close to his heart for over half a century.
It will also preserve his personal archives, and act as the sole guardian of the Ray Wijewardene brand name, and all that it stands for.
The Trust is planning a number of activities in the public interest. Among them are organising an annual memorial lecture, launching an award scheme to nurture young inventors, and publishing an illustrated biography. A website showcasing the life and accomplishments of Ray Wijewardene is also under development.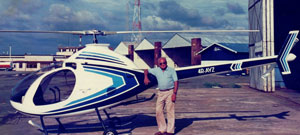 Ray Wijewardene with one of his home built helicopters
The charitable entity, incorporated under the Trust Ordinance, is governed by a Board of Trustees comprising the late scientist's family members, as well as some of his friends and associates. All of them are serving in an honorary capacity.
"Ray was an extraordinary Sri Lankan who had a clear vision for making Sri Lanka prosperous and self-reliant using our own brains, skills and natural resources," says Professor Malik Ranasinghe, Chair of the Board. "We who had the rare privilege of working with him now dedicate ourselves to continuing the pursuit of excellence, innovation and spirit of inquiry that characterised Ray's entire life."
The Ray Wijewardene Charitable Trust was conceived in response to the many tributes and appreciations that were published after his demise on in August 2010. These were written spontaneously by people from all walks of life, and from around the world – indicating the broad range of issues, sectors and networks of this multi-faceted man.
"Our father was a larger-than-life personality who left his mark in many and diverse areas of endeavour, from science and agriculture to higher education and sports. He worked with, and helped, so many people during his illustrious life. We want to ensure that his ideas are not diluted, and his name shall be used solely for projects authorized by the Trust," says Anoma Wijewardene, the eldest daughter and Trustee.
The Board of Trustees comprises: Professor Malik Ranasinghe, Vice Chancellor, University of Moratuwa (Chair); Anoma Wijewardene, daughter; Roshini Gooneratne, daughter; Mandy Mudannayake, daughter; Sunethra Bandaranaike, Chairperson, Sunera Foundation; President's Counsel Nihal Jayamanne; P. G. Joseph, renewable energy specialist; Nalaka Gunawardene, science writer; Vijaya Malalasekera, company chairman and director; and Lakshman Nugawala, agriculturist.
The charitable Trust will be seeking donations and corporate sponsorships to cover the cost of its activities in the public interest. It is also exploring mutually beneficial partnerships with relevant academic and professional bodies.
The Trust may be contacted through email address <trust@raywijewardene.net>, or at No 133, Dharmapala Mawatha, Colombo 7, Sri Lanka.
Ray the man
Dr. Ray Wijewardene was born in 1924. He was educated at S. Thomas' College Mount Lavinia, Sri Lanka, and Cambridge University, UK, where he studied three branches of engineering -- aeronautical, mechanical and agricultural. He also earned qualifications in business administration from the Harvard Business School, and later received three honorary degrees from universities in the UK and Sri Lanka.
In the 1960s, as the designer and promoter of the world's first two-wheeled (Land Master) tractor, Ray travelled all over Asia, Africa and Latin America working with tropical farmers. He later questioned the wisdom of trying to mechanise tropical farming, and dedicated the rest of his life to researching and promoting ecologically sustainable agriculture.
As a world authority on tropical farming systems, Ray worked for the UN Food and Agriculture Organisation (FAO) based in Kuala Lumpur, Malaysia, and with the International Institute of Tropical Agriculture (IITA) in Ibadan, Nigeria. He promoted a technique called Sloping Agricultural Land Technology (SALT), originally developed in the Philippines. This involved terracing of land, use of leaf mulch, and re-introducing perennial trees into rain-fed farming.
Returning to Sri Lanka in 1980, he continued experimenting with rain-fed farming, and agro-forestry on his coconut estate in the North-western Province. He also did field tests for dendro thermal power, the generation of electricity from firewood. This technology is now increasingly being used by industry. He also introduced inter-cropping gliricidia with coconut, vastly increasing coconut yields.
For decades, Ray worked closely with Sri Lanka's business, research and policy communities. He held various appointments as Chairman of the Tea Research Board, head of the Inventors Commission and a member of several public sector bodies concerned with agriculture, science and technology. He was Chancellor of the University of Moratuwa from 2002 to 2007. The government of Sri Lanka awarded him the highest national honours of Vidya Jyothi and Deshamanya for distinguished public service.
Ray was an outstanding sportsman who represented his country in sailing: he competed in the Mexico Olympics in 1968, and won a Silver medal at the Asian Games in Bangkok in 1970. As an aviator, he was licensed to fly fixed-wing aircraft, helicopters and autogyros. He also experimented with building and flying ultra-light aircraft and helicopters, and trained a generation of pilots and aircraft technicians. Ray was also an accomplished violinist and oil painter.