The recent media attention concerning the visit to Sri Lanka by the distinguished actor Sir Ben Kingsley (and Ben Cross, but he has no place in this account) to work on Chandran Rutman's 'Hollywood' A Common Ground, together with my simultaneous discovery of an obituary of the eccentric scriptwriter Anthony Greville-Bell, led to memories of the initial, aborted attempt to make Lester James Peries' The God King in mid-1973.
My father, a London physician, had a patient who was investing in a film production headed by an outrageous American, Ray Torin, which was to take place in Sri Lanka. That was how I wormed my way into the film industry. Given the all-encompassing title of production assistant, I was asked to meet the line producer and scriptwriter of The God King, Anthony (Tony) Greville-Bell, and his wife Ann, who was the art director, at their Earls Court house. Flushed with enthusiasm over their recent visit to Sri Lanka and with the project, they showed me some rather crude art department impressions of a Sigiriya film set and related a brief version of the Kassapa story.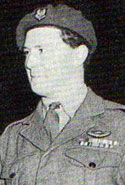 Anthony (Tony) Greville-Bell in a World War II photograph
Ann Greville-Bell, who worked mostly in the commercials industry, was unknown to me. But Anthony Greville-Bell's name was familiar as he had made a reputation for himself as the author of several rather off-beat screenplays containing distinctive black humour. For instance, I had already seen his memorable bank heist film, Perfect Friday (1970), directed by Peter Hall and starring Ursula Andress and Stanley Baker.
After the making of The God King, I caught up with the other film for which Greville-Bell is mainly remembered - Theatre of Blood (1973) directed by Douglas Hickox. In this deliciously ghoulish horror film, which perfectly reflects Greville-Bell's black humour of the time, Vincent Price plays a demented Shakespearean actor whose career is destroyed when the critics trash his performances. With the aid of his daughter (played by Diana Rigg), Price fakes his own death so that he may return incognito in order to take revenge on his critics. He does this by killing them off, one by one, basing the murders and his methods on the plots of the Shakespeare plays he knows so well. It's brilliant, Greville-Bell's major contribution to the history of cinema, and considered to be among Price's greatest work.
But Greville-Bell failed in his attempt to transfer the story of Sigiriya and Kassapa to the screen. During my first month in Sri Lanka in March 1973, I realized that all was not well with the script. Greville-Bell was still in the process of finishing it, and from Lester's personal comments to me it was clear that he was having a hard time reconciling himself to the style and characterization. Possibly the diverse influences of Senerat Paranavitana, Swami Gauribala and Manik Sandrasagra (the instigator of the project and producer) on Greville-Bell's understanding of Sigiriya had caused him temporary mental aberration.
"The screenplay turned out to be a cross between a Boy's Own Paper adventure story and 'Kassapa the hippie'", Lester lamented. "Kassapa was possibly on drugs and Sigiriya was an erotic, mysterious, hallucinatory centre. What we needed for this great Shakespearean tragedy was a Robert Bolt or Peter Schaffer. Greville-Bell had been brainwashed that this interpretation would be fashionable with the hippie generation. I pleaded for the Mahavamsa story, but out it went through a Galle Face Hotel window."
As far as I am aware, in all the publicity generated by Sir Ben's visit, no mention has been made of the fact that A Common Ground was not his first film work in Sri Lanka, although that prior work - on The God King of course - was never completed due to the initial collapse of the production. Ben Kingsley was to play the role of Kassapa. Nearly a decade would elapse before his appearance in Richard Attenborough's Gandhi, and apart from some notable stage performances with the Royal Shakespeare Company, his sole feature film credit was on Michael Tuckner's Fear is the Key (1972). So this opportunity occurred at the very beginning of his film career.
It was not just the script that was a problem. Many aspects of the production were cause for concern. A huge palace set at Anuradhapura was way behind schedule. Greville-Bell, as line producer, was becoming more and more exasperated by the delays and working conditions. He was as eccentric as his screenplays. Always attired in cotton shorts and T-shirt, invariably white, he had much energy but a short temper. We were aware there was a metal plate in his forehead due to a World War Two injury but little else of his military service was known. All his freak-outs (in the parlance of the era) were attributed to this plate.
So it was that we "plunged, half-dazed," as Lester described it, into the production of Sri Lanka's largest film. Ben Kingsley arrived and we left Colombo for Sigiriya. Overstretched and under prepared, the production was near collapse right from the start. Ben Kingsley went down with dysentery but bravely continued working, although a cadjan toilet had to be constructed for him on the summit. Then his wife and two children, who had accompanied him, also fell ill. The British actors, used to more ideal conditions, understandably became tense and introverted.
Greville-Bell took over the running of the production. The Anuradhapura palace set was still proving hard to finish, and this was beginning to enrage him, as he felt the delays were a personal insult to his wife. Having a partner on location, even a working one, can often lead to unexpected problems. It was obvious to everyone that he was rapidly running out of faith with the production and most of the people associated with it.
At this point in time, Manik Sandrasagra, the holder of the purse strings, realized how bad the situation was and that it would be sensible to let the film die an early death. He suddenly left Sigiriya for India, and before he jumped into the helicopter in front of the Resthouse, he came up to me and warned me the film was doomed.
Manik was proved right within days. Bills mounted up, the actors had the indignity of being locked in their hotel rooms and, to cap it all, Ann Greville-Bell was nearly injured when a local designer, unable to cope with her inflexible approach, tried to attack her with a sword.
"And then suddenly the storm broke," Lester reminisces. "Whispers of sabotage polluted the air. Could the Sri Lankans and British work together?" Greville-Bell certainly did not think so. He was convinced that the Sri Lankans and British worked under two different disciplines and that a film of this scope was not possible. And so, with Manik beyond contact in India, Greville-Bell took the unilateral decision to call off the production and issue the British actors with letters of termination. The God King had been killed off prematurely.
"The tragedy of it all," Lester observed, "was that Ben Kingsley left the cast. He was a superb actor and was mad about the role. It was upsetting for him when they decided to call a halt to the production." To add to the gloom, the first rushes had arrived from England. They revealed that Kingsley was "absolutely magnificent" as Kassapa.
It was around the time of Sir Ben's recent visit that I stumbled across an obituary of Anthony Greville-Bell from the London Times of March 28, 2008, with the title: "Soldier who cocked a snook at the Nazis and later became a scriptwriter." After reading it I was flabbergasted. Greville-Bell was a war hero, a member of the elite SAS (Special Air Services) who had displayed extreme bravery behind enemy lines despite serious injuries other than to his head, and had been an inspiration to those under his command. It was difficult to accept that this was the same person who had showed such poor leadership in the face of film production adversity.
"Soldier, scriptwriter, sculptor and amateur musician, Tony Greville-Bell enjoyed an intensely varied life," the obituary began. "Yet there was a strong underlying system in all he set about, of which his service in Italy with the 2nd Special Air Service Regiment is a fine example.
"As a Sapper officer attached to 2nd SAS commanded by William 'Bill' Stirling he took part in Operation Speedwell against railway lines in northern Italy carrying German reinforcements and supplies to the front.
"Two 'sticks' — each of two officers and five NCOs and men — were parachuted into the area near Castiglione on the night of September 7-8, 1943. The commander of the stick of which Greville-Bell was second-in-command dropped wide of the others and was not seen again. Greville-Bell took charge, despite having broken two ribs and damaged his back on landing. He sent Sergeant 'Tim' Robinson with two men to cut the Bologna-Prato railway, which they did, derailing a train in the process.
"Greville-Bell spent a day sorting out their explosives and then set off for the Bologna-Pistoia line. Progress was agonizingly slow. His log for the third day read: 'Walked again but in great pain, was finished after two miles. Decided on one more night's rest and if not able to keep up would send Daniels and Tomasso (his two companions) on without me.' On the fifth day, he noted: 'Head now normal. Went on to recce point for demolition.' He chose one on the Bologna-Pistoia line 150 yards inside a tunnel and blew it up with a train inside.
"He, Sergeant 'Bebe' Daniels and Parachutist Peter Tomasso went on to blow the track and derail a train on the Bologna-Prato line and cut another south of Florence. Fourteen days after their drop, their explosives exhausted, they began their long walk south to join the advancing 8th Army.
"Rations were also exhausted but on the eighteenth day they reached the villa of the Marchese Roberti at Fiesole, overlooking Florence. A sister of the marchese was a friend of Greville-Bell's family and she sheltered and fed the party for a few days until contact could be made with Italian partisans.
"The latter proved less aggressive towards their former German Allies than Greville-Bell hoped, but he stayed until he had gained enough strength to continue south. To mark 28 days in Italy, he and Sergeant Daniels went into Florence and drank some beer in a bar full of German soldiers. On the 30th day he, Daniels and two partisans blew a charge beneath a southbound train north of Incisa.
"Their 250-mile march south took the party along the mountain chain. Seventy-three days after their drop, Greville-Bell led Daniels and Tomasso through the German lines to safety. He was awarded the DSO [Distinguished Service Order] for his outstanding leadership and, in the words of the citation, "unfailing judgment in most difficult circumstances and inspiration to those under his command".
"Civilian life took him in a variety of directions, including to Sri Lanka where his father had worked as a tea planter before the war," the writer states and then proceeds to name his major films and, surprisingly, makes the mistake that Greville-Bell had actually worked throughout the production of The God King: "And he lived in Colombo with his third wife during the filming."
The obituary reveals that another art form in which he was adept was sculpture, which "had been an interest since his schooldays, and he returned to it on a commercial basis in the late 1980s. His work featured nude female torsos, children's heads and birds. His bronze of a wounded soldier being helped to safety by a comrade, mounted on Portland stone, stands in the SAS Garden of Remembrance."
The obituary fails to mention that Major Anthony Greville-Bell commanded a group of wartime reservists during the Malaya Emergency in 1952. Just 20 years later, having swopped his military uniform for his tropical film production attire, Greville-Bell, aged 53, was scrambling up and down Sigiriya several times a day, and I watched him leap from a moving train at Maho Junction. On reflection, he sometimes displayed the attributes of an SAS officer. I can imagine him daring to have a beer in a bar full of German soldiers.
My estimation of Greville-Bell after 38 years has changed radically. And I'm glad that Sir Ben made it back to Sri Lanka under more auspicious circumstances. The blip in the production of The God King has taken on new meaning.