Relationships, love, deadly mice and Edward Cullen were some of the subjects spoken about at the All Island Best Speaker Contest 2011. Organised by the Colombo Toastmasters Club, the 22nd annual event was held on Wednesday at the BMICH in which the five young finalists put their public speaking skills to the test.
Starting off the event was Arfath Saleem (21), a 2nd year student at SLIIT, whose chosen topic was 'The Wall'. Relating how he was discouraged from being different at a tender age and how it almost sabotaged his dream of becoming a rock star during his teenage years, he echoed Pink Floyd's anthem, asking the audience to pursue their passion and not be just "another brick in the wall". "It was a very challenging competition," said Arfath, adding "It was my dream to participate since the first time I saw the competition, three years ago. This year, I finally found the courage."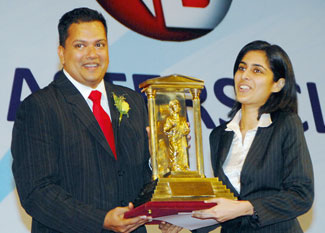 The winner Sabira Caffoor receiving her trophy
Next up was Niles Perera (23), a 3rd year undergrad at the University of Moratuwa. Speaking about 'The Special One', he went on to say that there are special people in our lives whom we should cherish. But that was after he shared his dream to be the manager of a popular football team. Niles who battled with stage fright while growing up says that being a member of the university's gavel club dispelled his fear and has shown him that he's in fact skilled in public speaking. "I wanted to take part because of the exposure I got from the gavel club and I wanted to see where I stood in public speaking and if I was up to the challenge."
Minoli Wijethunga, (19) an international relations student, addressed a controversial topic of making hard decisions regarding your loved ones. From putting a pet dog to sleep to euthanasia of a parent, she believes ending their suffering is more compassionate than selfishly allowing them to live in overwhelming pain. "The competition was extremely good and through the orientation programme we got to meet a lot of new people," she added.
Third time's the charm said, Gadjen Suryakumar as he spoke about his faulty relationships. Retelling comical events in his life regarding his relationships with people, he finally found one after a disastrous beginning. Having found his lost muse when he took up the challenge at the All Island Best Speaker Competition this year, he says, "I wanted to challenge myself. During the competition I met so many people from my past and all the contestants spoke on powerful topics."
Lastly it was the turn of Sabira Caffoor (25) who works at Commercial Bank in human resources, and is also the president of the Smedley Toastmaster Club. She spoke on the topic 'Dying to Live' and urged the audience to live life fully, making every moment count.
Once the prepared speeches were wrapped up the finalists were put to the real test of thinking on their feet. Given 20 minutes to prepare each finalist had to come up with an impromptu speech for the topic 'In the nick of time'.
Sabira Caffoor emerged the overall winner and took home the Bartleet Challenge trophy this year. Speaking about her achievement she says, "Winning the competition was fantastic. I just wanted to make it into the preliminary round, I didn't think I would be able to go for the semi's because of work commitments." Her term as president reaching an end this year, she explained why she wanted to take part. "I'm the president and would encourage others to participate I felt like a hypocrite.
So this year I signed up and actually won." Runner-up, Arfath, was thrilled he was awarded second place and says he owes it to his trainer and mentor Dhananjaya Hettiarachchi. Minoli Wijethunga came in third place with her variation from a controversial topic to much lighter impromptu speech romanticising about Edward Cullen.
The competition, from the inception, has been sponsored by the Bartleet Group with the intention of improving public speaking and encouraging Sri Lankans to improve their English speaking skills.
A journey from Dondra to Point Pedro to help cancer parients in the North
By Tahnee Hopman
Two years ago, Sarinda Unamboowe pledged to walk from Dondra Head to Point Pedro in the event of a long awaited end to the conflict.
On its own, the Northern Province of Sri Lanka is home to about 500-700 newly diagnosed cancer patients a year; and little did Mr. Unamboowe know that his statement would spark off a project which would touch the lives of these people.
Considering the steadily increasing number of cancer patients each year, and the inadequacy of facilities to treat these patients, 'Trail: A Journey by the Living. For Life' aims to bring together a large group of walkers to raise funds of US$ 2 million for a paediatric cancer ward at the Jaffna General Hospital.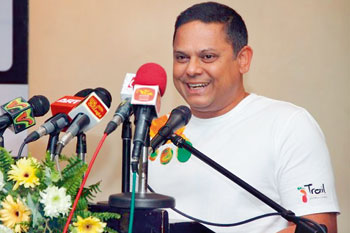 Sarinda Unamboowe addressing a news conference about the event
Organized by the Colours of Courage Trust- a not-for-profit organization dedicated to the development of infrastructure to treat cancer in Sri Lanka- the project is in line with the government policy to build multiple regional care centres for the treatment of cancer. It seeks to make a difference in the lives of hundreds of people who have for many years had little or no access to proper treatment and care.
"The situation in the north is extremely difficult," states Mr. Unamboowe, who is a trustee of Colours of Courage. "At present, there is a Radiation treatment facility situated at the Base hospital in Tellipalai which is 16 km away from the hospital in Jaffna. Here too, the treatment is limited. Patients in need of mammography, bone scanning and radio active iodine treatment are compelled to make the long, tough journey to the National Cancer Institute in Maharagama. The result is that in the process, they may have to deal with additional health complications."
Dr. Kanishka Karunaratne, Director of the National Cancer Institute in Maharagama lists leukemia and other blood cancers as the commonest forms of cancer found in the child patients of the region. "With the range of new treatments available and with the right care," he says, "at least 80% of these patients are able to make a complete recovery and lead normal lives again. The problem lies in the fact that a majority of children in the North, North Western, North Central and Eastern provinces do not as yet have access to this treatment."
In adult females of the region, the commonest forms of cancer detected are those of the breast, cervix, mouth, intestines and lungs, while males suffer most from cancer of the mouth, digestive system, lungs and prostrate. Accordingly, funds generated by the Colours of Courage Trust following completion of the paediatric ward will be used to aid the hospital during Project Phase I of the four project phases which involves building the Cancer Ward for Medical and Radiation Oncology. Currently the other project phases include Project Phase II: Special Investigation Unit, Phase III: Advanced Radiation Treatment Unit, and Phase IV: Surgical Oncology Unit which totals an outstanding Rs. 650 Million.
Commencing on July 1 at Dondra, 'Trail' will follow a route of roughly 680 km in 26 days, ending at Point Pedro. "What started off as a feat which would require the bare minimum to accomplish has now become a large project in which we have to give consideration to many factors. We are very grateful to the organizations that have become partners with us in this cause- MAS Holdings, Mobitel and Sri Lanka Tourism as our main partners and other key partners: Textured Jersey, A&E, Jetwing Hotels, Sri Lankan Airlines, HNB, DHL, Fedex, Ecologital, Words and Copacetic- this venture would not have been possible without them, as well as Mahela Jayawardene, Aravinda de Silva, Tillakaratne Dilshan, Angelo Mathews, Dilhara Fernando, Damayanthi Dharsha, Anuruddha Ratnayake, Manju Wanniarachchi and Anusha Kodituwakku for their support of the cause," says Mr. Unamboowe.
'Trail' will cover a distance of 25-30 km each day and is open to the public. Volunteers can join for either a three day period, a single day or through a city or town depending on their capabilities. Volunteers can also walk the complete distance, but the logistical facilities will be offered on a first come, first serve basis.
The organizers expect the walkers travelling the full distance to pledge to raise Rs. 200, 000, a segment walker to raise Rs. 30,000 and a single day walker to raise Rs. 5000. The project also calls on volunteers who are unable to physically join the cause, to participate in the journey as virtual walkers by donating Rs. 10,000 online at www.trailsl.com. "All proceeds," emphasizes Mr. Unamboowe, will go towards the construction of the ward. All administration and logistical costs are taken care of by the sponsors."
"This has been one of our most significant projects to date," continues Mr. Unamboowe enthusiastically, "and we have been absolutely blown away by the response we have received so far. It is a combined effort of many people, and it is something we are all very emotional about; cancer does not discriminate between race, age or gender, and I'm certain that the public in general would feel the same way about the cause."
Any walker wishing to participate should register at www.trailsl.com or contact 0713827025.
Fête de la Musique to rock Colombo
By Sanath Weerasuriya
Fête de la Musique, the annual summer festival, comes alive this year too on June 22 at the BMICH/BCIS from 4 p.m. onwards. Fête de la Musique is organized this year jointly by the Ministry of Culture and Arts, the Alliance française de Kotte and the Embassy of France. It will celebrate its 30th anniversary in 2011.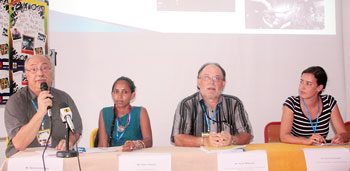 A news conference regarding the event
The afternoon will be dedicated to various Sri Lankan musicians presenting their work to the audience. The French school will inaugurate the event at 4 p.m., followed by the students of Alliance Française de Kotte and the Dance and Music group from the Art Department of the University of Kelaniya.
This year, the audience will have the opportunity to enjoy the French rock group MERZHIN. Renowned for their wild shows, the six musicians of Merzhin will be on tour in several Asian countries and will present their last album to the public of Colombo. Their music offers intricate rock melodies. After ten years of being on tour, more than 500 concerts and 200.000 albums sold, Merzhin continues in its path to international fame.
It's also the spirit of the Fête de la Musique to offer new possibilities, new experimentations like Hania, Natasha, Pabalu, Uvindu, Wade, Kumar and Christopherperforming together. The Ravibandu Vidyapathi Drum Ensemble will then take the stage with an original performance with pianist Sundarie David.
Stigmata will play at 8 p.m. inaugurating a night of rock! This metal concert will be followed by the explosive live performance of Merzhin.
Puppets come to town
In celebration of International Museum Day, on May 28, two exclusive puppet shows were held for over 400 HSBC Premier and Corporate banking customers at the Museum Auditorium in Colombo.
In keeping with this year's theme of "Museum and Memory" the show brought back memories of a bygone era of over 2000 years, when puppetry was the oldest form of performing arts.
HSBC's involvement with the Colombo National Museum dates back to 2004, when the Bank embarked on a refurbishment project of 10 historical galleries. Having undertaken two more galleries in its refurbishment efforts, the Bank also continues to maintain these galleries. HSBC has also been carrying out many awareness programmes to promote local culture and heritage with similar events being held each year to celebrate International Museum Day.
Primate expert to give next National Trust lecture
The next lecture of the National Trust - Sri Lanka, will be delivered on Thursday, June 30, by Dr. Wolfgang Dittus on the topic "The Evolution of Primate Society - The longest research conducted on this subject in Sri Lanka'. Dr Dittus is a Research Associate of the Smithsonian Conservation Biology Institute.
The event will take place at the auditorium of the Sri Lanka Institute of Tourism and Hotel Management, 80, Galle Road, Colombo 3 (opposite the Cinnamon Grand), commencing 6.30 p.m.
The lecture is open to the public.
Inter Church Pentecost rally for unity
Sri Lanka's first ever Inter-denominational Pentecost rally for unity will be held on Saturday, June 25 from 9 a.m. to 1 p.m. at the Cathedral of Christ the Living Saviour in Colombo. The rally is being organised by the Inter Church Fellowship.
The Colombo rally will include inter-denominational praise and worship with singing groups from all churches, messages from representatives of the churches and inter church fellowship. All are welcome.
Awarded Doctor of Philosophy by the University of Canberra
Chamara Chrishantha Peiris was awarded the degree of Doctor of Philosophy by the University of Canberra, Australia at the award ceremony on March 31 at the Great Hall of Parliament House, Canberra.
His thesis was titled 'A service centric model to evaluate cloud computing tipping points for ICT organizations'.
He obtained his Bachelor of Computer Science and Business Accounting degrees and holds a Master's in Computer Science and Information Technology from the Monash University in Melbourne. He is presently a senior consultant at the Microsoft company in Australia.
He has just published his tenth book 'The future of Information Technology and the software for the future of mankind'.
Chrishantha is the eldest son of Christopher Peiris, a retired senior bank manager and Shantha Meewella Peiris, a retired school principal of Mahaiyawatta New Town, Mulleriyawa New Town.
Mosque opening in Tokyo
Tokyo's As-Salam mosque built by the As-Salam Foundation representing the Sri Lankan Muslim community in Japan was declared open recently by Senior Minister A.H.M.Fowzie who is also in charge of Haj Affairs.
Indigenous Medicine Minister Salinda Dissanayake, Sri Lankan Ambassador Wasantha Karannagoda, As-Salam Foundation Chairman Mohamed Nazeer and Sheik Hussain Yee of Malaysia were also present.
Dilly's marks WED
Popular clothes boutique Dilly's celebrated World Environment Day (WED) with a demonstration on "Urban Agriculture" at Dilly's Distinct - Bullers Road.Dr. Vindhya Basnayake of the Plant Virus Indexing Centre, Homagama spoke on how one's favourite fruit, vegetable or flowering plant can be grown in your balcony or backyard, using recycled materials as a base.
Bata presents shoes to women's junior Hockey team
A ceremony to present Bata shoes for members of Sri Lanka's junior women's Hockey team took place recently at the Bata showroom at Olcott Mawatha, Colombo before the team left for Bangkok for the Asian Women's Junior Hockey tournament. Sri Lanka won the runners-up trophy, losing the final to Taiwan.
Hockey team official Sanoja Mendis and the team are seen receiving the shoes from Bata Managing Director Caesar Panduro. Other officials from left: Cost and Productivity Manager Ajith Bodhinagoda, Acting Retail Sales Manager Saravana Murthy and Assistant Sales Manager Chamath Thanaweera.
Award-winning Sinhala plays
A festival of popular and award-winning Sinhala stage plays will be held at the Lionel Wendt on the weekend of June 24-26. The schedule is as follows:
June 24- (3.30 p.m. and 7 p.m.): Indika Fernando's 'Colombo Colombo'.
June 25- (3.30 p.m. and 7 p.m.): 'Balloth Ekka Be' directed by Ravindra Ariyarthna
June 26- (3.30 p.m. and 7 p.m.)" Dayananda Gunawardena's 'Naribena' and 'Jasaya saha Lenchina'
Nalanda College OBA office bearers
The Annual General Meeting of the Old Boys' Association of Nalanda College was held recently. The Chief Guest was Dr. Prasanna Gunasena (Consultant Neurosurgeon).
Principal Ranjith Jayasundera was appointed as the President of the OBA and Rear Admiral Sarath Rathnakeerthi was unanimously elected as the new deputy President. Rear Admiral Sarath Rathnakeerthi had been Chief Of Staff of the Sri Lanka Navy and was subsequently appointed Deputy Commissioner of Essential Services in the office of the Commissioner General of Essential Services. He is presently Operations Officer in Jaffna of the Presidential Task Force for Resettlement, Development and Security in the Northern Province.
The other office bearers for 2011 are as follows:
Honorary General Secretary - Asoka Wanniarachchi
Honorary Chief Treasurer - Sunil Hettiarachchi
Chief Organizer - Wasantha Wellalage
Deputy Secretaries - K.P.J. S. Pathirana, Ananda Chandrasiri
Deputy Treasurers - Dasun Karunaratne, Umesh Samarakoon
Deputy Organizers - Captain Venura Dissanayake, Kanishka de Silva, Dilan Wijewardena, Kamal Perera, Ajith Anuruddha
Chief Auditor - Gamini Uduwaraarachchi.
St Benedict's College 107th AGM
The 107th AGM of the Old Boys' Union of St Benedict's College will be held on Sunday, June 26, at the College hall at 10.30 a.m. preceded by Holy Mass at 9.30 a.m.
The AGM will be followed by a fellowship lunch and get-together at the Old Bens Sports Club.
For lunch reservations contact Anton Leon - 0714-805287, Chandra Bastian 077-5984580, Ashan Stanislaus 0777-558244, Peter De Croos 077-6396060, Darrel Ludowyke 0777-414567 or Damith Perera 0714-217397.