The weather can't decide whether it is summer or monsoon. But all time is a good time for those chilled coffees, hot chocolates, frantic frappes, mega milkshakes and smoothies- shaken or stirred or whatever…
The Commons:
The last time I went to The Commons (which was the first time I went to The Commons) was over two-and-a-half years ago. And it hasn't changed. I can't say it has improved. There was nothing to improve on. Colombo's original "Choklit Shop" that evokes the Archie comics of one's youth seems to have engendered a flurry of similar venues.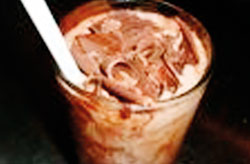 Chocolate temptations from the Commons
But The Commons remains uncommon. Because it's not sufficient to open something new and clutter it with fancy-sounding offerings that exhibit great creativity in naming products but woefully lack implementation. For example, Moo Moo's, a milkshake bar in Oxford's historic Covered Market, has queues meandering for their 100 different milkshakes and smoothies. Bewildering variety but facile: It's so easy to throw biscuits, chocolates, brownie etc etc into a blender with ice cream.
The Commons differs. Because Kishani, the imagination behind the creations, and her diligent team not only conceive exciting concoctions but, more significantly, they ensure precision of proportions and distinct identities. I mean, the Coffee Bar has 30 entries and the milkshakes make a dozen (including new additions like Amaretto) but it's not different names, same taste! Kishani's drinks are also varietally textured from Iced Choco Latte which feels like silken ribbons in your mouth to the Hazelnut Choc Crunch's crisp crunch (not that dreadful soggy crunch…). And then there is crumbly Cookie Nut Frap (cookies, nuts, coffee). I have been to The Commons three times in four days and it has amazed me each time. I still wonder if my favourite is the funky, chunky Choc Chip Fudge Frap or their dense signature Double Chocolate milkshake which is decadence incarnate and perhaps even the best milkshake I've ever had.
The Commons is a world class cafe because it scores A+ on the three Cs: Constitution, Consistency and Consistence. And also the fourth C: Constrained Calories because the drinks are not unduly sweet, unlike elsewhere in Colombo. To some of us an enormous tumbler of coffee is a meal in itself; perhaps in moments of weakness one might pair it with their light new grilled paneer sandwiches or the perennially popular Potato Fantasy, cheese toast or seafood toast.
However, most of the café's regulars (and aren't they all?…) tuck away a milkshake with a rice dish generous enough to feed an army. And this is the well-shod, "health-conscious" Colombo 7 crowd. I ask young manager Nazim about the uninhibited appetites of his guests. He quips they need to justify their gym memberships!
Coco Veranda:
Looks like it walked right out of Milan with appropriately Milanese pricing. CV has an immense glamour quotient that has kept Colombo talking about it since its inception. Forget Starbucks. Coco Veranda is so much classier. And they also use proper, premium Italian coffee which keeps luring the oft-spotted Dilmah big boys. As for their Italian hot chocolate available in five flavours (similar options haven't tarried to appear on menus around Colombo…) had one diabetic youngster so addicted his father mock-threatened to sue Coco Veranda for serving such addictive hot chocolate!
Iced Cappuccinos, Iced Lattes and Iced Espressos showcase the smooth sophistication of CV's Italian coffee. The slick Virgin Chocolate Blend and the massively popular Black Forest Blend (coffee, ice cream, chocolate sauce, ice and cherries) are wonderfully original but I ask dynamic young owner Sarath why they must smother the coffee's elegance with excesses of sugar. He shrugs his shoulders in resignation, explaining that he tried reducing the sugar, but alas… Yes, even Colombo's most chic café-goer has a predilection for sugar-saturated drinks.
Even smoothies, supposedly sugar-free health drinks, contain ice cream and sweetened yoghurt. But these are the city's finest and longest list of fresh fruit smoothies- the lush, luxurious, gilded-like mango smoothie is outstanding and if you haven't tried it, go have it NOW! And don't leave until you have also tried wild berries (fantastic), strawberries, peaches, banana… And then go back to try the smoothies when they re-launch made with fresh, unsweetened yoghurt Sarath will soon have made on site. He says you have to constantly innovate to retain Colombo's attention, which wearies in three months. And Sarath has a plan to freeze it with (one of) his new ventures- frozen yoghurts!
In the meantime, one cannot have enough of the CV milkshakes, it would seem: I see a lady gulping down a milkshake (their exquisite coffee milkshakes merit speedy demolitions), but when she proceeds to request another milkshake to go, I stagger in disbelief. Clearly, our friend, no lissom lass, cares as little about her health as about that gym membership…
Pitstop:
This nifty little place is Colombo's best kept secret. Their collection might be the most intimate. But it is short and sweet. Or what scores with me: Not too sweet! When all Colombo is fast and furious to bring forth the newfangled, Pitstop remains classic.
Fashions change, but the classics remain! Their Original Choco Frappacino, a whizz of ice cream, chocolate powder, espresso shot and whirls of French Monin dark chocolate sauce, is a stunner. It cannot be bettered. And passionate young manager Miraj's magic is no mirage as he blends unflawed Chai Frappe with a chai decoction, ice cream and "secret" ingredients. Shhh….
Caramel I have ever fled, it being unadulterated sugar. But an establishment marks its class with the address it tames caramel with. And I am persuaded that Pitshop's Caramel Frappacino (mellow molten caramel, espresso and ice cream) is perhaps the only drinkable one on earth. The Pitshop is about impeccable execution. Their fabrications have finesse like nobody else's in town and are certainly my favourite frappacinos. It astounds me that they aren't the rage of Colombo. Then again, the best things are always the most exclusive...
Quintessence of Spun Sugar:
Owners Kamaya and Ramesh are so young and so cute and have recently thrown open their gardens so prettily adorned with both antique-like and more contemporary seating. They have also introduced a new drinks menu including the "Sri Lankan" iced coffee and a hot chocolate in which a lump of whipped cream macerates unctuously and which has endeared itself to the indulgent.
Ramesh who has shaken and stirred in London bars makes smoothies with sexy-sounding names like Pretty in Pink (strawberries & peaches) or Yellow Submarine (banana, mango & peaches). However, the somewhat peculiar sweetened yoghurt creeps over the freshness of the fruit. Perhaps using thick local "mutti" curd might be a tastier alternative? But I am impressed how these babes compete as equals with those much older, more experienced and more resourceful. They have the recipe for sweet success. And for my sake let's hope not-too-sweet success! (Spun Sugar is temporarily closed).
Luv Chocolate:
A supermarket confections counter finds itself whipped with ice cream. Expect milkshakes made with Ferrero Rocher, Oreos, Nutella, Kinder eggs, Tic Tacs etc… Too sweet for me but nice texture and not Colombo 7 prices!