After a year of relative inactivity, The Revelations will get back on stage with 'Love Uninhibited'. For those of you fans out there, Choral Director Sanjeev Jayaratnam promises a repertoire of songs based on "all kinds of love" from the 1920's all the way to twentieth century pop. The programme will be "one hundred percent" a-capella he assures, adding that some songs will be accompanied by their very own beat-boxers. Throw in some solo spots and a dash of choreography, and you've got the guarantee of a night not to be missed!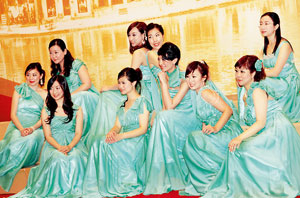 The show will first go on the boards at the Halle de Galle (yes, at Galle Fort) on July 16 at 6pm, with guest performances by Mahinda College and Sacred Heart Convent. The second staging will be at the Lionel Wendt on July 30 at 7pm, where The Revelations will be joined by the nine-voice all-female Plaisir Ensemble, winners of the First Viet Nam Choral Festival and Competition. The choirs of Trinity College and Hillwood College will then join The Revelation for their show in Kandy on August 20 at the Trinity College Hall, starting 6pm.
Covers of songs by Michael Bolton, Stevie Wonder, the Eagles, Bee Gees and the Beatles will make up the 'Love Uninhibited' programme. Priyan de Livera, Manager for The Revelations explains that the repertoire consists of numbers that have "left a mark" on audiences over the years. Sanjeev adds that though room for dynamic modulation and emotional expression were important to them in their selection, there is something on their list for everyone.
Tickets for the Colombo concert are available at the Lionel Wendt while enquiries regarding the Galle and Kandy shows are welcomed by Priyan on 0777329287 and Enaksha on 0777324425.
The wait is over
Fans can now look forward to the latest installment of author George R. R. Martin's 'A Dance with Dragons' the fifth of seven planned novels in the epic fantasy series 'A Song of Ice and Fire'.
Two days, 2 hours and 43 minutes reads the countdown clock at www.westeros.org. It's the end of a six year long wait and George R.R Martin's fans haven't been particularly patient with the delay. But the author is back in their good graces now that 'A Dance with Dragons' is nearly here - on the 12th of this month the fifth book in George R.R Martin's series 'A Song of Fire and Ice' officially goes on sale.
When Martin published a 'A Game of Thrones' in 1996, it barely caused a ripple (he remembers four people coming to one signing, all four of whom got up to leave when he got up to speak). But in recent years, Martin has seen his fortunes undergo a dramatic shift. This is in part thanks to the HBO series titled after the first book. Over a decade after 'A Game of Thrones' was published, it reappeared this year at the top of the N.Y Times bestseller list. Currently, HBO has a second season based on book two – 'A Clash of Kings' – in production.
Martin has said he considered a T.V series the only other medium that would do justice to the books. Certainly a film would require a ruthless butcher for screenwriter. Each is a mighty tome – with book 4 'A Feast For Crows' being nearly as long as the first three books put together. Martin's canvas is extraordinary – he plays on a board game that spans continents and centuries, yet introduces his readers to every pawn with loving attention.
In some ways, he's the anti-Tolkien of epic fantasy. Where Tolkien's prose were dense and lofty, Martin's is far more accessible and intimate, even if it is dark and depressing stuff. Where Tolkien relied heavily on stereotypes of good and evil, Martin delights in ambiguity - his heroes are villains, his villains, heroes. Where Tolkien was too refined for graphic descriptions of sex and violence, Martin fills his pages with explicit portrayals of both. Most importantly, there is no over arching quest – all we know is that winter is coming and that none of us is quite prepared for it.
Like Tolkien, Martin has been known to resurrect a character or two. Unlike Tolkien however, he also delights in killing them off. A host of funerals litter every book, with some of the most beloved characters being sent off to brutal, untimely deaths. (Martin on his penchant for literary murder: "I've been killing characters my entire career... when my characters are in danger, I want you to be afraid to turn the page...you need to show right from the beginning that you're playing for keeps.") Of magic, there is surprisingly little, instead his books suck readers into the bloody politics of the 7 kingdoms. As would-be kings sprout up like grass, Martin pitches one old house against the other, and weaves plots and counter plots with every chapter. It's why Martin's work has been described as fantasy for people who don't usually read fantasy. For those of us who do, there's still enough to sate our appetites. Between the Direwolves and the Dragons, the Seven and the God of Light, the Others and the Children of the Trees there's enough to justify Martin's reputation as a contemporary master of the genre.
He was also, at least until 'A Feast for Crows' a master of pacing. It seemed that every other chapter ended on a cliffhanger and at the end of each book you were already reaching for the next. But AFFC (as the fourth book is known) was not GRRM at his best. (Turns out acronyms are a thing with Martin fans). The book is far too long and even tedious in parts – an accusation never levelled at the others in the series. At least, with 'A Dance of Dragons' Martin will bring back some of our favourite characters – we have missed the dwarf Tyrion Lannister and Bran Stark. With two more books left to complete the seven book cycle, his fans are hoping he won't pull a J.K Rowling and continue to go downhill or do a Robert Jordan and simply leave the series unfinished.