The Commercial Bank of Ceylon has begun the provision of Software Escrow services, the globally accepted practice to balance requirements of software vendors with the needs of users.
With the bank's foray into the sphere to offer the service of providing Software Escrow services, software vendors and users can now employ services of the bank as the neutral third party holding in safe custody their source codes. Commercial Bank embarked on its first such transaction for software provided by OpenArc Systems Management (Pvt) Ltd to Singer Finance PLC, the bank said in an announcement.
Software Escrow services provide the software user access to the source code, which is vital for maintenance purposes of the software, in an instance in which the vendor is unable to fulfil conditions of the maintenance agreement, ensuring the safety of the user's investment and unhindered execution of the maintenance agreement.
Due to the high value of software used for specialised commercial purposes, many software users now only enter into agreements with vendors on condition that a neutral third party holds custody of the source code to mitigate risks, the bank said.
FedEx Express appoints new Senior (regional) Vice President of Operations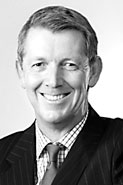 David J. Ross
FedEx Express, the world's largest express transportation company, this week announced the appointment of David J. Ross as Senior Vice President of Operations for FedEx Express Middle East, Indian Subcontinent & Africa.
He succeeds Hamdi Osman, who retired from FedEx Express after more than 30 years of service, and will be based at the company's Middle East headquarters in Dubai, UAE.
Mr Ross began his career at FedEx Express in 1992 in Sydney, Australia, managing the company's ground operations until he was promoted to Managing Director of Australasia and the Pacific Islands in 1993 and after several postings, in April 2011 was appointed as Vice President, Integration and Domestic Operations in India.
12 emarketing experts to take the podium at Optimizing the Future 2011
eMarketingEye presents its second full day Online Marketing Conference 'Optimizing the Future 2011', on November 1 in Colombo, aimed at helping Sri Lankan businesses utilize the Internet as a more effective and efficient marketing and distribution channel.
Keynote speakers include James McCure - Emerging Marketing Development Manager from Google, Gap Kim - Marketing Manager South East Asia for Google, Rajitha Dahanayake - CEO of eMarketingEye, Joe Nguyen - Vice President (South East Asia), comScore Inc; Saurabh Rai Bhatnagar (Regional Director, India) - Preferred Hotel Group; Hiran Jayasekara - General Manager of IT and e-Business, Aitken Spence Hotels and six other distinguished speakers, the organizers said.
The conference will be divided into two sessions at mid-day in order to present two separate tracks for the travel industry and other industry verticals. "While the Internet buying cycle is relatively the same across all industries, the travel consumer demonstrates distinct variations that will be reviewed in detail," said Rajitha Dahanayake, CEO of eMarketingEye.
Speaker presentations will be followed by panel discussions that will also give the audience a chance to question and express their own views.
Capital Trust launches Shariah compliant trading platform in CSE
Guardian Investment House (GIH), through its collaboration with Capital Trust Securities (Pvt) Ltd (CTS), has designed a public trading platform that adheres to Shariah values. The platform named 'The Islamic Securities Account' (ISA) has received the full support of the GIH's Shariah Advisory & Supervisory Board, the GIH said in a press release.
Since the end of the civil war in 2009, the Colombo Stock Exchange (CSE) has seen phenomenal growth. However, members of Sri Lanka's Islamic community were unable to take advantage of this growth due to the lack of Shariah- based guidance on the permissiility of investing in respective companies. The ISA's significance lies in its ability to allow these investors to enter the market and take advantage of the CSE's future growth, going forward.
CTS Chairman Moksevi Prelis said the qualitative assessments (of the platform) will look to identify companies involved in non-permissible activities such as riba (interest), gambling, gaming, non-halal food, liquor related activities, etc. and eliminate them from the list. The quantitative analysis on the other hand will use a set of financial parameters to set a minimum threshold that a business must satisfy to make the list. We are proud to be able to bring share trading to the Muslim community this way, and our lists will be updated every quarter."
Speaking on the platform, Firzaan Abdul-Azeez – General Manager – GIH said, "the uniqueness of the ISA Platform is that unlike many brokers who merely provide a 'white list' to clients, the ISA platform is comprehensive and eliminates all interests related elements while scrutinizing, supervising and monitoring their trading activities to ensure that the entire process from the opening of an account to its close are carried out within Shariah principles. It performs the functions of all other leading brokerage accounts while not charging any extra premium for being Shariah compliant."
IT academia visits industry facilities
The SLASSCOM (Sri Lanka Association of Software and Service Companies) recently organized a industry visit for staff members attached to IT faculties from state and private universities.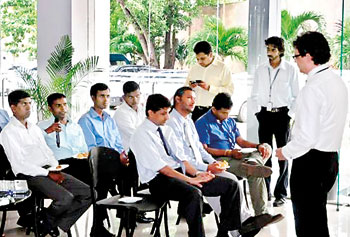 Picture shows Keith Modder, Executive Vice President and Chief Operating Officer of Virtusa addressing IT professors during a industrial visit at the Virtusa World Advance Technology Centre, Colombo.
It was part of the SLASSCOM directlink Initiative to provide a platform for collaboration between the IT industry and the academia, the association said in a statement. IT faculty members visited some of leading IT companies in Sri Lanka like Millennium nformation Technologies (a member of the London Stock Exchange Group), Virtusa and eCollege (Pearson Lanka). Many IT faculty members from University of Moratuwa- Engineering, University of Moratuwa Faculty of IT, University of Peradeniya, University of Rajarata, University of Ruhuna, University of Sabaragamuwa, University of Sri Jayawardenapura, University of Colombo School of Computing and the Open University took part.
This was a collaborative effort between the industry and academic institutions as both are interdependent in providing knowledge and was aimed at providing faculty members an opportunity to meet IT industry professionals and engage in a knowledge sharing session.