Any company that has more than two dozen workers is bound to draw not only a few stares but also a lot of interest in the tiny Maldives."We have 23 staff… and that is big by Maldivian standards," smiles Shafraz Fazley, Managing Director of Viluxur Holidays, a destination management company that exclusively handles the Chinese market, during an interview in Colombo.
The company is not only mega in a small place but has an international staff and founded by Fazley, a young and energetic Sri Lankan who has turned out to become a business success story in the past seven years spent in the Maldives.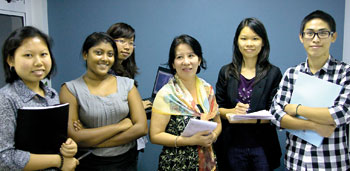 Staff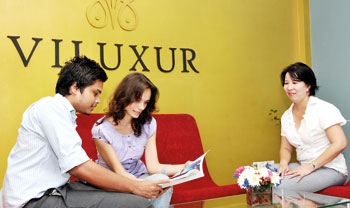 Front Office
China is the Maldives' inbound market with over 100,000 visitors in 2010. Tasting success and having a 25-35 % share of the Chinese traffic with that expected to go up to 40 % next year, Viluxur Holidays is opening an office in Colombo in January aimed at increasing the number of Chinese visitors to Colombo.
"The present number is very small. But with my contacts with the big agents in China and leveraging on my Maldives office, we can lift the number of arrivals to Colombo," he said, speaking during several business meetings linked to the launch of the Colombo office.
Similar to the Maldives operation where 14 of his 23-staff are Chinese, some from Singapore, Mr Fazley said his Colombo office to be located at the Landmark building opposite the McDonalds Restaurant in Kollupitiya would have 10 China staff (among others local staff) intended to ease business communication with agents in China. "If you don't know the language, the culture, the communication, the behaviour … it's difficult to do business with the Chinese. Knowing the language is very, very important," he said.
Viluxur's Male staff also has nationals from Indonesia, Philippines and Myanmar. It has partnerships with more than 50 resorts across the Maldives and have been appointed as the General Sales Agent (GSA) for Kanuhura Maldives and Centara Grand Island Resort and Spa exclusively for the Chinese market. Viluxur has also been appointed GSA for 4 to 5 resorts in the Mauritius owned by Kanuhura's Managing Agent Sun Resorts.
Mr Fazley studied at the British School in Colombo and just after the ALs decided to try his luck in the travel trade, joining Walkers Tours as a tour coordinator. Three years later he took off to Singapore to study tourism management and then moved to the Maldives where he formed a partnership with a Maldivian, in his initial business venture.
Earlier this year, he set up Viluxur Holidays and within months, the business took off. The company's current monthly overhead is US$50,000 while the monthly turnover from the inbound travel segment alone is an average US$1.5 million. "We doing very well and agents are coming to us. Our main focus is the Chinese market which is rapidly growing," he said.
Speaking on plans for the future, Mr Fazley added, "Like we have done for the Maldives, it is our goal to make Sri Lanka an icon as a destination of choice. We are looking to increase steadily the ratio of tourism by at least a market share of 20% for China by 2013 with close partnerships with Sri Lanka Tourism, SriLankan Airlines and hotel partners."