Piliyandala – "Gulucorasa mame, Gulucorasa mame kochchera kewath matamadi Gulucorasa ko …" Do these words ring a familier bell? Remember the popular Glucorasa jingle on the radio some years back? Uswatte Confectionery Works (Pvt) Ltd pioneers in the confectionery business and best known for the Glucorasa brand for around 55 years, steps into the next level of business expansion under the guidance of company Chairman/CEO Quintus Perera.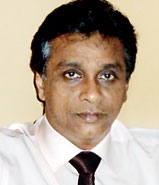 Quintus Perera
He is the second generation family member to head the company. Mr Perera's desire to make it on his own and take the company to the next level of business after more than five decades has prompted him to take a challenging decision to shift the famous house of 'Glucorasa' from Ratmalana to Piliyandala.
Outlining the present status of Uswatte Confectionery Works, Mr. Perera told the Business Times that 208 perches of land belonging to his family company widely known as the House of Glucorasa was sold to Toyota Lanka last year. The Glucorasa factory is now located at Gorakapitiya, Piliyandala. After settling all financial and other liabilities, he has been able to raise the standard of the company to a new level by redirecting it towards a successful organization, focusing on re-branding and making some tough decisions.
He noted that he is committed to growing the family business for the benefit of future generations by continuing the manufacture and market of jujubs, jellies, snacks, wafers, candies, toffees, peppermints and instant drinks. The company has invested a sum of around Rs. 1 billion to build the factory and to purchase new machinery from China, he disclosed. He noted that Uswatte products are being marketed through 60 wholesale agents and 8,000 retail outlets countrywide.
The company is now planning to expand its production capacity by setting up a new super luxury state of the art factory at Horana or Bandaragama with an investment of Rs. 200 million. Uswatte's product range will be expanded with new additions of biscuits, chocolates, marshmallows, and wafers with new flavours soon.
He revealed that Uswatte Confectionery Works was started in1955 by two brothers - P.J Perera known as Christy and F. P. Perera known as Anton with 10 employees in a small way at their house in Moratuwa producing Glucorasa jujubes.
Factory Pic by Amila Prabodha
"The dream that was Uswatte Confectionary for the Perera brothers saw life with the advent of Glucorasa, a sweet which ended up being a product loved by one and all, in all parts of the country by people of all ages. This was followed by savoury Tipi Tips, jellies and wafers that have made a mark on the local and international stage," he said.
The company has now expanded to become the market leader in confectioneries despite stiff competition of sweetmeat products and extruded snacks imported from India, Malaysia and Bangladesh. Low quality confectionery products are flooding the local market and some of these products are coming into the country through illegal channels. This has become a problem for local manufacturers, he revealed.
Mr. Perera, who is also the President of the Lanka Confectionery Manufacturers Association (LCMA), noted that this matter has been brought to the notice of the government authorities. The association has urged them to adopt stringent procedures on labeling, and check the imports on hygienic conditions similar to that of imports of local manufacturers. He expressed the belief that the government will look into this issue by providing some concessions for local manufacturers.
Director of the company Shanura Perera, who underwent training to become a pilot and later joined his father's company, said that there are around 200 employees working in the factory at present. The company manufactures and markets quality snack and confectionery products including Tipi Tip, the flagship brand for extruded snack and is the market leader in the categories of snacks and jelly as well as Uswatte Glucorasa jujubes, a combination of 5 fruit flavours to suit local taste and international standards.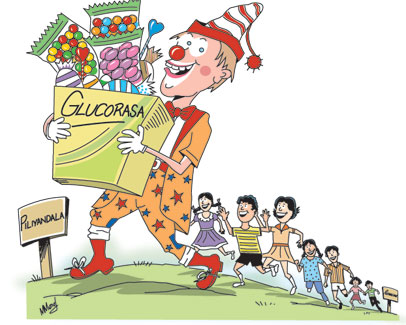 He revealed that they are planning a new advertising campaign remixing with the most popular radio jingle among children and adults. The radio jingle 'Gulucorasa mame, Gulucorasa mame kochchera kewath matamadi Gulucorasa ko …" will be echoed over radio and television once again mixing with modern music, bringing the childhood memories alive among present day fathers and grandfathers and they in turn can relate to their children about the taste of Glucorasa" jujubes a sweet which was a combination of glucose and gelatin, he said.
Another Uswatte product, Tipi Tip is made of maize subjected to an extrusion process to obtain shaped snacks and finally spray-coated with nature identical flavours. It also produces a wide range of Wafer Biscuits in different flavours. The product is made to a rich recipe with quality ingredients imported from European countries and packed in a fully automated machine. High quality packaging is the unique feature of Uswatte products, he said.
The oldest serving employee of the company, 75 year-old Andrew Fernando told the Business Times that he joined the company 50 years ago when they used a fire wood furnace to make jujubes at a house in Moratuwa. Only 10 workers were involved in the production process at that time, he said adding that their operation had been expanded when they shifted to Ratmalana with new machinery. At first they used industrial gas for the furnace and later changed it to steam using electricity and furnace oil. He said that he has seen the ups and downs of the company during the past five decades and he is eagerly waiting for the next level of business expansion.