The experience of the bitter side of life for nearly three decades as a result of a meaningless ethnic war only resulted in many Sri Lankan youths being disabled with lifelong injuries. Sri Lankan Soldiers resisted the rebels to safeguard their motherland whilst fighting against a group that claimed a separate homeland.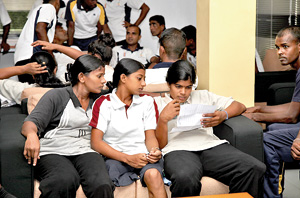 Three former rebel fighters who are on the verge of making their international appearance.
But in a phase the country is getting back to its senses in freedom is about to see former enemies of war team up with intentions of bringing honour to the country. Three former women rebel fighters handicapped from the war from the north of Sri Lanka are on the verge of making their international appearance along with compatriots from the south in disabled volleyball next month. Men's and women's disabled volleyball teams comprising soldiers and former rebels are set to represent Sri Lanka with one aim at the Asian Sitting Volleyball Open Championship 2011 which will be held in China during November.
The war claimed thousands of lives, many probably with gifted talents in many fields before it finally saw an end almost two years ago. After nineteen months the lives in once war torn areas are gradually regaining normalcy. But many youngsters who were forcibly pushed to fight for their cause were brainwashed by the ruthless terrorists are still fighting from within. They find it hard to believe that ideologies which were told by their now-no-more superiors were merely myths.
Malarvili Paramalingam from Kilinochchi was one such young girl who believed her seniors. What she heard then of outside rebel held area was that it was full of human who are 'beasts and killers'.
"When I first visited Colombo weeks ago I still was nervous thinking if I would be treated as a prey. My parents were reluctant to send me off. They were scared and had doubts. But now I understand that it's all incorrect. There's not a pinch of difference from us in the north and others in the south," Malar as she was introduced by the officials of Sri Lanka National Volleyball Federation for Disabled (SLNVFD) told the media on Thursday in Colombo.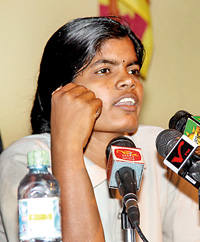 Malarvili Paramalingam
Malar who lost an entire leg due to the war is a slim and tall lass who has the ideal necessities for sitting volleyball. She was discovered by J.R. Krishania, the representative for the Ministry of Sports of Sri Lanka from the shrubs off the main town of Kilinochchi after the success of a chain of sports programmes held in the region.
"Those programmes were an ideal platform to encourage the youth of the north engage in sports and recreational activities than wasting their valuable time. In the mean time we had other local and international sports activities where some of the new finds were tried out. There were a few who even took part in the recently concluded inaugural South Asian Beach Games. Youths like Malar who are handicapped will now have an opportunity to make up their lives and contribute to the country in a more productive way. Sport is a perfect bridge to gap out all our differences and win the world," said Sports Minister Mahindananda Aluthgamage.
Malar has never even touched a volleyball, or never seen the game being played earlier in life when she took the bold decision to travel down to Colombo with three other girls from the area. She was briefed slightly of volleyball by Shyamalie Renuka Jayasuriya of the SLNVFD but Malar was plucky and quick to pick up the sport.
"I was told firstly that it will be just sitting and playing the ball but then again I wondered how it was possible. Then I was told that I must move around the court and I learnt the serves, dashes and blocks. I'm gradually picking up day after day and what's more exciting than to get a chance to represent Sri Lanka. This is something I never expected in my life," A beaming Malar added.
Malar and her team mates will be traveling along with the Sri Lanka men's disabled spikers who won the bronze medal at the World Championship held in Cambodia last July. All members of the men's team are soldiers who were disabled of the war; once an outfit Malar envied.
"What occurred in the past is gone. I don't like to think about it. What I'm concerned is about the future which looks fruitful. I will have the opportunity to give, do something dutiful to our motherland through this sport. I think all should see positively and look forward to make Sri Lanka a better place globally in sports," said a hopeful Malar who wishes to reach the pinnacle in disabled volleyball.