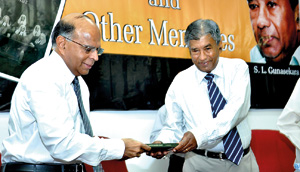 S.L. Gunasekara handing over a copy of his book to Romesh de Silva. Pic by Susantha Liyanawatte
The launch of the book 'Lore of the law and other memories' written by S.L.Gunasekara, took place at the Bandaranaike Centre for International Studies in Colombo on Friday. Addressing the gathering, Romesh de Silva, PC said that the book is a collection of reminiscences, stories and anecdotes all of which are interesting with or without the knowledge of the background of each story.
"The book takes the reader through his younger days at S. Thomas' to being a journalist and editor at Davasa and then travels through the days of being a Member of Parliament and enters the final part, lore of the law," Mr. Silva said.He said that the book is written in "typical S.L.'s language" -'strong and harsh' and reflects great concern for the independence of the judiciary, the rule of law and the legal system of the country.
"He (S.L.) was, and is a man of integrity; he argues his cases and wins them with his knowledge of the law, his insight, the novelty of his ideas, diligence and strong presentation of the case." The book portrays S.L. as a person true to his principles whatever the cost and lives according to his conscience, he said.