The United National Party (UNP) launched its planned 'million signatures' public petition campaign yesterday to draw the attention of the United Nations and the International Community on the need to release former Army Commander Sarath Fonseka from prison. The campaign began at the New Town Hall in Colombo with UNP leader Ranil Wickremesinghe placing his signature on the petition.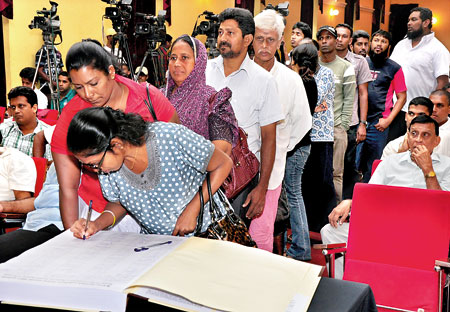 To mark Human Rights Day yesterday, the main opposition United National Party launched a campaign to collect one million signatures calling for the release of former Army Commander Sarath Fonseka. People are seen
standing in a queue to sign the petition at the New Town Hall in Colombo. Pic by Mangala Weerasekera
Mr. Wickremesinghe told the Sunday Times yesterday that the campaign was to highlight the international obligations of the state. He said the country had signed several international protocols and must abide by them. He said once the million signatures had been obtained, the party would send the petition to the United Nations Secretary General Ban-Ki moon requesting him to intervene in the matter.The public petition states:
"The continued persecution of General Fonseka by the government of Mahinda Rajapaksa through convictions, in civil and military courts raises fundamental questions over Sri Lanka's compliance with its obligations under international law and undermines its status as a functioning democracy in South Asia". The letter is dated December 10, World Human Rights Day.
The petition draws the attention of UNSG to Sri Lanka's obligations to the International Covenant on Civil and Political Rights (ICCPR) to which the country is a signatory. "The Government has contravened these obligations by filing action against General Sarath Fonseka and calling for his conviction under Regulation 21 of Emergency (Miscellaneous Provisions and Powers) Regulation 1 of 2005," the petition said.
It said that in view of the gravity of the issues it had highlighted, the UNSG should take appropriate action in bringing them to the attention of the International Community and specifically to the attention of the UN Human Rights Council in Geneva.
The UNHRC in Geneva however can look into the matter only after all domestic legal remedies have been exhausted. The former Army Commander's cases are currently in appeal in Sri Lankan courts.
UNP MP Jayalath Jayewardena has been entrusted to present the people's petition to the UNSG.