Last Sunday (18), hours before the deadline for nominations to close for the upcoming Sri Lanka Cricket (SLC) elections, one of the favourites, Thilanga Sumathipala withdrew from the race for the top post. Sumathipala cited personal reasons for his eleventh-hour pullout. However the remaining members of his faction are still very much 'alive' and were confident that all their candidates will come out winners for their respective posts on judgment day which falls on January 3, 2012.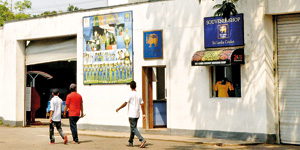 Cricket fans in Sri Lanka expect their team to do well. Will the new elected body be able to overcome the problems they face now. - Pic by Ranjith Perera
The group, headed now by Mohan de Silva, a two-time secretary of SLC in 2000 and in 2003, revealed their action plan which includes 10 clauses. This was revealed at their second press conference held last Thursday (22) in Colombo. One of the key areas, the Sumathipala group wishes to adhere to is the level of discipline at all categories, including the national cricket teams and administrators. The lack of discipline according to de Silva had been a major cause for the downfall of SLC which began seven years ago. Apparently de Silva was the last elected president when a similar incident took place in 2004 involving the withdrawal of Sumathipala from the candidacy as he was under police detention.
"When the SLC was last run under an elected body in 2004, we had an action plan. But the interim committees that conducted the show from early 2005 had nothing on the agenda to develop the sport. It is the very reason why SLC is so corrupt today. It is also the reason for our team's underperformance during the past few months," de Silva said.
Interestingly de Silva made a similar statement when he was elected president in 2004 stating that, 'It was very important to have stability to rebuild the image of the board while installing of stability, transparency, accountability and good governance were major factors that was required to develop the sport'. The same guarantees were among de Silva's action plans this time too when he contests for the vice president's post along with former DIG of Police, Jayantha Paranathala, the president of Burgher Recreation Club (BRC) since 1988.
In addition the new adopted plans to the list include, a transparent procedure and maintaining firm discipline at national team selections, a development plan for Sri Lanka 'A' and national junior cricket structures, a comprehensive relationship with other cricket playing nations, preserve international standards while developing infrastructure facilities of the sport, a long term development plan for club and school cricket, development of cricket umpiring standards to international status and a strict disciplinary system which all administrators and national cricketers should adhere to.
De Silva also revealed that, Sumathipala's faction had the intention of forming a coalition group with their rival faction headed by former SLC president Upali Dharmadasa, who is tipped to win next week. Both groups have met when Minister Aluthgamage called in for fresh elections but according to de Silva, Dharmadasa was not keen to work together as a team.
"He told us that we were 'too late', but we really don't understand what he meant by that. It only prevented a golden opportunity of getting all heads like Dharmadasa himself, Sumathipala, Ana Punchihewa and myself in a single team, where cricket could have reached greater heights with the assurance of overcoming the crisis which exists today. But we still have faith that we could make a formidable team joining up with Dharmadasa and his team. We strongly believe that all five candidates from our group will win," added de Silva.
Other members to contest are Michael de Zoysa for the post of secretary, Nuski Mohamed who is uncontested for the post of treasurer, Irwin Jayawardene as assistant secretary and Gihan Weerasinghe as assistant treasurer. Sumathipala's group also produced four sub-committees consisting 23 former cricketers.
However Sumathipala's faction is believed to be facing strong opposition from the Dharmadasa faction for the main posts. Former officials of SLC, K. Mathivanan and Asanga Seneviratne will compete for the two vice president's slots, while Hirantha Perera of Bloomfield has already handed his nominations for the assistant secretary's post. Sumathipala's group revealed at the press conference that they have made a protest to the Director General of Sports, Ms. Ranjani Jayakody of the eligibility of their three rival candidates which was overruled by the Attorney General on Friday (23).
Reliable club sources also told the Sunday Times that, many cricket clubs have received telephone calls from a high-ranking officer of the sports ministry requesting to cast their votes for Nishantha Ranatunga who is contesting as an independent candidate for the secretary's post, a position not contested by the Dharmadasa faction. Though members of the Sumathipala group are confident of winning their posts, on January 3, cricket experts believe that political influence will still play a pivotal role behind the scenes.
"Finally it will surely be an 'elected' interim committee coming into power in a week or so. After all it will further decline our standard of cricket while making the cricket loving public more disheartened. Political interference has been gradually happening since 2000 and it has grown stronger simply because of the money involved. All those in the fray at the SLC elections are good friends but I don't think even this committee would survive for long. Let's hope for the best," a concerned former cricketer who wished to remain anonymous told the Sunday Times.
Timeline of SLC since 2000
+ March 2001
The Minister of Tourism and Sports, Lakshman Kiriella, appoints a five-man interim committee headed by Vijaya Malalasekera to oversee the operations of BCCSL. This took place after Thilanga Sumathipala and his officials stepped down when an investigation into alleged financial irregularities was launched.
+ April 2002
Minister of Sports, Johnston Fernando appoints a new 10-member interim committee headed by Hemaka Amarasuriya for one year after the previous committee's term ended. Four members of the committee resigned a month later in protest of the government's decision to appoint Sumathipala as the standby for the ICC executive board meeting to be held in London in June.
+ June 2003
Elections were held after two years and Sumathipala returns as president of the BCCSL. During this period BCCSL was transformed into Sri Lanka Cricket (SLC).
+ April 2004
Mohan de Silva is elected uncontested as SLC's new president after Sumathipala pulls out, as he was in police custody during the period of elections. De Silva pledged to reinstate reliability to the controversy-plagued sports body.
+ March 2005
The government takes over the management of SLC, preventing the annual general election from going ahead. Jeevan Kumaratunga, the sports minister, justifies the move on financial and administrative grounds. An interim committee led by Jayantha Dharmadasa was appointed to look after the board's management. However, the outgoing committee refused to give the new committee access to the board headquarters. The sports minister finally sent in police armed with weapons to physically takeover the SLC premises.
+ July 2006
President of Sri Lanka, Mahinda Rajapaksa, orders elections of SLC to be cancelled.
+ January 2008
Former Test captain Arjuna Ranatunga was appointed the new interim committee chairman by President Rajapaksa after Dharmadasa resigned on personal grounds.
+ December 2008
Ranatunga was dismissed as chairman and the interim committee was dissolved by the then Minister of Sports, Gamini Lokuge who appointed his Sports Secretary, S Liyanagama, as a competent authority to oversee the administration.
+ March 2009
The Rajapaksa government appointed a new interim committee, headed by former cricketer D.S. de Silva.
+ July 2011
Present Minister of Sports, Mahindananda Aluthgamage suspended SLC's interim committee and appointed a new panel, headed by former SLC chairman Upali Dharmadasa, for six months promising a fresh election after almost seven years.
+ November 2011
Minister Aluthgamage dissolved the panel appointed in July and named his Sports Secretary, Udaya Seneviratne as the competent authority to oversee the operations of SLC until elections are held on January 3, 2012.