No one has ever made me feel quite as short as Perine Fernando does. At 5'11, the first (and so far only) Sri Lankan 'super' model to strut along the haute couture runways of Paris, London and Milan, Perine is a local legend and an international celebrity. We meet her as darkness falls across the courtyard of the Old Dutch Hospital where a celebratory cocktail party marks the launch of the HSBC Colombo Fashion Week 2012 - Perine is the official spokesperson and one of the stars of the event. She leaves no head unturned as she sashays toward us and when we find a bench, she claims a corner with easy grace. I am only grateful that now, at least, I have a chance of looking her in the eye.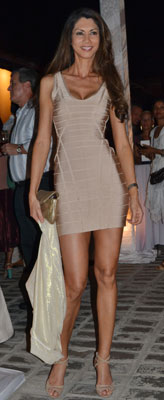 Head turner: Perine Fernando at the launch party of the HSBC Colombo
Fashion Week 2012 on Thursday. Pic by Hasitha Kulasekera
Perine was the only one of her siblings to inherit their father's height - a planter by profession, he was just over 6 feet tall, she says. Perine was only 15 when she and her family migrated to Switzerland so that her father could seek medical treatment for a paralysis they suspected had been induced by a surgery gone wrong. "He never walked again," she says. It was a terrible blow to the whole family. "It changed everything." For Perine, who had never set foot on a plane before, it also meant going abroad for the first time, leaving all that was familiar behind.
It took some courage then, for Perine to decide in the middle of all this upheaval that she wanted to make a bid at becoming a model - an ambition she had harboured for years. She got her sister to take a series of photographs of her in a pair of jeans and a simple t-shirt, with her face scrubbed clean of makeup. They submitted these to an agency in Zurich. They loved her. Working with them, she would appear in several catalogues and advertising campaigns, learning all the while the art of her new trade - particularly how to walk and pose, right down to how one could heighten the impression of having "awake eyes."
When Paris called, she was ready but that didn't mean it was easy. "For many, many years of my career, I lacked confidence." To someone from her very ordinary background, working in the fashion capitals of world was absolutely intimidating. "Having a very regular childhood, happy but sheltered, I felt not good enough, not confident enough," she says, confessing that she struggled with a very real fear. "I'm actually a very shy person. I felt like I had to take that out, take who I was out and be this other person. That person on the runway was not really me." Her solution was simply to not overthink what she had to do.
Paris was a dream, made only more so by her extraordinary success.
Her personal record at the Paris Fashion Week was an amazing 17 shows. A 'delivery' man on a bike would be waiting for her outside each, ready to carry her, zooming through the traffic from the Louvre to the train station or wherever her appointment was. Her performance here made her reputation and through the 80s and into the 90s, she modelled for nearly every design house of note, including iconic brands like Dior, Armani, Lagerfeld, Yves St. Laurent, Ungaro, Nina Ricci, Scherrer and Pierre Cardin. She would also make the covers of magazines like Cosmopolitan and Vogue, until in 1999, she abandoned the catwalk to begin work for Escada in New York. Looking back, success came easier then because there was less competition, she says ruefully, but her achievements seem to have really been rooted in her willingness to embrace her Sri Lankan heritage.
"I said I'm Sri Lankan and every time I said it, I said it with pride. I used the fact that I was Sri Lankan," she says, frankly. "That's how my agents promoted me - as a young Sri Lankan girl, almost just off the boat." It helped that "designers were looking for inexperienced girls, ones they could say they had discovered." Determined to keep up, Perine learnt all she could on the job. She found that each designer had their own expectations of the girls. "Armani wanted a very clean, very straight walk and a boyish kind of figure." Though she couldn't change hers, she worked on being less feminine for him. In contrast, "Saint Laurent wanted us much more fluid, he wanted to see more hips and a feminine walk. He liked the exotic girls."
"Exotic" was a word that Perine would become totally familiar with. "It was so different in the 90s; they wanted girls from other parts of the world that they had not heard off." It was the age of the supermodel, and Perine remembers it as a time when "the girls had more personality." We knew their names - Naomi Campbell, Cindy Crawford, Kate Moss, Claudia Schiffer and Perine's personal heroine, the Somali-American model Iman - were all celebrities in their own right. Just one of these 'big' names on the roster could make a fashion show worth covering for the media. "Now there's less focus on the model and more focus on the clothes, which makes sense," says Perine. But she does confess to nostalgia for a time when you could tell one model apart from the other. "Now they all look the same," she says. "There are not enough exotic girls or girls of colour; they're all very pale and very gaunt looking."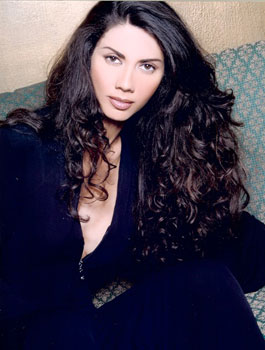 Making her mark: The fresh-faced Sri Lankan'exotic' who caught the eye of world-renowned designers
Perine herself is in great shape - "I don't want to boast, but I think I think I'm in better shape than ever," she says, "I weight train so I have good muscle tone, and I eat better." She attributes some of this comfort with her body to her decision to have a child - "becoming a mother has made me more comfortable and confident," she says. (She is married to model Damon Weeks and their son, Jayhan is 10 years old: "he loves Sri Lanka, he wants to live here and is so jealous I came without him.") "I look back and I think that if in my twenties I felt how I feel now, I could have achieved so much more."
Perine still does a lot of modelling, living and working in New York. In fact, she's fresh from the New York Fashion Week. "I was just reading that the city made 850 million off the New York Fashion Week," she says, "they employed 250,000 people. It was huge." The Sri Lankan version is a great deal smaller in comparison, but Perine sees the tremendous potential such events can hold. "I'm really grateful to Ajay [Vir Singh] for involving me this time," she says, adding that she's particularly looking forward to meeting local designers and models, and finding ways to connect them to their international counterparts.
So, it's been a very special homecoming for her and she's eager to share the love. "I can't imagine that from those days when I was attending St. Paul's Milagiriya, trying to ride bicycles in Bambalapitiya flats and falling off, playing seven stones and climbing trees - I couldn't imagine that I could have gone from there to the runways of Milan and Paris. It was the best education I could have got."