Emotion overcomes him as he zeroes in on "the most poignant moment" during his sojourns, crisscrossing Sri Lanka. As his eyes take on a far-away look, as if he's wishing he were some place else last Tuesday, instead of a five-star hotel in Colombo, the image he creates is stark and moving, bringing out the very essence of this country.
The majestic Kala Wewa, the lonely figure of a yellow-robed monk, seated on a rock reading, in the intense heat of the sun, while a villager pays homage at a small temple dedicated to King Dhatusena. No other human beings in sight.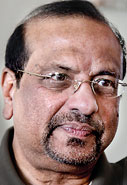 Dr. Sebastian: Intoxicated by history. Pix by M.A. Pushpa Kumara
For Dr. Anton Sebastian this was a "breathtaking moment" as if he had walked into a page of the Mahavamsa……….as if time had stood still for thousands of years untouched by civilization, under the watchful eyes of the gigantic trees that stooped to take an eternal dip into King Dhatusena's gift to Sri Lanka – the Kala Wewa. The Aukana temple nearby, perched on a small hill at the edge of the jungle with its massive stone-carved Buddha was a replay of ancient Lanka for him.
Seeing, experiencing and feeling history and being "intoxicated" by it, Dr. Sebastian's many forays down the unbeaten paths into remote villages and hardly-accessible temples have yielded a lasting contribution to the land of his childhood and youth -- 'A Complete Illustrated History of Sri Lanka'.
This veritable 696-page hardback tome with 487 photos and illustrations, printed as a coffee-table book by Vijitha Yapa Publications weighs four kilos. ("It's capable of breaking your nose if you fall asleep while reading it," he laughs.)
Launched last Monday at the Auditorium of the National Library and Documentation Services Board and on Wednesday at Matara, Dr. Sebastian was off to New Delhi, India, to present it at the World Book Fair and to the Foreign Correspondents' Club on Saturday.
When asked 'Why New Delhi?', Dr. Sebastian's answer is simple. "There's no Sri Lankan history without India. Sri Lankans as well as Indians should get to know about the history of Sri Lanka. This book is not only for Sri Lankans but the whole world."
It indeed seems not only strange but also intriguing that this 68-year-old doctor practising internal medicine at May Day University Hospital in his domiciled land of England should write a comprehensive history book.
Born in Jaffna but brought up in Kandy, he recalls that his passion was history. But his father being a general practitioner (GP) whose heart was set on making Anton follow in his footsteps, he dutifully went to St. Sylvester's College and then onto the University of Peradeniya to qualify as a doctor, practising in Sri Lanka until 1979 before leaving for England to pursue his post-graduate studies.
He was, however, very much a historian at heart and calls himself a "historian by genetics" and first ventured into writing by tackling the topic that he knew best, medicine. Among his three medical books are the British Medical Association's book-award winner, 'A Dictionary of the History of Medicine' for which numerous were the kudos.
Published by the Parthenon Publishing Group, New York/London and released in 2000, this meticulous work has not been beaten yet, he says, adding that most medical journals in the United Kingdom such as 'The Journal of the Royal Society of Medicine' and the United States of America gave good critiques while he was invited to deliver in Colombo, the 'Millennium Oration' of the Sri Lankan medical doctors in America.
One reviewer had even questioned "how on earth did a single author write this book which normally would have taken 10 professors". The secret lay not only in the clinical precision with which Dr. Sebastian set to work but also the dedication of certain hours of the day – maybe five, for his work. If he couldn't do it he would somehow catch up on lost time within a week.
Invariably, the interview veers back to Sri Lanka which he describes as the "most beautiful city and the most beautiful people in the world", having visited many other countries. "There's no spirit like Sri Lanka anywhere else," says Dr. Sebastian and it was while at home in Surbiton, a suburb of London, cataloguing the books in his personal library, more than 5,000, and some dating back to the 16th century that he felt propelled towards writing the history of his motherland.
"The largest portion of my collection is books on medical history and the next on the history of Sri Lanka," he says, adding that as a collector of antiquarian and rare books, he has many 1st editions.
The "ignition" came from cataloguing his books, he smiles, but not before he read them as well. His quest for knowledge on Sri Lanka spurred him to search bookshops as well as the internet for more books on the country. Scouting book fairs in London on Sundays, he had been the most frequent hand-raiser at international book auctions.
"Even the second-hand book-sellers on McCallum Road in Colombo were overjoyed to see me buying up their moth-eaten books at stubborn prices," he told the book launch on Monday. It was in 2002 that he came to Sri Lanka and not satisfied with just taking in the sights, armed with pen, notebook, dictaphone, camera and laptop roamed the countryside meeting people including Buddhist monks who even gave him lodging at their temples.
It was a turbulent time for Sri Lanka which was then in the grip of the war but "never even once was I stopped or questioned about what I was doing," he says. He would take meticulous notes, go back to the place he would spend the night and however weary, key in the material to his laptop. "Then I would know where the gaps were and go back the next day to the spot to find the missed detail," says Dr. Sebastian giving an indication of the labour of love.
Hundreds of history books have been written about Sri Lanka, according to Dr. Sebastian, and he felt his passion was not an excuse to add burden to the reader's purse and shelf. So he set out to be different, starting from the geological formation of the island and Stone-Age man to present times, tracing the ethnicity from the aboriginal period and the earliest immigrants to the historic period, while weaving in the influence of the rest of the world.
"I have globalised Sri Lanka on an anthropological, palaentological, geographical, ethnological, economical and political basis," he says, murmuring that "it was an enormous task that took me seven years and six visits, all alone, to Sri Lanka". It was not only in Sri Lanka that he researched but also in South India to explore the Indian connection especially the Pandyan heritage which is inextricably linked with our history; museums and libraries in Lisbon, Portugal and in London the British Library, the Library of the School of Oriental and African Studies were founts of information while the British Museum, the Victoria Albert Museum and the Museum of Natural History provided the visual impetus to his book.
Perfecting his drafts by re-reading the chapters over and over again, he has come up with a "hybrid" of academic and popular work.
Tracing the genesis of the conflict, he recalls how in the early days "Jaffna was a timid place" where a single murder would be talked about for years. In the north, while the parents toiled at agriculture, all they wanted was their sons to become doctors, engineers, accountants or lawyers. Then came standardization and "their industry which was education" was undermined. Those who could, sent their children abroad but those left behind became the backbone of this idealistic call for separation.
Dr. Sebastian, however, hastens to add: "The past is past. There is no point in dwelling or dealing with it. We should go forward, giving fairness to everybody. If not, in two or three generations the tension will erupt."
Dedicating his work on Sri Lanka to "the present and future generations in the hope that this book may awaken them to the realities of the past, challenges in the future and bring a closer understanding and harmony between the communities, so that they may stand together in restoring the glory and integrity of the island", he says what gave him the "most enjoyment" was writing on the 'Stone Age in Ceylon' because it was "where everything started…..the beginning".
Now that this major task is over, "my heart is in Paradise" and he wishes to settle down in Sri Lanka but has commitments to fulfil towards his family, he says. Twenty long years of his life Dr. Sebastian has devoted to writing, the medical books first and then the history book, stealing hours from his family and violating the sanctity of sleep and he vows to "hit my wrist if I start to write again".
However, a "but" hangs in the air, as he adds, "I never know, I might start another book."