Rune Nishan Clausen and Signe Iresha Clausen have no memories of this place, but for both of them The Haven was once home. There are pictures from that time, taken in this same room. Nishan was 1 ½ years old when he first met Holger and Dorit Clausen.
He is clearly uncomfortable in the first few photographs, squirming in their arms, his face a grimace of displeasure; but with each new picture he seems to relax until he is laughing with Holger and then fast asleep, slumped trustingly over Dorit's shoulder. Looking at those pictures, Holger says he still remembers the moment when Nishan seemed to really accept them. A few days into their stay, the boy let his friends run away while he ran toward them. Having adopted Nishan in 1986, Holger and Dorit came back for Iresha in 1989.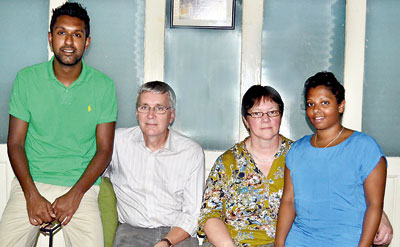 The happy family back in Sri Lanka: Pic by Hasitha Kulasekera
She was much younger, a mere five months old, and in contrast to Nishan who had adjusted well to his new home in Denmark, she kept them all up at nights with her crying.
She was a fussy eater, unlike her adopted brother whose passion for oatmeal has become a family legend. From the beginning Dorit and Holger were open with their children about the adoption process.
"We had photos and a diary. Every year they had two birthdays, one for when they were born and another for when they came to Denmark," says Dorit. Now that they've grown up, they've all returned to see the island where Nishan and Iresha were born. "We always knew that we came from here," says Iresha. Nishan says he's surprised by how much he likes the island, and they're soaking up the sights, smells and sounds of the city. Nishan has also discovered a decided taste for Sri Lankan cuisine, much to the amusement of his family.
"I've always wanted to find my biological mother," says Nishan, adding that he has so far found it impossible to trace her. He and Iresha know their biological mothers had them out of wedlock and were compelled to give them up for adoption. They also know they have siblings out there and think it would be wonderful to meet them. "I wonder if they would look like me," says Nishan.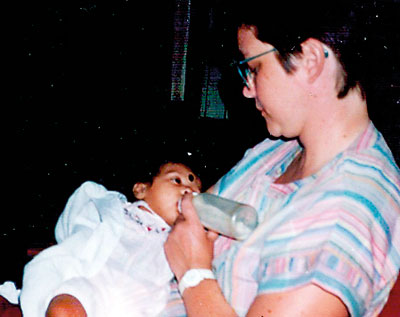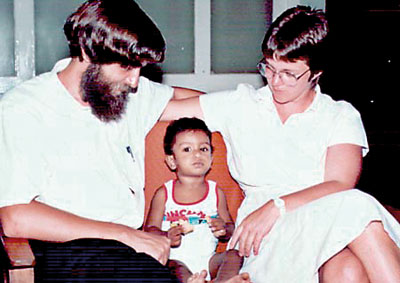 Pictures from the past: Baby Iresha (top) and Nishan (above)
"It's strange to think we also have another family," Iresha chimes in. Nishan says he would like to meet his biological mother and talk to her, to understand what she was going through when she had to give him up. Though they are both curious about their biological families, the two also say that Holger and Dorit are their parents in every meaningful way. It's why they've all made the trip back here together.
In the years since they were last in Sri Lanka, Holger has shaved off his bushy beard and his hair has turned white but Dorit is immediately recognizable as the young woman in the photographs. Dorit says that she and Holger were both fascinated by Sri Lanka and they thought the people particularly beautiful. It was one reason they spent a year simply waiting to adopt a child. Holger is a teacher of science and Dorit a nurse. Inspired by years of hearing about Dorit's job, Iresha, now 24 years old, qualified as a nurse and hopes to specialize in Intensive Care. Nishan, 27, is manager of a clothing store.
Though Nishan and Iresha are not biologically related, they do share a profound connection, in part because of their shared roots. They're used to Sinhalese immigrants in Denmark approaching them and assuming brother and sister speak the language fluently. Growing up, the colour of their skin set them apart. Laughing, Nishan says it's a pleasant feeling to be surrounded by dark skinned people.
They're also here with their respective partners and are planning possible weddings in Sri Lanka.
Though their two week vacation has ended, they say they would love a few more weeks in the sun. "When we see all the children here, we think we've been really lucky," Iresha says. Later, a little away from where Holger and his children look over the old pictures, Dorit says, "It's not them that should be grateful, it's us."