21st December 1997
---

"You've done your duty"
In the late sixties he virtually fought sin- gle handed to protect the Sinhala film in dustry from the powerful lobby that controlled the distribution network. Ace cinematographer Sumitta Amarasinghe was the fighter. A Budu Medura erected in his memory at the Sri Jayawardenapura Hospital was opened last Sunday to mark his second death anniversary, a fitting memorial to a dedicated artiste and a fine human being.
An ideal setting on a hillock, the Budu Medura has been built on a concept evolved by Gangodawila Soma Thera. The seated Buddha (sculptured by M. Deshabandu) is visible from far. Architect Gamini Karunaratne's design is a simple but dignified structure in traditional style.
There were no politicians at the opening. There were no formal invitations. The Maha Sangha, led by Venerable Madihe Pannasiha Maha Nayake Thera, hospital staff, Sumitta's friends and well- wishers were there to pay tribute to a man who did much to uplift the local cinema industry.
At the time he passed away, Sumitta was heading the Film Corporation. He was doing a silent service with determination to put the industry back on track.
To his wife Sumitra for all the hard work put in over a mere four months to finish the project, we say "you've done your duty. The Budu Medura is a lasting monument in the name of a good man."
---
lt all started as a hobby
Would you expect a teledrama director to write a book on cricket? This is exactly what Nalan Mendis of Doo Daruwo fame has done. Last week he launched Seemitha Ovara Kathawa, (Story of Limited Over Cricket) a timely publication with everyone talking about cricket.
The book is a complete record of Sri Lanka's performance in the One Dayers - in 257 games from the first match in June 1975 against West Indies to the one played last month against South Africa at Lahore. Score-cards are accompanied by a resume of each match along with photographs.
Also included are records in one day cricket (both Sri Lanka & International) plus a summary of performances by 91 Sri Lankan players who have taken part in the one-dayers. An excellent collection of facts and figures for anyone interested in the game.
According to Nalan, about 30 years ago he started collecting cricket scores as a hobby. "I pasted the cuttings in a CR book. I never dreamt it would end up in a work like this," Nalan says.
Well known for his teledramas, Nalan has so far directed nine beginning with Passe Genaa Manamali (1989). His record breaking 230 episode Doo Daruwo (1990-95) had a viewer rating of 86.3% throughout the five year period. His latest, Nedeyo is a 100 episode teledrama.
Live wire behind Nalan's current publication is Somapala Hewakapuge ('Some', the IPB man), the ever-willing supporter for any activity connected with the arts who occasionally turns out an unforgettable performance in a teledrama.
He is confident the book will be a best seller judging by the response of at least three leading publishers who bagged hundreds of copies at the launch.
---
Many happy returns!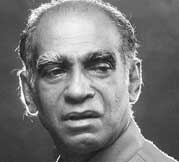 Reaching 70 years on December 5, maestro Amaradeva spent a quiet day at his new residence in Nawinna chatting to friends who turned up to say 'many happy returns'.
He has been rather quiet in the last few months. In February when he took part in a three hour chat show over ITN (Shanta Me Re Yame), it was a rare and rewarding musical treat. He was in his element that night feeling homely and relaxed. Even at the end of the three hours he could go on for more.
Amaradeva is still 'fresh'. We want more from him and he is capable of delivering. So over to you, Amare!
---
Remembering Clarence
By the time Clarence Wijewardena passed away one year ago, his name was a household word. From the time he formed the Moonstones 30 years ago, Clarence made his mark in the music scene as an innovator and as a superb entertainer. Yet he was shy and unassuming. He gave a new dimension to musical groups.
He started in the late '60s in the EP (extended play) record era. His first EP came out in 1968 under the Phillips label with four songs. Mango Nenda was an instant hit. The first ever Soorya EP (Kalu Mame) was his second. His Dilhani brought Indrani Perera on the scene. Dileepa Podi Puthu (Karunaratne Abeysekera's lyrics about his son) was the first song Clarence sang. Clarence dominated right through the audio cassette and CD scene. He got his break to direct music in a film with H D Premaratne's Sikuruliya.
Introducing a Lotus LP with Clarence's top hits, Vernon Corea wrote: "We have all shared the treat of your lovely Lyrics, your tuneful compositions, your friendly presentation and your spontaneous sense of sharing with your followers, your treasury of talent. Keep going, keep growing, keep glowing". Clarence did until his untimely death last year.
---
Continue to Plus page 9 * All I want for Christmas is a roof over my head * Looking for love * In dire need
Return to the Plus contents page
| HOME PAGE | FRONT PAGE | EDITORIAL/OPINION | NEWS / COMMENT | BUSINESS
Please send your comments and suggestions on this web site to
info@suntimes.is.lk or to
webmaster@infolabs.is.lk