NDB Bank obtain ISO27001:2013 Certification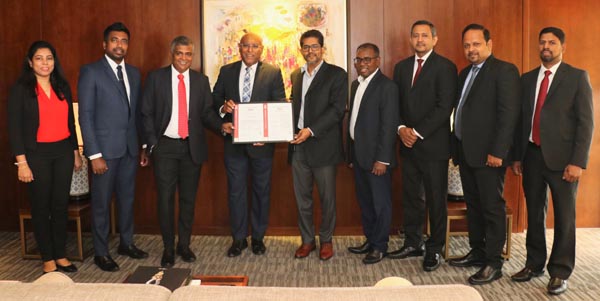 Above from left Kalhari Nirosha (Executive IT - NDB), Rasika Sampath (Head of IT Security – NDB), Deepal Akuretiyagama (COO - NDB), Dimantha Seneviratne (CEO - NDB), Shan Nanayakkara (Country GM - Bureau Veritas), Subash De Silva (Head of Marketing - Bureau Veritas), Indika Gunawardena (CIO/VP, IT - NDB), Lasantha Mathupala (AVP, IT - NDB), Amila Withanage (AVP, IT - NDB)
In a landmark achievement, NDB has obtained the prestigious ISO27001:2013 Certification underscoring the bank's commitment to protecting the privacy and security of customer data.
The ISO27001:2013 Certification, issued by the International Organisation for Standardisation (ISO), is an internationally recognised standard that sets out the requirements for an information Security Management System (ISMS). The certification process involved a rigorous assessment of NDB Bank's policies, procedures, and infrastructure to ensure that they met the highest standards for information security.
Conforming to these guidelines ensures that NDB has put in place a system to manage risks related to the security of data owned or handled by the bank and that this system adheres to all the best practices and principles enshrined in this International Standard, the bank said in a media release.
The certificate was presented by Bureau Veritas Country General Manager to NDB CEO Dimantha Seneviratne, COO Deepal Akuretiyagama, and CIO Indika Gunawardena in the CEO's office of NDB Bank, Nawam Mawatha, Colombo 2, recently.
Commenting on the occasion, NDB CEO, Dimantha Seneviratne, stated that, "We are extremely proud to have obtained the ISO27001:2013 certification, which highlights our commitment to ensuring that customer data is protected at all times." He further added that "this certification reaffirms our dedication to providing secure banking services to our customers and maintaining the trust they have placed in us"
The ISO27001:2013 certification has allowed NDB to sustain its strategic commitment to become a more digitally enabled bank by introducing numerous innovative banking solutions and subsequently establishing a highly secure and reliable technological environment comprising advanced electronic delivery channels, features, and services.
Comments
Still No Comments Posted.