A dinner dance theatre with international stars and With My Feet dancers
By Anoushka Jayasuriya
World-famous dancers, including the five-time undefeated UK national Latin American champions Gunnar Gunnarsson and Marika Doshoris, along with Nauris Kalva and Manuja Hughes, Blackpool Open Smooth Champions, will perform at Dance Epicure, a dinner dance theatre conceptualised by wellknown dance teacher Naomi Rajaratnam's dance company, With My Feet, on April 2 at the Shangri-La Hotel in Colombo.
They will be joined by leading local dancers in the specially designed event of dance and food presented by the Colombo Dance Theatre with 15 artistically choreographed dance sequences, including Ballroom, Latin American and Contemporary style dance numbers, interspersed with a four-course sit-down meal.
The event will also feature a performance by 12 children of the Warehouse Project; an urban community solution in partnership with the Sri Narada Foundation.
At the media briefing at the Shangri-La on March 8 were the principal partners of the event- Ramesha Samarasinghe, Director of Communications Shangri-La Colombo and Shangri-La Hambantota, Nadeem Shums, Vice President John Keells Holdings and Head of Sales and Marketing - property group, Trevor Rajaratnam Co-Founder of With My Feet, Aroshana Fernando, Head of Consumer, Private and Business Banking Standard Chartered Bank and Asoka Bandara, Group Head of Corporation Affairs and Strategy Maliban Biscuit.
Prior to the briefing Naomi said, "I am so honoured that some of the UK's leading dancers have chosen to collaborate with us, and I am equally thrilled to be able to showcase the best of our Sri Lankan talent on the same platform." The concept of a dinner dance theatre has been on my mind for the longest time and I couldn't think of a better moment to finally turn this dream into a reality," she added. "The calibre of these world-renowned dancers paired with the best of With My Feet dancers is the perfect opportunity to offer something truly unique to our Sri Lankan audience."
Trevor Rajaratnam speaking at the press conference added that a crucial aspect of Dance Epicure is to help create opportunities for emerging young talent in the country. Speaking of the children of the Warehouse Project he said, "We're in Colombo, we have opportunities, we have contacts and all that but ….do the people in rural areas have the same opportunities that the people in Colombo have? We want to support the community and give them a platform to show their skills."
"People don't associate Latin or Ballroom dancing as something very intrinsic in Sri Lanka but it's very important in a country that is at crossroads today. I think we must project a very positive image to the world - these kinds of events help show that the country is progressing step by step," said Asoka Bandara.
Nadeem Shums shared a similar sentiment adding, "We hope that these types of events will really put Colombo on the entertainment map and attract foreigners going forward and also allow the locals to experience a different type of entertainment that is very unique."
The event would host 350 guests with 35 tables of 10 people each. Tickets are priced at Rs. 25,000 per head and are inclusive of entertainment, the four-course meal and a cocktail prior to the event. A cash bar will also be available at the event.
Part of the proceeds from the event's ticket sales will go towards the Dev Siri Elders Home in Welisara which Naomi supports through each of her productions.
Tickets for the Dance Epicure are now on sale and can be purchased online at www.withmyfeet.com. For updates follow With My Feet on Instagram @with_my_feet and on Facebook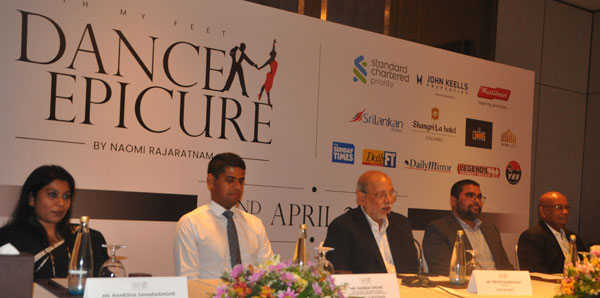 Dance Epicure: At the press conference to announce the event. Pic by Nilan Maligaspe
Comments
Still No Comments Posted.