Reflections on "Van Gogh in Sri Lanka"
By Jomo Uduman
The Fareed Uduman Art Forum presented "Van Gogh in Sri Lanka" at its Sky Gallery - a collection of beautifully framed prints of the exact sizes of the originals painted by Vincent Van Gogh. The exhibition brought into focus another dimension of art lovers, humble and down to earth. Many wanted me to record this beautiful experience.
During the days of the exhibition, I recalled what Saul Bellow said in his 1976 Nobel lecture on science and art: only art can penetrate what pride, passion, intelligence and habit erect on all sides. I also remembered what Jean-Auguste-Dominique Ingres said: the nature of the masterpieces is not to dazzle. Their nature is to persuade, to convince, to enter into us through our pores. And then, Pablo Picasso's words: art washes away from the soul the dust of everyday life.
How apt all of these sounded and reverberated around me with the conversations I had with the young and old, from near and far, from all walks of life. Hidden gems of human beings moving around the gallery; devouring, dissecting and discovering 51 Vincent Van Gogh masterpieces in Sri Lanka - up close. On certain days over 500 people visited and there were queues forming to come in. The exhibition had to be extended by a week to accommodate all.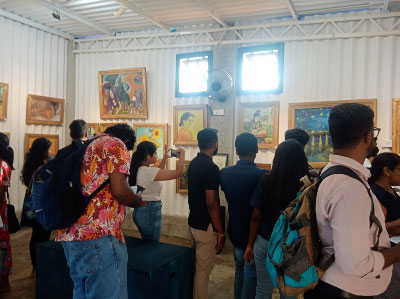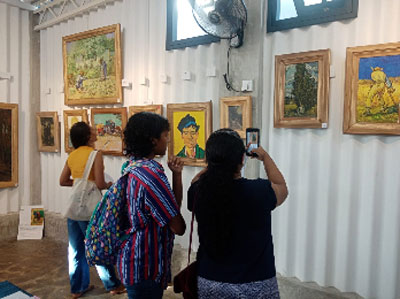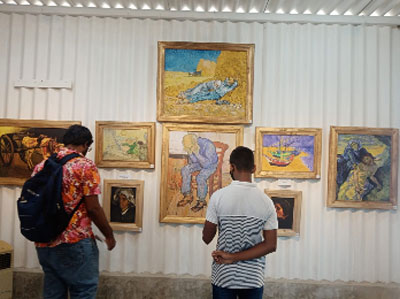 We were confused. How did this wave come about? Why had Van Gogh touched the hearts and souls of so many people in Sri Lanka?
I spoke with people who booked train or bus tickets and came in from Jaffna, Kandy, Galle, Matara, Monaragala, Ampara, Kegalle, Negombo, Bentara. Mothers carried children up the daunting stairway to the Sky Gallery. Older people walked up bravely with barely a huff or a puff, while some of the younger ones had to catch their breath. A multitude of calls came in each day inquiring how much entry tickets were and where they could book it. When told that entrance was free, they were at a loss for words, but thankful. All of them were true, simple, down to earth lovers of art whom I thought did not exist. How wrong and stereotypical I was!
They knew so much about Van Gogh, explicit details of his tortured life, his starry nights, the women he loved and lost, his beautiful sunflowers, his days with Gauguin in the yellow house and his sad tragic death at thirty-seven. Some carried in a hefty book that was a Sinhala translation of Irving Stone's book on VVG. There were incredible moments when some brought in a painting they had done the previous day of "The Starry Nights" on paper, board and even on the backs of their shirts and blouses. Wonderful reproductions done by the youth of Sri Lanka who were obsessed with this painting and VG. I could easily say that this exhibit in the gallery was the most photographed object in Colombo! Photographs of visitors standing before it and thousands with other exhibits (videos too) flew around social media during those days, accompanied by cameo reviews of the exhibition.
What really touched us at our very deepest was their humble gratitude for helping to make this happen for them. For many it was a dream, a fantasy, a part of a rapidly lengthening bucket list, to see Van Gogh up close like this. Some hung around for 3-4 hours, confiding that they found it hard to leave the gallery, to leave Van Gogh. I noticed some came back many times again.
The comments in the visitor's book that grew huge by the end of the exhibition will be worth publishing one day because this will help understand the true feelings and pulse of our people (especially the youth of our land) struggling to come out from a massive crisis.
There were art teachers from far away government schools who visited. Teachers from private art schools who brought in their students and took them around explaining each painting painstakingly but lovingly. Children who had done art projects on Van Gogh in their schools came over with their sketch pads and simply ran wild just seeing the exhibits. A University got each of their students to research an exhibit and then come over and present the painting to their colleagues. Schools brought their students and wanted us to talk to them about VG's life and art. We gave them all the freedom to do all of this.
What was intriguing to me was that most of the young men and women who visited were science students, undergraduates and graduates, with an avid interest in art and that was phenomenal. Many of them were artists themselves and shyly showed me their paintings on their phones. I found that most were brilliant artists and promised to help them exhibit at the Art Forum I have established as a tribute to my father. Final year medical students sat before me and told me that they were very interested to learn about the feelings and emotions behind each painting. It was a great experience talking with them. Doctors to be, interested in feelings too.
Interestingly, the topic of mental illness and the stigma attached to it was discussed widely by many - who also mentioned that (sadly) this has remained unchanged from the 19th century during Van Gogh's life and now, the 21st century. They questioned why he was only able to sell one painting during his lifetime but after his death they all sold for millions of dollars. There were many who said that if he had sold more paintings his mental health (and self-esteem) may have improved and the need to take his life may not have arisen. Because he was totally dependent on his brother Theo for his livelihood and this would have made his self-worth and dignity diminish.
The final take was that we must appreciate, accept and acknowledge people when they are alive and not only after their death. And importantly, the world must stop stigmatizing people with mental health concerns and treat them with empathy, understanding and compassion - which will empower resilience. I finally understood how and why Vincent Van Gogh had touched the lives, hearts and souls of so many people in Sri Lanka.
Perhaps we can experience art fully if we stop approaching it with so much formality and reverence and allow ourselves to engage with it in a spontaneous way. Like what we do with music, we should relax around art, learning to use it as a constant source of support and encouragement, for us to know ourselves better, and understand our joys and suffering.
Comments
Still No Comments Posted.