Sea cucumber farming spells death to traditional coastal fishing in north
Once a fisherman, Manualpillai Thoms Dehol (56) now makes a living solely by repairing fishing nets to support his family of four.
Hailing from a fisherfolk family at Pasaiyoor in Jaffna, he gave up fishing last year: The reason: His access to the familiar shore and the sea has been restricted by mushrooming sea cucumber farms which occupy hundreds of acres of sea areas.
Jaffna's small-scale fisherfolk use the traditional wooden Vallam and Siraku valai, a fishing method, in shallow waters close to the shore. Usually, these fishing nets are set in the night and the harvest is done the following morning.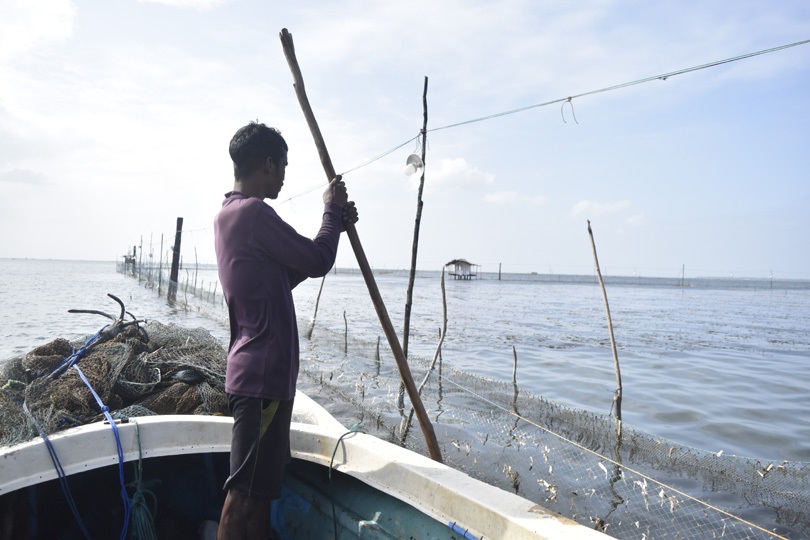 "If you come here in the late evenings, the whole coastal area is dotted with lights fixed on sea cucumber farms that spread across the narrow lagoon stretch. How can fish or prawns come towards the coast?" Mr. Dehol asked, explaining that the newly set up farms are disrupting natural navigation of fish towards the coast.
Kurusumuththu Francis, (67), is also a one-time fisherman. He now buys fish for his family from other fisherfolk.
He used to harvest prawns in the lagoon using patti valai, another traditional fishing method where fish and prawns are trapped in a square shaped nets. But in recent months, not many fishermen are seen engaging in patti valai fishing, with the sea space being usurped by cucumber farms.
"Fencing off the sea close to the shore makes it difficult for fish to navigate towards the coast during the monsoon season," Mr. Francis said. Small scale fishermen adopt different traditional fishing gears according to the seasonal, water current patterns.
From October to April, fishermen harvest prawn, para, and shrimps in the lagoon. "But we don't get that much of catch these days as we used to."
As a result of the proliferation of sea cucumber farms, about 3200 families of small-time fishermen face a bleak future.
The sea cucumber farms are constructed in keeping with pen culture method where shallow coastal areas are enclosed with thick fences. Sea land plots – with the extent ranging from one acre to ten acres — are given on lease by the Fisheries Ministry for entrepreneurs to set up cucumber farms. Only about 4000 sea cucumbers can be bred at a given time in a one acre of coastal waters.
The recent sea cucumber farm boom in the Jaffna lagoon has attracted many investors.
In the Jaffna district alone, some 220 permits have been issued so far. In addition, more than a hundred applications are being reviewed. In the neighbouring Kilinochchi district, 270 permits have already been issued permits and another hundred applications are being processed.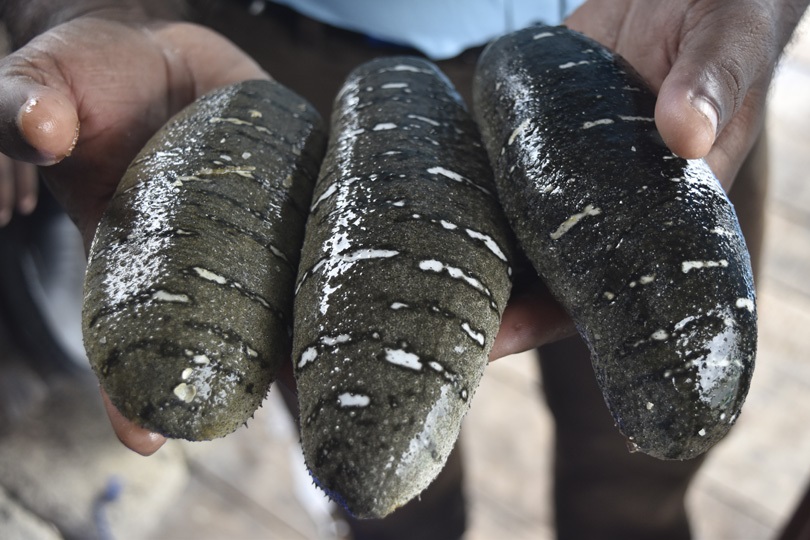 According to the Fisheries Ministry's 2021 progress report, around 5,000 acres of coastal land with high potential for sea cucumber farming have been identified in the shallow sea areas of Mannar, Jaffna, Kilinochchi and Kalpitiya.
Fisheries officials say that in the Kilinochchi villages of Valipaadu and Iranativu. a sea cucumber programme is being implemented to involve low-income families under a cluster system in partnership with investors.
In the northern districts, some 357 metric tonnes of sea cucumber were harvested in pen culture farms last year (January- September)
Gurunagar Siraku valai Fishermen Union leader Sepastiyaampillai Anthonythaas said not only sea cucumber farms, but other factors had also contributed to the low fish catch in the north.
"Apart from the sea cucumber farms, we are being hit by bottom trawling Indian fishermen. Many traditional fishermen are now working as daily labourers to support their families," Mr. Anthonythaas said, calling on the Government to make them partners in aquaculture programmes to uplift their livelihood.
Even though local fishermen are encouraged to set up sea cucumber farms in selected coastal regions by the Fisheries Ministry, many lack the capital to invest and secure a permit from the authorities.
A Chinese joint venture hatchery was set up last year at Ariyalai in Jaffna to supply baby sea cucumbers to the farms, but most farm owners prefer baby sea cucumbers caught through wild fishing in mid-sea as they have the potential for rapid growth and weight gain within a short time.
"Local fishermen are encouraged to engage in wild harvesting of sea cucumbers and farm owners buy them at Rs 80-150 each to breed them in their fenced farms. After six months, they can be sold at Rs 800-1,200 depending on the weight," Mr. Francis said.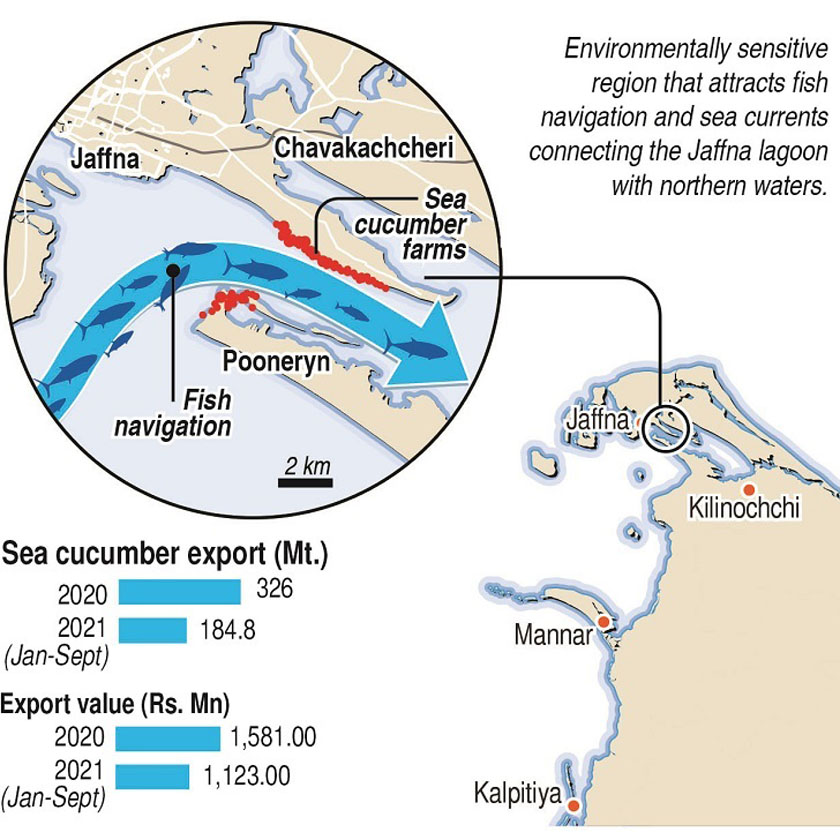 Local fishermen unions and federations said the fisheries authorities had acted arbitrarily without assessing the harm the sea cucumber programme could cause to the livelihood of traditional fishermen.
On Tuesday, a Gurunagar fisherman sent a petition to the Assistant Director of the Department of Fisheries, expressing his opposition to the grant of a lease permit to an individual to set up a farm in Ariyalai East where he has been engaged in fishing (Paadu-designated fishing ground) for the last 37 years.
"This is like evicting me from my home and settling someone from outside. How can the authorities simply declare a coastal region as suitable for sea cucumber framing without consulting us in the first place?" the fishermen asked.
A group of youths from the same Ariyalai East also staged a protest this week alleging that the allocated land included a bathing area would be barred to them if permits were issued.
Pasaiyoor Fishermen Federation Chief P. Mathan said many rural fishermen federations were disturbed by the development and he had brought their concerns to the notice of the Fisheries Minister.
"We have already informed the Minister that permits should be given only if the farms were to be set up outside the traditional fishing grounds," Mr. Mathan said.
Sea cucumber is one of the main export sea food items to China and Southeast Asian countries where it is a major delicacy and reported to be used in traditional medicine.
Fisheries Minister Douglas Devanada told the Sunday Times that the sea cucumber pen culture would be a good economic boost for the fisherfolk to increase their livelihood. "More fishermen are willing to invest in this new aquaculture business and hundreds of fishermen have already submitted their proposals."
Asked about the damage the sea cucumber farms had caused to the livelihood of the traditional fishermen, the minister said it had been mentioned in the permit itself that the permit could be annulled if the farm was found to be detrimental to the livelihood of local fishermen or causing any environmental damage.
The National Aquaculture Development Authority of Sri Lanka (NAQDA) says it issues permits for sea cucumber farms only if the Fisheries Ministry research arm, the National Aquatic Resources Research and Development Agency (NARA), recommends it to do so.
NAQDA Assistant Director B. Nirooparaj said permits were issued following inputs from and feasibility studies by respective departments as to whether the project could cause any harm to marine environmental resources or the livelihood of local fishermen. Approval is also necessary from the Department of Coastal Conservation and Divisional Secretary to use the coastal land.
Fisheries experts, however, say permits have been granted to a large number of aquaculture farms in environmentally sensitive regions like Ariyalai East and Pooneryn lagoon which connects to the deep seawater and, as a result, the navigation of fish towards the coastal waters has been heavily restricted.
"The biggest fish breeding sites are located near the coastal lands due to the availability of sunlight and rich marine resources including seagrass and plants. Prawns and shrimps breed near coral reefs. Depending on the salinity of the waters, these organisms live near coastal areas or move towards the sea. Setting up sea cucumber farms in these areas poses a huge threat to the long-term sustainability of the region," A. M. Riyas Ahmed, researcher and senior lecturer attached to the South Eastern University of Sri Lanka said.
"The impact of these pen culture farms on traditional fishermen is something to worry about. For example, a few thousands of families used to depend on lagoon fishing for survival but now the region is going to be shared with a limited number of investors only," Mr Ahmed said.
Reporting for this story was supported by Internews' Earth Journalism Network.
Comments
Still No Comments Posted.