Sri Lankan becomes youngest guest author at Sharjah International Book Fair
Sanith Piyadigamage, a Sri Lankan born author, narrator and public speaker living in Dubai, became the youngest guest author at the 41st Sharjah International Book Fair (SIBF), a 11-day event held in the UAE.
Sanith, who published his first book when he was 10, spoke under the topic 'A Crucial Decade', where he pre-launched his fourth and newest book, 'Lies of Omission'.'Lies of Omission', Sanith tells us, examines the decade leading to and including the Second World War and is inspired from his fascination with history.
Sanith says the book is his most intricate to date, and aims to show people the importance of understanding what happens, as it happens using the example of one of the most influential and disastrous decades in history. It is important that while we remember our past, we must not fuel conflicts in the present using the past, he says.
Speaking about how his experience as a young Sri Lankan in a different culture affects his writing, Sanith says his exposure to a multitude of other nationalities and cultures in Dubai has helped him to appreciate humanity and the value of tolerance. This has led to his efforts to spread the message of tolerance, including speaking at the Mohammed bin Rashid Tolerance Awards and working with Dubai Public Libraries to conduct training sessions.
Public speaking is an obstacle for many adults, but at a young age, Sanith has conducted multiple successful public speeches in front of international audiences. He says his apt for public speaking was cultivated at a young age at school show-and-tells, where he enjoyed conversing with the class and teachers, when other students usually recited from a script. His advice on speaking in public is to be yourself, and find something that relates to you in the subject of your speech.
Sanith says his future is full of possibilities, and he hasn't set his heart on a particular career yet, but plans to continue writing and speaking in public, as motivating and sharing with others has always been important to him. His message to children of his age is, instead of aspiring to do great things in the future, to attempt to achieve them in the present.
By Sadisha Saparamadu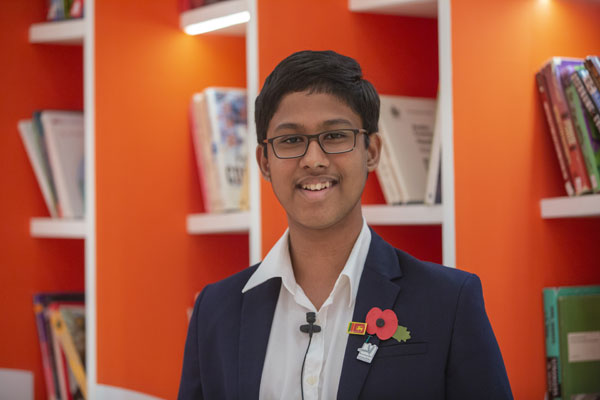 Comments
Still No Comments Posted.