Daily, about 800,000 people enter Colombo in about 250,000 vehicles, while there are about 700,000 people living within the city. But during heavy rains, the city's ugly side raises its head with major roads going under water, causing inconvenience to both motorists and pedestrians.
From Thunmulla junction, Reid Avenue and Havelock Road, Robert Gunawardene Mawatha to Armour Street junction, Jethawana Road and Bloemendhal Road, from Horton Place, Wijerama junction, Gregories Road to Norris Canal, Dematagoda Road, Castle Street and Kettarama junction, all become impassable during a downpour.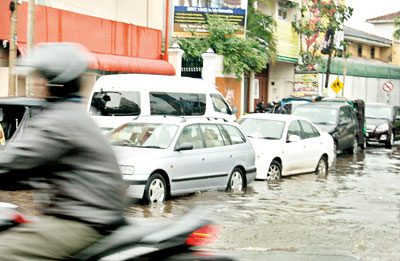 Scenes in Colombo last week. Pix by Indika Handuwala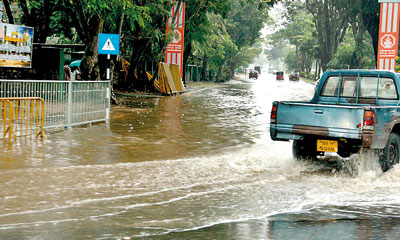 Colombo has 42 flood prone areas, according to findings of the Colombo Municipal Council (CMC). Maintenance of drains, canals, outfalls and gates is a joint responsibility of the CMC, Land Reclamation and Development Corporation (LRDC), Urban Development Authority (UDA), Coast Conservation Department and Irrigation Department.
CMC Director (Drainage) M. Saleem said that the drainage system is almost 80 year-old and is able to hold rainfall of 30-40 mm. "Last week's rain was more than 69 mm. The drainage system cannot handle 100-120 mm rainfall. With time, most of this storm water drains will be completely blocked or buildings put up over these drains. Therefore re-doing it is a costly affair, "he said.
After more than two years of discussion, the World Bank has recently agreed to provide Rs 4 billion for the Metro-Colombo Flood Mitigation Project and now is now in the designing stage. "Out of the 42 locations we have identified, 15 critical locations will be completed by 2013," he assured.
"There will be a lot of digging of roads and re-doing of drains and building of inner tunnels this year," said LRDC Chairman Harshan de Silva, in an interview with the Sunday Times.
"It is the responsibility of the local authorities to maintain small drains, by removing the daily dust and dirt from roads that get collected into drains," he said. Mr. de Silva said that, under the project, a micro-tunnel will be built from Thunmulla junction directly to the sea.
According to him, storm water flows from Thunmulla via Torrington, causing inundation during heavy rains in Buller's Lane, Malalasekara Mw, Torrington Avenue and Suleiman Terrace, and then heads to Wellawatte. This is a long route and causes unnecessary flood conditions.
A micro-tunnel or a surface drain will also be built in Mutwal. At present, there is such a tunnel that leads to the sea, from 5th lane in Kollupitiya, he said. "Out of the required 1,500 hectares of water retention areas in Colombo, there are only about 700 hectares. This is mainly due to illegal constructions. Under this project, deep drains will be cut at the boundary of retention areas," Mr de Silva said. According to him, dredging of canals will continue with the assistance of the Navy.
"Colombo North canals are badly maintained. A lot of sewers of low income settlements are directed into the canals, rendering them highly polluted. The Dematagoda and St. Sebastian canals have been dredged more than thrice during the past two years," he said, adding that public's contribution towards such efforts is essential.
The South and North locks, McCallum gate and Gothatuwa pumping station that were built during the British era, will be redone under this project, and 35,000 housing units will be built by the Defence and Urban Development Ministry for those living in canal reservations, especially in North Colombo and Kolonnawa.
Former Secretary- Urban Development Ministry, Dr P. Ramanujan told the Sunday Times, there were major problems in finding plans of the old drainage system, and many attempts were made to find donor agencies for the project.
"Some drains have been buried underground and building structures over them with some completely blocked. Over the years, there has been a total neglect of major drains. Buildings have blocked important canals. It is important to constantly clean up the main drains, even if it requires digging the roads.
Continuous attention should also be given to drainage systems, as given to city beautification," he said.
Respondents sans time to meet to comply with court directive
A petition was filed in 2010 by the Centre for Environmental Justice against the UDA, Mayor of Colombo, Minister of Environment of Western Province, Disaster Management Minister, Central Environment Authority, Land Reclamation and Development Board and the Attorney General, for their failure to maintain the drainage system of the city, that has resulted in flood conditions during heavy rainfall.
Chairman of the organization, Ravindranath Dabare said that, despite filing the petition, and being ordered to prepare a report with proposals to minimize the flood situation, the Respondents have reported to courts that due to difficulties in meeting up, the report will be delayed. The next hearing falls on May 2.