With incidents of dengue rising again, this time more virulent and rampant, the Health Ministry has sought police assistance to curb the disease by cracking down on those who do not pay heed to destroying mosquito breeding sites.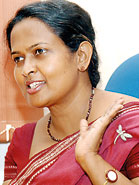 Dr. Paba Palihawadane
Health Ministry's Epidemiology Unit Director Dr. Paba Palihawadane said a meeting was held this week with the participation of Health Minister Maitripala Sirisena and Deputy Inspectors General (DIG)'s of areas designated as high risk.
Colombo, Gampaha, Kandy,Kalutara, Kalmunai,Kegalle, Kurunegala, Matara and Puttalam are some of the high risk districts while Colombo Municipal Council, Dehiwala Mount-Lavinia,Kaduwela, Homagama, Kolonnawa, Wattala, Ja-ela, Kelaniya and Divulapitiya have been identified as high risk Medical Officer's of Heath (MOH) areas.
"Police will play a big role in our prevention programmes. According to entomological studies, the mosquito density remains high because of breeding sites that include discarded containers and properties and houses that are not maintained," she said.
Police will deploy more officers to carry out raids along with health officers, Dr. Palihawadane said, adding that unoccupied lands and houses, houses with neglected big gardens ,luxury apartment complexes, state housing schemes, schools, construction sites, railway dump yards, public places like bus stops and railway stations, court complexes and state institutions, have been identified as some of the major breeding sites.
Meanwhile householders too pay little heed to cleaning backyards, roof gutters and allow rain water to collect in discarded containers. Police Environment Unit Director SSP Quintus Raymond said red notices will be issued to owners of places that breed mosquitoes and if corrective measures are not taken legal action will follow under section 262 of the Penal Code.
"Health authorities and police have decided to take such a drastic action as it is felt that the public are not taking awareness campaigns about dengue seriously. In the coming weeks, teams comprising Medical Officer's of Health, Public Health Inspectors, Grama Niladaris, Samurdhi and police officers will enter premises and inspect them," he said.
He said 429 police stations islandwide have setup environment units and officers of these units will be deployed to conduct raids and inspections. "In some instances the owners of houses and properties are overseas with no one to supervise maintenance. On several occasions police had to put up 'land/house for sale' signs to get the owner to contact the police," he said.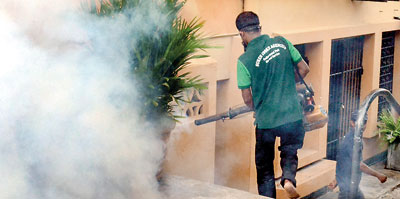 Fumigating the Fort area last week. Pic by Hasitha Kulasekera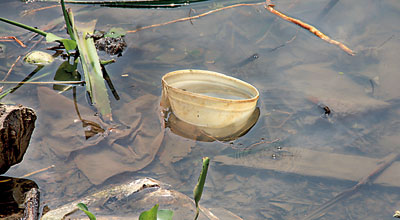 Ideal mosquito-breeding site. Pic by Indika Handuwala
In the first four months of this year alone 46 dengue deaths and 10685 cases, with the majority from Colombo, Gampaha, Kandy and Kalutara districts have been reported. Of the total deaths, 20 were reported from Colombo district with seven from the Colombo Municipal Council (CMC) area and 13 from outside Colombo city. Colombo and Gampaha both recorded 2624, 2059 cases respectively.
This is almost a three fold increase compared with the same period last year where 4874 cases were reported.
Dengue Control Unit Director Dr. Ranjith Batuwanthudawe warned there is an upward trend in the spread of dengue and there is the possibility of another outbreak in the coming weeks, adding that an outbreak of dengue occurs usually once in two years and that the last outbreak was in 2010.
Dr. Batuwanthudawe also said the incidents of dengue in Gampaha were increasing due to rapid urbanization that have resulted in many construction sites.
Dr. Batuwanthudawe said the Aedes aegypti is known to be an urban dweller that breeds in containers that collect even a small quantity of water. He added that it is also important to note that the mosquito not only breeds in clean water but also in unclear water that has a clean top layer.
"The mosquito does not lay eggs on the water but attaches the eggs on the wall just above the layer of water. This is why it is so important to discard all containers that collect water," he said.