Vesak is traditionally the season of lights and colourful illuminations across the country. This Vesak, however, members of the public are urged to keep in mind that the country is experiencing a serious power shortage, and that there is an urgent need to conserve on electricity.
The Ministry of Power and Energy and the Ceylon Electricity Board advise the public to use CFL or LED bulbs for lighting purposes instead of the traditional incandescent light bulb.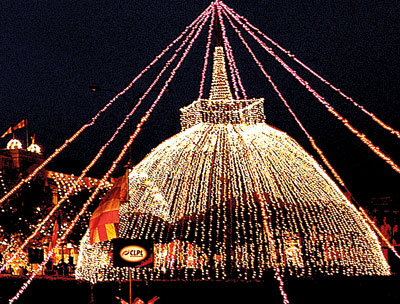 The Ministry of Power and Energy and the Ceylon Electricity Board advise the public to use CFL or LED bulbs for lighting purposes instead of the traditional incandescent light bulb
Meanwhile, domestic electricity bills have gone up significantly, further pushing up the cost of living. The reason is the recent increase in oil prices, says the Public Utilities Commission. It has been necessary to impose an additional fuel adjustment charge to the monthly electricity bill for household and other institutions, the Commission said.
The extra charges have affected daily habits and lifestyles, especially among civilians and families and small businesses. "I have had to ask my daughter, who is doing her Advanced Level this year, not to work too late into the night, so as not to put a strain on our electricity bill," Maharagama resident Mrs. Asoka Siriwardena told the Sunday Times.
Thalawathugoda retailer Mr. Somasiri said his profit margin has narrowed as he pays more for electricity, but he cannot raise the price of goods because his business will suffer.
Nugegoda housewife and mother of three, Mrs. Nelum Perera, says she has cut down on the family's use of fans and the washing machine. Pelawatta housewife Mrs. Kanthi Gunarathne says most families think twice before switching on lights or electric appliances. Electricity is an essential domestic need, and those hit the hardest by the surcharges are the low- and medium-income families, said Pannipitiya housewife Mrs. Nandani Gunarathne.
Meanwhile, the electricity conservation campaign is reaching out to 4.6 million domestic users. They are encouraged to minimise their electricity usage, especially in the peak hours between 6.30 pm and 9. 30 pm.
"About 70 per cent of electricity users do not realise how important it is to conserve this energy source," Ministry of Power and Energy Media Secretary Dhanushka Ramanayake told the Sunday Times. "If everyone pitches in and cuts down on their electricity usage, we could save up to 40 megawatts."
The second phase of the campaign will focus on factories and raising energy conservation awareness among factory owners and workers. A circular on energy conservation has already been sent out to all government institutions.
The Ceylon Electricity Board (CEB) and the Lanka Electricity Company (Pvt) Limited (LECO) have organised an awareness-raising programme to advise consumers to cut down on their use of electricity. The programme, which comes under the "Heta Wenuen Ada" initiative, will educate the public on the high costs of generating electricity, and point out that power cuts can be avoided if all consumers reduced their electricity usage.
The CEB and LECO are offering an incentive in the form of a month of free electricity or a 50 per cent discount on a single electricity bill to consumers who have significantly saved on energy.
Consumers who reduce their electricity consumption by up to 20 per cent in the month of April will be eligible for the special offer, the CEB Deputy General Manager, Business Operational Strategy, Mr. Dissanayake, told the Sunday Times.
A raffle draw will be held to choose 1,000 consumers and 5,000 consumers respectively who have reduced their April electricity bill by 20 per cent and 10 per cent. Consumers must register with a mobile phone SMS to participate in the raffle draw: Key in L <space> consumer's CEB account number, and send to 0114338338. LECO customers must send the same message, but with the LECO account number, to 071 643 643.
More information about the competition is available at all CEB and LECO regional offices, or call 1901, 1910 or 1987.