'FlySmiles', the newest Frequent Flyer Programme of the Srilankan Airlines was launched last week that rewards and delights to its customers.
FlySmiles has delivered on its promise to be 'The Frequent Flyer Programme ", by launching partnerships with no less than ten major companies to provide a wide range of exciting rewards for its members worldwide.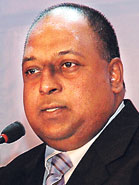 CEO Manoj
SriLankan Airlines announced that it has signed agreements with Malaysia Airline, Etihad Airways, Dialog Telekom, American Express, Standard Chartered, Traveling Connect, Hertz, Taj Hotels Resorts and Palaces, Siddhalepa, and Deccan Aviation (Lanka) as partners of this new 'FlySmiles' programme.
SriLankan Airlines' CEO Manoj Gunawardena at the ceremony said that they have no doubt that every one of them will add considerable value to the FlySmiles programme and enrich a member's journey from beginning to end.
'SriLankan Airlines welcomes all our new partners to the world of FlySmiles. We have selected our partners with great care. We are committed to continuously enhance and expand the rewards opportunities for our members, and intend to selectively sign up more partners very soon' he added.
The ten partners provide services through FlySmiles' co-branded credit cards (American Express Platinum, and Standard Chartered Gold and Classic), communications (Travelling Connect and Dialog Telekom), International air travel (Malaysia Airlines and Etihad Airways), domestic air travel (Deccan Aviation), hotels (Taj Hotels Resorts and Palaces), car rentals (Hertz), and spas (Siddhalepa).
The main feature of the new partnerships is that members will also earn FlySmiles Miles (points) during their day to day activities even without travelling, simply by using FlySmiles co-branded credit cards for everyday purchases, using their mobile phones, and many other methods.
Another interesting aspect of the partnership is the value addition extended to the partner programmes which will enable members to earn additional Miles. Similarly most partners have also extended value additions in terms of discounts and enhanced services to FlySmiles members.
Miles can be redeemed on air travel services offered by SriLankan, Malaysia Airlines, Etihad, and Deccan, and certain spa treatments at Siddhalepa outlets.
Those who use a FlySmiles co-branded credit card to purchase an air ticket on SriLankan or any of the partner airlines will earn Miles for purchasing, and also when flying, giving them the opportunity to earn Miles twice!
The partnerships with Malaysia Airlines and Eithad Airways also open up travel opportunities to many more destinations that are outside SriLankan's own network, including cities in the Middle East Europe, Africa, United States, Canada, Australia, and the Far East.
Members of the frequent flyer programmes of partner airlines – Etihad Guest and Malaysia Airlines Enrich – can earn and redeem Miles to their respective programmes or FlySmiles.
FlySmiles has three tiers of membership – Gold, Silver, and Blue – according to the number of miles flown by each member. Every mile flown is credited as one FlySmiles Mile. Silver membership is for those who earn over 25,000 miles or fly a minimum of 20 sectors within a calendar year. Gold membership is for those with more than 50,000 miles or 40 sectors.
Silver members receive a 25% bonus for every mile flown, and Gold members a whopping 50% for every mile flown.
All Members are entitled to free air tickets, upgrades to Business Class, pre-assigned seating, and priority wait-listing. Gold and Silver members receive even more benefits including the use of SriLankan's executive lounge, the Palm Strip Lounge at Colombo's Bandaranaike International Airport (Gold members can even take a guest), priority check-in, enhanced baggage allowances, and priority baggage delivery.