The Central Environmental Authority (CEA) last week signed an agreement for a nine-month pilot project to develop the groundbreaking technology involving the conversion of plastic and polythene scrap into bio fuel.
The Sunday Times caught up with Ananda Vithanage, a 42 year old inventor and entrepreneur from Kabulumulla, Yatiyantota who claimed to have invented a method in which environmentally unfriendly plastic and polythene can be converted into usable bio fuel.Mr. Vithanage who was a police officer for ten years retired from the force in 1995 and began working in the construction and building designing industry while funding his various creations.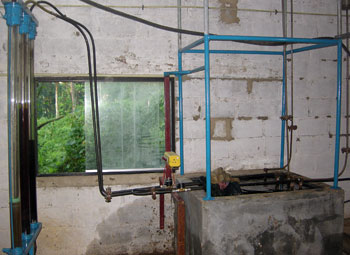 Part of the equipment used for the conversion.
With no specialised education in the field Vithanage increased his knowledge on these subjects through extensive reading and researching after which his projects were mostly based on trial and error.
"I was attempting to make a plywood board and in my experiments I tried to combine sawdust and plastic scraps by melting the plastic when I discovered this method," he said.
Vithanage who filled empty bottles with the fuel produced then approached the Ceylon Petroleum Corporation (CPC) which analysed the liquid and confirmed that it was a relatively sulphur free fuel but unfortunately could not find the funding to back his project.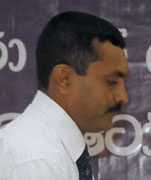 Mr. Vithanage.
"CPC officials told me that there was a similar plant in the United States which converted plastic to diesel but there was still no method in which to convert it into gas, petrol and kerosene," he said.
He approached the Moratuwa University authorities where Dr. Jagath Premachandra offered his assistance to develop the technology. Mr. Vithanage claimed that he was approached by numerous private companies from countries such as India, China, Canada and Great Britain, which offered various sponsorship deals which he promptly refused.
"One Indian company gave me one million rupees after testing my machine enabling me to continue with its development," he said.
Mr. Vithanage who has spent over Rs. 1.6 million of his own money and borrowed funds to develop this machine claims to be able to produce around 1000 litres of fuel per day. He said that it takes around Rs. 30 to convert the plastic into fuel and with an annual inflow of over 300,000 tons of plastic into the country he is convinced that around 300 million litres of fuel can be produced with further development.
Two years after he made his initial discovery and after countless attempts to seek government and private corporate interest for his technology he was directed to the Central Environment Authority (CEA) by the Environment Ministry after which plans were quickly drawn up to begin the 'Polipto' project of which he personally holds a 30% share.
"This technology can potentially change our country and its finances because we spend so much of money on importing fuel. If this project is a success it could impact on the entire world," he said.