Vianaygamoorthy Muralitharan alias Karuna has put forward three main conditions including the halt of government-sponsored colonization programmes in the Eastern Province before he joins the Sri Lanka Freedom Party (SLFP).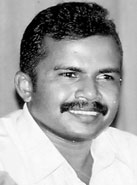 Karuna
An understanding between Mr. Muralitharan and President Mahinda Rajapaksa has been reached, Karuna aide Tachchinamoorthy Kamalanathan said. In terms of the deal, any colonization prorgramme should be in keeping with the pre-1983 ethnic ratio of the province, he said.
The formation of a separate administrative unit in the East for the Tamils and Muslims under the 13th Amendment has also been agreed upon, the Karuna official said. Minister and UPFA General Secretary Susil Premajayantha said Karuna had promised to register with the SLFP as many as 2,000 members including some of the former fighters.
He said that some of them would soon be appointed as district organizers in the east. However he declined to comment about the agreement reached between the President and Mr. Muralitharan.
The third major factor in the agreement relates to TMVP members joining the security forces. A few days ago, some 250 former TMVP cadres joined the army. The Sunday Times learns that they would not be given military duties in the north, but would be deployed in the east.
The decision by Karuna to join the SLFP comes after several unsuccessful attempts by him to convince Eastern Province Chief Minister Sivanesathurai Chandrakanthan to reshuffle the TMVP and appoint new members to the party hierarchy.