As the Lok Sabha, India's lower house of Parliament, erupted over Foreign Minister Pranab Mukherjee's statement on February 18, even as Members of Parliament from Tamil Nadu were shouting in protest on the floor of the House, Home Minister P Chidambaram walked up to Mukherjee and whispered something to him.
From Mukherjee's gesticulation, it was quite clear what Chidambaram had asked him: "Has the statement been cleared by Sonia Gandhi?" to which Mukherjee nodded vigorously and even a little irritably and pointed to the seat Gandhi usually occupies. What had the MPs, especially from the Dravida Munnetra Kazhagam (DMK) up in arms (two of them sat on a fast at the foot of a statue of Mahatma Gandhi later that day) was the following sentence in Mukherjee's statement. He said: "(Tamil civilians) in recent incidents have been stopped and even killed by LTTE cadres. The LTTE has done much damage to the Tamil community."
This was to cause disturbances on the House all day long. As repeated adjournments marked proceedings, Mukherjee said if corrections were required, he would amend his statement later. But he also made it clear that the Indian government had no powers to force another sovereign government to follow the particular course of action that the DMK would like to see.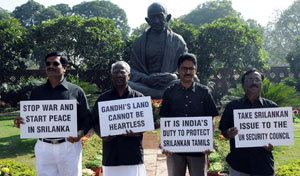 Some Tamil members of India's Lok Sabha protesting against Sri Lanka's military operation in the Wanni. The protest near the Gandhi statue took place on Wednesday. AFP
While the DMK ministers didn't raise their voice on the floor of the House, Union Shipping Minister T R Balu rushed to meet Parliamentary Affairs Minister Vayalar Ravi and expressed his unhappiness at the statement. A delegation of the DMK leaders also met Sonia Gandhi and expressed their displeasure.
Later, a senior Tamil MP from the Congress said, "this statement will not help us pacify the situation in Tamil Nadu." There lies the rub. DMK and Congress politicians alike are praying that Prabhakaran is neither found, nor killed till May 21 – the day a new Lok Sabha has to be constituted after general elections. For if any harm should come to him during this period, the ruling alliance in Tamil Nadu will almost certainly be defeated. How did a non-issue come to become such a big issue? The fact is it is a chicken-and-egg situation. There is a strong anti-incumbency feeling against the Mutuvel Karunanidhi-led DMK government which the Congress is supporting from the outside. Tamil Nadu's biggest problem is the shortage of power which causes power cuts lasting upto 8 hours a day. This is not a problem that can be fixed in a day. While the government has put in place several policies that favour the poor – including cheap rice, free school meals, free colour televisions, etc – shortage of power hits agricultural operations badly.
To overcome this handicap, the state government has an interest in stirring up other agitations. As it cannot attack the federal government – because its ministers are participants in it – it is happy to mount an agitation against a foreign government. Sensing the vulnerability of the government, Opposition All India Anna Dravida Munnetra Kazhagam (AIADMK) leader Jayalalithaa Jayaram has been taunting it for being powerless in intervening to prevent the killing of Tamils. Her opposition to LTTE is well known, and it is not the LTTE she has been talking about, it is the ordinary Tamil people. This strikes a chord. The argument of ordinary Tamils runs thus: Tamil people are being killed and nobody is coming to their aid except the LTTE.
Although they killed an Indian Prime Minister, the family has forgiven them and now, the rest of the country too should rise in protest against the Sri Lanka Army's annihilation of the Tamil people. The federal government is understandably worried. If things spiral out of control in Tamil Nadu and the DMK withdraws its ministers to limit the taint of being part of a government that cannot prevent military operations in north Sri Lanka, there will be a full scale crisis in India.
However, the Sri Lankan government should find Indias official position unexceptionable. In his statement, Mukherjee said: "A serious source of concern to us has been the condition of civilians and internally displaced persons, mostly Tamil, caught up in the zone of conflict. Estimates on the number of civilians trapped vary, but 70,000 or so are estimated to be there now".
But he added: "The LTTE was reportedly using them as human shields." The Indian government also said that it was "actively engaged" to prevent a further deterioration of humanitarian conditions. "We have sent relief supplies and suggested ways for civilians and Internally Displaced People (IDPs) to escape from the conflict zone. Two batches of relief assistance have been sent so far including 80,000 family packs of food and non-food articles, collected and donated by the Government of Tamil Nadu and medicines. Another batch of relief material is being sent."
"In the last two weeks, nearly 35,000 civilians have come out of LTTE-held areas. Sadly some of those escaping from the conflict have been caught in cross-fire and, in recent incidents have been stopped and even killed by LTTE cadres. The LTTE would best serve the interest of the Tamils by immediately releasing all civilians and laying down arms," Mukherjee said. As conditions deteriorate in Tamil Nadu, there is just over a week to go before the Lok Sabha winds up its last session before the general election. Government managers are hoping this can go off without disruption and the DMK does nothing precipitate to cause early General elections.
* General Ashok K. Mehta served in Sri Lanka with the Indian Peace Keeping Force (IPKF) from July 1988 until March 1990. He was one of the last generals to set sail from Sri Lanka in March 1990. After his retirement in 1991, he became a defence analyst and columnist for several publications.
He wrote this article exclusively to The Sunday Times.