The Sinhala and Tamil New Year is round the corner. So is, by the look of things, the end of the two and a half decade-old conflict that was threatening to tear this country apart. What with the ongoing military operations in the North of the country coming to an end as the New Year approaches, hopes and expectations for a lasting peace are high in the South, especially in the Colombo city and its suburbs where people from all communities coexist with each other harmoniously.
The Sunday Times spoke to several people from both the Sinhalese and Tamil communities, who shared with us their views on the special significance of this year's Sinhala and Tamil New Year celebrations in bridging the gap between the two communities with the conclusion of the war in the North.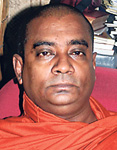 Ven. Kamburugamuwe Mahanaga Thera
Supun Dhananjaya, a First Year student from the Arts Faculty of the University of Colombo, was behind the organisation of an Avurudu celebration held at the campus aimed at promoting multi-cultural values among students. It was held on Wednesday with the participation of students belonging to all communities, and the celebrations went on well into the night, he says.
"The idea was to promote multi-cultural values among our fellow students. Tamil and Muslim students also took part. However, there wasn't a great turnout of Tamil students, but that was due to a publicity problem, and not anything else. Most of them were not aware of the nature of the celebrations being planned. We hope to do a better job next year. Having said that, the festival was great, and the Tamil students who did turn up had a very good time, and so did the Muslims," he says.
Supun and his colleague Harshanee Jayasekara firmly believe there is no racial divide between Sinhalese and Tamil students at the Colombo University. "There is no division whatsoever between the students based on race or religion. The war in the North does not make any kind of impact on the relationship between the Sinhalese and Tamil students here," says Harshanee.
The festival saw a large number of traditional Sinhala Avurudu games and festivities, but also included Tamil aspects put together with the help of fellow Tamil students, says Supun. "We had decorations traditionally associated with the two communities. There were 'kolam' decorations especially designed by the Tamil students. Everyone had a good time," he says.
Third Year Arts student Niranjala Somasundaram from Badulla opines that at the university everyone gets along on the basis that, whatever they maybe outside the campus, they're all students at the end of the day.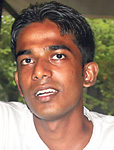 Supun Dhananjaya
"We have no differences here. Tamils, Muslims and Sinhalese all took part in the festival. Yes, even the Muslims, though it's not really part of their tradition. We go on the basis that we are all students, our racial or cultural backgrounds don't separate us. For the New Year celebration which we celebrate together, the Sinhalese do their decorations as per their traditions and we do the decorations according to our traditions too.
They are always thrilled to see the Kolam designs we do and say how beautiful it is. Usually, vacation comes during this time and so we are not around for the celebration so I am happy we are here for it this year. We have no racial tension in this university, everyone treats each other the same, regardless of race and religion. We don't have those kinds of problems here," she says.
Ramakrishnan Chandramohan, a Third Year Arts Student from Nuwara Eliya says any problems among students are purely of a political nature, but never racial.
"We had some political problems previously within the campus but we don't have racial differences. We study together and even live together in the hostel and I can detect no difference in how my Sinhala mates treat each other and the Tamil students," he says.
Niranjala Somasundaram
Sinhala and Tamil traditions for the New Year are not all that dissimilar. In fact the concept of observing an auspicious time and being attired in an auspicious colour, are common to both traditions. Both traditions encourage people to reach a compromise with people they are not on good terms with and to live in harmony with each other, which is crucial once the war draws to an end.
Religious figures can play an important role in bringing about peace and reconciliation between the two communities separated by decades of war. All religions preach the virtues of peace and coexistence, and Sri Lanka, as a multi-ethnic, multi-religious nation, can use this to her advantage in bringing about a lasting peace.
Principal of the Vajirarama Dhamma School at the Vajiraramaya Viharaya in Bambalapitiy Venerable Kamburugamuwe Mahanaga Thera believes that the very name that is given to the upcoming celebrations (Sinhala and Tamil New Year), goes to show that all is not lost.
"There was a time when the Sinhala and Tamil communities coexisted peacefully in this country. We took part in their festivals, and they took part in ours. Now, with the war nearing its end, we can go back to the old ways as soon as possible," says Ven. Mahanaga Thera, expressing optimism.
Though some may not share his optimism, the Thera says, if everyone works together towards building trust between the two communities, especially through mutual celebrations like the Sinhala and Tamil New Year, a lasting peace could dawn on this country sooner rather than later.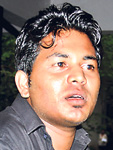 Ramakrishnan Chandramohan
"Biologically, if we take into account our blood, we all have the same red blood flowing in our veins, irrespective of our race or religion. You can't differentiate one's blood as Sinhala or Tamil," he adds.
Meanwhile, Chief Swami of the Ramakrishna Mission in Wellawatte believes that if one practised one's religion sincerely, there would be no room in any society for division.
"You may have heard about milk, you may know about milk and even have a cup of milk in your hand but unless you drink it, you won't really know what it's like. The same goes for religion – you can have all the knowledge in your head, all the scriptures in your possession but unless you practise it, it won't make a difference. Everyone should follow his religion sincerely in his own way. Everybody should follow their own Dharma. We all want peace. It's not in my hands or your hands but we can all pray sincerely for peace and happiness. Let the New Year bring peace and happiness!
"Happy new year to you all," he says.