Using the therapeutic nature of music and drama to assist differently abled persons has been the forte of husband and wife duo, Rohana Deva Perera and Ramani Damayanthi.
After many years of working with persons suffering from various disabilities such as Down's Syndrome, Autism and mental illness, they set up "Thidora" -Theatre Institute for Disability Oriented Research and Advocacy at Thalawathugoda where they provide the students an environment in which they learn through drama the basic skills of life.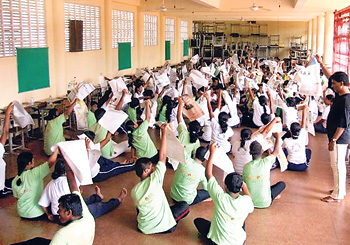 Students at Thidora
"There are many students who could not sit still for five minutes before they came here but today they have learnt to follow instructions, eat on their own, wash their plates and perform other small tasks," Rohana said.
Having started work in theatre in 1987, Rohana first began working with differently abled persons in 1990. Since then there has been no looking back.
"I have trained many able persons in drama but I find working with those with special needs far more rewarding," he says.
Through the use of the performing arts, those with special needs learn to deal with different situations they may encounter in everyday life. For example, the students enact the scene at a funeral house where one is required to be sober and not disturb people. "Learning such a small thing is a big step forward for them," he said.
His wife Ramani Damayanthi who met Rohana when she enrolled in one of his classes to learn acting has become equally passionate about working with the needy and is now engaged full time in the task.
"They are like our own children. They need a lot of love but also it's important to discipline them and be strict with them when necessary," she said. They work with several volunteers to make a meaningful impact on the lives of those who come under their care.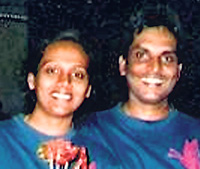 Rohana Deva Perera and Ramani Damayanthi
The couple's many years of work with this much neglected section of society included a long stint with the Sunera Foundation.
They have also travelled with the drama group to several countries. The students of Thidora recently demonstrated their performing skills in a play titled "Thisara Geethaya" staged at the Janakala Kendraya in Pelawatta.
Rohana was honoured with the presidential award, the Kalasuri in 2005 in recognition of his theatrical work of over three decades as well as his pioneering efforts in the use of dance and drama as therapy when working with those with special needs.