Ardent fans of British author P.G. Wodehouse will already be familiar with the well-known, if not infamous period of his life spent in German internment camps, from 1940 to 1941.
During that time, the 59-year-old novelist best known for his often hilarious, satirical novels about the British upper classes, lived in Nazi controlled camps in Belgium and Tost--now Poland--where he entertained fellow prisoners with his witty dialogues and sense of humour.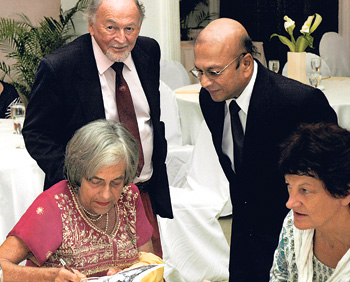 The author Reinhild von Bodenhausen autographing a book.
Shortly after his release, Wodehouse escaped to a German estate called Degenershause for one year, where he lived with a widowed German baroness and her young daughter, Reinhild von Bodenhausen.
Now, for the first time, Wodehouse enthusiasts can read the younger von Bodenhausen's account of her relationship with "Uncle Plummie" during the dramatic year of his life spent in exile from both England and America.
Launching the book at the Galle Face Hotel last Wednesday- 'P.G. Wodehouse: The Unknown Years', published by Stamford Lake Publications, Reinhild von Bodenhausen autographed copies of the book that tells the story of Wodehouse's exile from the perspective of a 10-year-old girl, who is dazzled by the author's celebrity but becomes fast friends with him, his wife Ethel, and their cherished Pekinese dog "Wonder".
Taken from dairies written at the time and personal reminiscences, the author (now in her late 70s) offers a never before seen view into a controversial and harrowing time of Wodehouse's life; a period when Hitler ruled Germany and threatened much of Europe, and Wodehouse himself was under attack for a series of radio segments broadcast by the Nazis to America and England..
Though Wodehouse was eventually cleared of all charges of treason and received a knighthood in 1975, this newly published book is expected to offer a near irrefutable account of these previously undocumented years.
"For von Bodenhausen, this book has been a quest," said Maheen Senanayake, the editor of 'P.G. Wodehouse: The Unknown Years'. "The book is about how these people in their own way, stood up to the Nazis.The total vindication in the end was that Wodehouse was knighted."
In the introduction to the book, von Bodenhausen writes, "This story is not only about Wodehouse, but also my courageous mother and our life during that time of political oppression…" At the launch for the book hosted by the Galle Face Hotel, Senanayake noted the multicultural and international nature of the book: It was written by a German woman about an English author and published in Sri Lanka.
"From a Sri Lankan perspective," he said, "it has been a great task. It's not everyday that you get such a famous person to write about."