A conflict that had taken a heavy toll of this land reached its bitter end this week with the LTTE's defeat at the hands of the armed forces. As news of the final victory reached the rest of the country, there was an overwhelming mood of celebration. National flags fluttered from rooftops, buildings and vehicles and people took to the streets in a spontaneous celebration; fire crackers were lit, kiributh was served and people paraded the streets, singing and dancing.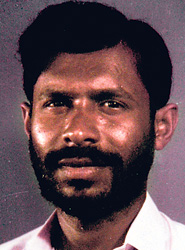 Rohitha before the Central Bank blast (above) and today (below)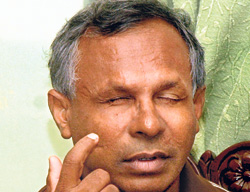 For a section of the people the celebration was more muted but no less heartfelt. They are the ones who have over the years silently borne the brunt of terrorism. Theirs were the lives devastated by the ruthless terror attacks, the bomb blasts leaving them disabled and in some cases bereft of their loved ones and breadwinners.
The Central Bank blast that occurred on January 31, 1996 shook Sri Lanka and today is remembered as one of the LTTE's most horrendous attacks. The damage caused to life and property was colossal. Ninety people died in the blast and some 1400 were injured. To say that it left behind a permanent scar on the lives of such victims is no exaggeration.
Rohitha Mohotti who was attached to the Security Division of the Central Bank lost his sight in the attack. An ex-Army officer, he had begun working at the Central Bank in 1989. He is completely blind in the right eye – and his left eye too is partially damaged.
Tears still flow as he unfolds the painful story-in fact a common anguish shared by thousands who were the innocent victims of the ruthless terror attacks. But he says he is happy about the final outcome of the war not merely because he was one of the terrorists' victims but because it ensures a safe environment for the generations to come.
Rohitha is a father of two, a daughter and son who were just nine and two and half years old at that time.
"I left home for work as usual on that fateful day and I was planning to attend a meeting of one of the societies I was involved in, in the evening. Work went on as usual and soon after our tea break at 10.30 a.m. I was near the entrance with a colleague when we heard gunshots. I looked around to see what was happening and spotted Jayasiri, another security officer rushing to the front towards the iron gates.
"I saw him quickly shutting the gates. As I was going towards the cashier I saw the security officers in the main hall being shot and quickly took cover behind a pillar. Soon after that there was an explosion. The glass shattered and thereafter all I felt was my friend Dharmasena trying to carry me out of the building. Apparently he too had been shot by the attackers, but since he fell to the ground they had thought he was dead. Dharmasena managed to take me out of the building and kept me under a tree at the Ceylon Continental hotel to be taken to hospital.
"I regained consciousness on the afternoon of February 1. In the meantime my family had been desperately looking for me everywhere as they were not able to locate me until 11 p.m on the day of the blast. By then I was receiving treatment at the Eye Hospital for my eyes were wounded by the shards of glass."
He was sent to India for treatment and after surgery lasting five and a half hours, the glass pieces in Rohitha's eyes were removed. But his sight was more or less gone.
The loss of vision meant he lost his job too. Thereafter came the battle for survival for Rohitha and his family. He was the sole breadwinner of the family and to be incapacitated and out of job at the age of 39 was 'traumatic', he says sombrely.
"Life came to a standstill afterwards. We had to cut down on lot of expenses. The biggest challenge was the education of our children. I had to totally depend on the pension and money that I was entitled to under the voluntary retirement scheme. Sadly what I get is the pension of a normal pensioner. But if I was still employed my salary would have been much higher. I would have got promoted. I was deprived of so many things after this happened…no bonus, no overtime. My wife and children would have had a better life than what they have now. This is what I am disappointed about.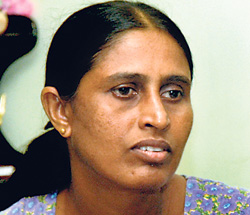 Rohitha's supportive wife Jayanthi
"A person who loses his sight is like the living dead," he says. "Life became hectic for my wife as well- she had to look after our two and a half-year-old son, take our daughter to school while doing all my work too. My brother was a great pillar of strength to me at the time - he not only accompanied me to India but also attended to me 24 hours of the day . He was there for me when I underwent a major operation. It was very stressful for him as well.
"I suffer a million deaths each day when I think of the good old days. All my dreams for a better tomorrow were shattered. I can't attend to the needs of my children; I can't take them to school or for tuition classes like other fathers do. There are times that I feel very down still but over the years I have been trying to come to terms with the reality no matter how hard it may seem… I realized there is no point in brooding over the past. Initially, I was helped by someone to walk around but gradually even with weak eyesight I thought I should start to move around in the house and do things on my own.
"Many are the times that I have fallen by trying to walk alone yet I don't give up. Even now my son always holds me and helps me walk about whenever we go out. Friends, relatives and neighbours helped us immensely in so many ways. Some of my friends even come and take us on trips once in a while as we are unable to travel far very often. I was determined to move on in life and I managed.
Today, the children are bigger and he is somewhat comforted that their education has progressed satisfactorily despite the handicaps. "My daughter who sat for a banking exam managed to find employment and that is a big relief for us. Now I have hopes for my son who is doing his O/Ls this year. My children studied under difficult circumstances," says Rohitha adding that his children did not receive adequate assistance when seeking employment or admittance to school.
Having managed to face the turbulent times in his life, Rohitha is hopeful that his children will do well in life. "That is the only happiness I could gain. Even now, I take life as it comes. I take medicine only when I can afford to. Travelling to Colombo often for treatment by public transport is also not easy," he says.
As the country faces a new chapter in its history, he looks to the future with renewed hope. "What happened to us cannot be undone but the lives of our children are precious. We were very worried that our children too would be vulnerable to ruthless attacks of the terrorists at any time; and that they too would face a predicament similar to ours.
"The impact of the Central Bank bank blast was such that there was a time that my daughter was kept at home from school whenever there were rumours of any threat of bombs or attacks. To know that they can now live in an environment free of terror is such a big relief," adds Rohitha.