Girls in the Scout Movement, that bastion of boys' activity? It's happening abroad and now in Sri Lanka too but not without an upheaval. Commissioners of the Sri Lanka Girl Guide Association are deeply concerned by the recent move by the Sri Lanka Scout Association to recruit girls into the Cub Scout and Boy Scout packs.
The Sri Lanka Scout Association changed its name, dropping the word 'Boy', at world level, when the decision was made to take in girls some years ago. Chief Commissioner of the Girl Guides Association Kanthi Fernando said the first investiture of girls as Cub Scouts in Sri Lanka was held in January this year in Avissawella. "In October they plan to take girls as Scouts as well," she added.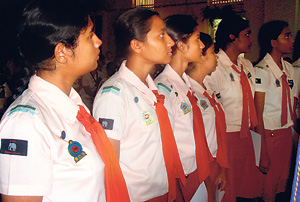 Girl guides
Girls in Scouting may be new in Sri Lanka but it is happening worldwide, Chief Commissioner of the Sri Lanka Scout Association C.C. Batuwangala confirmed. "The strategic plan began in 2003 but we didn't have sufficient lady teachers to implement it," he said. The name change of the Scout Association took place in 2005. Mr. Batuwangala said it came about in response to the Millennium goal of gender equality. "The World Scout Organisation took it seriously and introduced it to the Scout programme, to be extended to national Scout organizations. We were given five years to implement the programme." They had had two meetings with the Girl Guide Association.
"The objective is not to encroach on the Girl Guide numbers. We are taking in girls of 13 – 16 into Scout companies this year. We have extended to the Akelas (ladies handling the Cub Scout packs) training in the Scout programme. However, we will definitely not recruit anyone from the Girl Guide Movement. I have given that assurance personally to Ms. Fernando," the Scout Commissioner said.
He added that they had not received any complaints of Guides being recruited as Scouts. If that happens they should be informed and could put a stop to it, he said.
But the Guide Commissioners point out that it is already taking place. "They assured us that they would not approach Girl Guides or schools with Girl Guide companies," Shanthi Jayalath, Deputy Chief Commissioner said. "However, at Alethea International School, all except five Little Friends were recruited as Cub Scouts," added Thilini Atukorala, Director Camp and Immediate past Chief Commissioner. "We are also concerned that some of our Guiders are being taken into the Scout Movement. They are offered payment while in our case it is a voluntary service."
"It is not only in terms of our losing members, but also in terms of the culture in our country," Shaleeka Abeygunasekera, Director Communications said. Taking the boys and girls on camps together would pose a problem she feels, adding that it has been proven that single sex education is better than co-education." She quotes Dr. Ken Rowe, a Principal Research Fellow at the Australian Council for Education Research, "co-educational settings are limited in their capacity to accommodate the large differences in cognitive, social and developmental growth rates of girls and boys between the ages of 12 and 16. In contrast… evidence suggests that during these key adolescent years, single-sex settings better accommodate the specific developmental needs of students."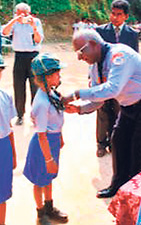 Sri Lanka's first female cubs scout gets her badge from Chief Commissioner C.C. Batuwangala
The Guides have programmes especially for girls, such as Homemaking, Adolescent Health, First Aid, Girl Child programme, Cookery, Child Care etc. "In the case of girls, their future role could be either in a career or as a housewife," Mrs. Abeygunasekera said. "We empower them to look after their homes. We stress a lot on learning things properly rather than superficially. Scouts focus more on outdoor activity."
The move to take in girls to the Scout movement began in Europe and in some Middle Eastern countries too. However, countries like the United States and the Philippines have not adopted it. It was the subject of lengthy discussion at the meeting of the Consultative Committee with representatives from the World Organisation of Scouts (WOSM) and World Association of Girl Guides and Girl Scouts (WAGGS) and the final agreement was that they could take in girls but not members of the Girl Guide Movement.
Some countries, India for example, have taken to Joint Associations while others have gone for Merged Associations. "A joint association is where they have a common headquarters but each position is separate. For example, they each have their own Chief Commissioner," explained Siromi Rodrigo, Assistant Treasurer and Immediate Past President who has worked in the World Bureau in London for many years. "In a merged association the Scouts and Guides are all mixed up." There have apparently been some companies that have merged and then separated again. Royal Institute Primary School, Nugegoda, had opened a separate section for girls at Maya Avenue, because the girls preferred to be in a class with only girls, Ms. Atukorale said.
Some Zonal Directors of Education also have their reservations about girls in the Scout movement. Swarnika Pitigala, Assistant Director of Education, says that while girls getting into Scouting is happening in European countries, it was not suitable here in terms of our environment and cultural background. "If at all it should be done gradually, with the mutual consent of both movements. I also feel the unity and camaraderie between the Scouts and Girl Guides could be affected."
"We are against this move of getting girls into a new movement when the Girl Guides Movement is already well established," says Mr. D.D. Nandasiri, of the Co-Curricular Activities, Guidance and Counselling Branch of the Education Department. "When we heard about the recruitment of girls as Cub Scouts, we inquired from the Scout authorities but they denied it. We will look into it," he said.
How will it affect activities like camps? A parent of a Little Friend expressed her doubts. "How will they take them on camps and pack holidays? The boys and girls will have to be segregated. Can we send our girls to an event like the Scout Jamboree at the Viharamahadevi Park?"
"I feel the two should be separate, but have a strong partnership in many activities," says Jezima Ismail, well-known educationist and a former school principal who has been involved in guiding since her schooldays and as a teacher too. "At the adolescent age, they need their own space," Mrs. Ismail.