The statue of Sir Cyril de Zoysa was unveiled recently in Kataragama. He was a vibrant personality who contributed to his motherland in so many spheres, recalled Deshamanya Dr. P.R. Anthonis speaking on the occasion. Published here are extracts from his speech.
"Sir Cyril de Zoysa was born the second child of a family of five - he was very attached to his younger brother the late V.T.de Zoysa. His father, Solomon de Zoysa hailed from Balapitiya and was a Notary Public and his mother Harriet de Zoysa was also from Balapitiya.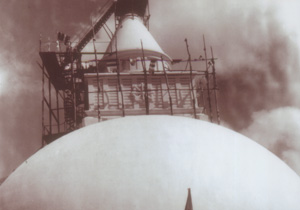 Kalutara Bodhi under re construction
"Balapitiya produced so many intellectuals that no other part of Sri Lanka can boast of. To name a few personalities: Ven. Migettueatte Gunananda Thera of the 1873 Panadura Debate fame, Sir Lalitha Rajapaksa, youngest and first Ceylonese to take the degree 'Doctor of Laws' - whose portrait hangs in the hall of fame in the London University, Maha Mudliyar Louis de Zoysa to whom we owe the catalogue 'Pali, Sinhala & Sanscript manuscripts in the temples of Ceylon', Francis de Zoysa, Sir Frank Gunasekera, Dr. E.M. Wijerama, Dr. Oliver Medonza, C.P. de Silva, Colvin R. de Silva and Bunty de Zoysa.
"Sir Cyril had full confidence in himself and no fear of anyone or of any subject yet not a trace of hubris. Any obstacle in his path was taken as a challenge which spurred him yet forward. He studied at Richmond College, Galle, St. Thomas College, Matara, Royal College Colombo, then at Law College. He was the President of the YMBA for 19 years and also the President of the Senate from 1955 to 1961.
"While practising as a lawyer at Balapitiya and then at the Kalutara Bar he saw the shabby state of the Bodhi at the right bank of the Kalu Ganga estuary and started to improve this. He was able to persuade the G.A. who was housed in the Kachcheri that was occupying the left bank to allow this land to be used for the Bodhi premises. It was his intention to build a hallowed Stupa. With the help of the Engineer Dr. A.N.S. Kulasinghe of prestressed concrete fame, his great dream, the imposing glorious spectacle at the entrance to Kalutara became a reality. This wasefficiently managed by the creation of the "Kalutara Bodhi Trust". It is a glorious sight as you approach Kalutara.
"Next was the creation of the YMBA Mandiriya in the Fort. Sir Cyril had no money so he asked Sir Ernest de Silva for help. He too had no money having paid a huge income tax. Yet he advised Sir Cyril to proceed to London as there was to be an auction of stamps - and gave a small green stamp from his collection,the sale of which netted Rupees one lakh (Rs. 100,000). One lakh was a huge sum at the time and the Fort YMBA Mandiriya construction commenced.
"Kirivehera at Kataragama was in shambles. The Kirivehera Restoration Society under the leadership of Sir Cyril rapidly progressed. Today, it is a serene location in Kataragama, venerated by hundreds and thousands of pilgrims.
"When he was Vice President of the All Ceylon Buddhist Congress he added much vigour to create activity.
"73 years ago young Cyril started on his commercial career of a transport industry with a few buses - Suwaranapali Service between Colombo and Tissamaharama. The next stage was the South Western Omnibus Company - which soon outstripped all other bus services owing to efficient services rendered to commuters from Colombo to further points in the South.
"The employees were looked after well - not common amongst Ceylonese employers. Sir Cyril set up a well equipped medical unit with X-ray and other facilities for his employees. Sir Cyril often visited the 'U.K.' and had frequent negotiations with the London Transport Board. Finally, when the Govt. took over the private buses he gave up his fleet to be nationalized.
"It was Sir Cyril who conceived and founded the Kalutara Vidyalaya and later the sister school Kalutara Balika Vidyalaya.
"Associated Motorways Group of Companies was founded in 1949 based on natural rubber and plastic raw material, industries pioneered by him, such as Associated Rubber Industries, Associated Batteries, Associated Vacu-Lug and Associated Cables. He was a pioneer industrialist and one of the first to bring in foreign collaboration such as Yuasa of Osaka and Inoue of Nagoya, and also produced "Lotus' bicycle tyres with Japanese assistance.
"His training yielded an equally clever brother V.T. de Zoysa, to whom he passed down his knowledge and now his nephews (sons of V.T. de Zoysa), Ajit and Tilak continue improving his good work in religious and social activities.
"The statue of one of the great sons of Sri Lanka stands in the premises of the Kalutara Bodhi, his beloved creation. And today, we unveil, yet another statue of Sir Cyril de Zoysa, in memory of his services for pioneering the restoration of the Kirivehera stupa.
This brings to mind the Latin saying "Exegi monumentum aere perennius non ominis moriar multaque pars mei uitabit labitinam'- Horace.
"I have erected a mounument more enduring than bronze - I will not die altogether and a great part of me will defy death".