There were no Avurudu holidays for the soldiers all these years. Instead of the sound of fire crackers that herald the auspicious times of the new year, what they heard were the sounds of guns and artillery fire.
While the rest of the country looked forward to a new beginning with fresh hope, our war heroes were away from their families and friends fighting a bitter battle to save the country from the clutches of terrorism.
It was equally agonising for the soldier families who waited in hope and anxiety for their sons, brothers, husbands and fathers, to return home. They were disappointed when they didn't return.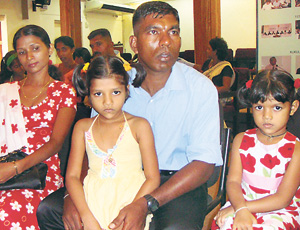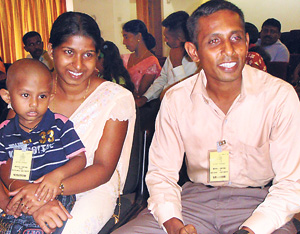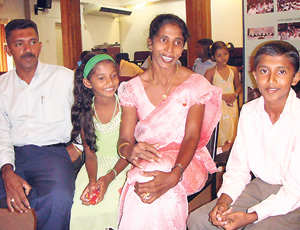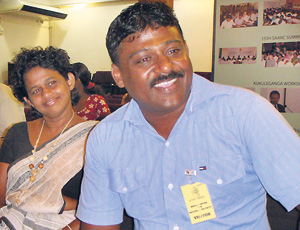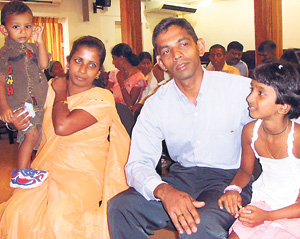 Happy families this Avurudu: (Top - Bottom) Chaminda Bandara with Nadeeka and kids; Udaya Kumara, wife and son; G.P.K. Sandasiri and Priyanka with their children; P.D.R. Mahilal and wife; and D.M.C. Dissanayake with his family.
However, those days are no more…the long, anxious wait for the soldiers and their families to be with their kith and kin to experience the true spirit of the festive season is over now.
This being the first Sinhala and Tamil New Year after the war ended, there is a sense of contentment in the soldier families for they know their loved ones will be home this new year.
With enthusiasm sky high for the upcoming festival, some of the soldiers and their families spoke to the Sunday Times on how they are looking forward to this year's celebrations with a sense of happiness, relief and pride.
G.P.K. Sandasiri who was attached to the Sinha Regiment as a Warrant Officer II said that during his 19 years of service in the army he hardly got the opportunity to be with his family in Kurunegala for Avurudu. Recalling he was in Chavakachcheri last year, Sandasiri said that even if they got the opportunity to go home, their conscience didn't let them abandon their duties and responsibilities even for a few days.
There was a whole load of responsibilities on our shoulders, so our priority was to attend to those first. Because my wife and the family understood the nature of my job, there were no issues but my daughter and son used to keep asking for me," he said adding that he would call home to wish his family if he got the opportunity.
His wife, Priyanka said that it is after seven years that her husband gets to be with them for Avurudu and they hope to have large scale celebrations this time. Their children Pramod and Sanduni said that although they would prepare kavum, kokis and wait for their father to come home, sometimes in the last moment he would call to inform that he would not able to come. "But this time we are so happy because he is with us; he took us shopping and bought clothes for malli and I," beams 13-year-old Sanduni while seven-year-old Pramod was quick to add that he can play Avurudu games with his father.
Sergeant D.M.C. Dissanayake recalls that the last time he celebrated the new year at his home in Mathugama was in 2006. The fact that he is celebrating the first new year with his two children makes him even happier, he says. "Last year I was serving in Muhamalai and I didn't get leave to go home.
So I called my wife and told her not to be upset but to celebrate the new year with her parents even if I am not there," he said adding that there were instances where he had to stay back even after his bags were packed to go home when something unexpected and urgent came up. As soldiers they were ready to make any sacrifice anytime for the sake of the motherland, he added.
It is a special new year for Corporal Chaminda Bandara whose service in the Army spans 15 years. He is celebrating Avurudu with his wife for the first time. Though they had been married for the past seven years, he had never got the opportunity to be home for Avurudu, he says. Chaminda's wife Nadeeka has grand plans this year. "We decided to follow the Avurudu rituals at the nakath time at our home.
After that we hope to go to my home town in Bentara with our two children," Nadeeka said. Explaining the mental stress she had to go through as she constantly worried about her husband's safety, Nadeeka said she was engaged in Bodhi poojas to evoke blessings on him throughout.
Like the other soldiers Sergeant Udaya Kumara from Peradeniya is making special plans to celebrate Avurudu in grand style this year with his parents, wife and child. His mother would be in tears when he called to inform them that he would not be able to come home for the Avurudu in previous years, he said.
"This time she is very happy and so are my wife and the children.
Yesterday I finished colour washing my house and today I came with my wife to do some shopping in Colombo," he said adding that he would be taking part in the Avurudu uthsawaya in his village in Peradeniya after 15 years. "My friends in the village are also happy that I am in the village for Avurudu this time. They call to remind me about the Avurudu uthsawaya.
Sergeant Major P.D.R Mahilal said depending on where they were stationed they would sometimes be able to celebrate the new year with food and games. "But it all depended on the prevailing situation on that particular day.
We got kavum, kokis and kiribath; and we would play games and celebrate on a small scale if we had a chance, but there have been instances where we had to dump all our celebrations halfway and run to a bunker when artillery shells and mortars began to fall."
Mahilal's wife said all these years she used to go to her mother's house in Avissawella with the children for Avurudu as she never felt like celebrating Avurudu at home without her husband.
This year like all other Sri Lankans they are looking forward to being home with their families for Avurudu.