Last Sunday morning we were on our way to Kandy, to visit a friend. Five of us connected modestly in different ways with communications – writing, publishing, editing and translation were on our way to visit the prolific writer, historian and philosopher Carl Muller.
Two days earlier I had received a small parcel from him with a long, neatly written letter. Our mood on the trip was rather sombre because of the contents of the letter although Carl Muller never indulges in self pity. The description of his ailment and its virulence was detailed and graphic as his writing always is. He mocks death and worries only about his wife's future. And he does not want to go in for enormously expensive treatment. He says, "I'm still alive and my wife gave me a T-shirt for Christmas with the slogan 'Alive and Kicking'".…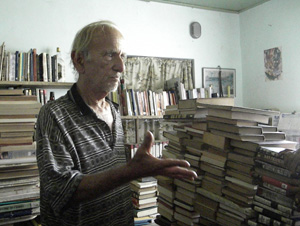 Muller surrounded by his collection of books.
"All I now do is keep writing and looking forward to Mahiyyawa where I can sleep next to my son. (His young son died in a motor accident a couple of years ago). I don't get around anywhere but keep writing. Huge body cramps, a stick to hobble with and I still have to go to hospital every week to be monitored, collect drugs, capsules and that alone costs a good deal," he says. Sleep he says is only two hours a day. He speaks about royalties and how exchange regulations and taxes eat into it.
I think most friends and acquaintances know that Carl possesses a wonderful library which would be any reader's envy. Classics, philosophy, religion, Buddhism, Christianity, Hindustan fiction, poetry, history travel-the works. Although he intends to part with the collection because of his financial needs, Carl does not talk about it. We hear that there is an offer from a foreign buyer.
The two books that he has brought out most recently are "A Return to Rhyme and other Lines" and "Many Bulls in my China Shop – Views and Reviews" . W.K. D. Navaratna, Senior Chief Sub Editor of a prestigious newspaper who went with us to visit Carl has done an excellent Sinhala translation of Carl Muller's 'Ranjith Discovers where Kandy Began'. (1992.)
Carl did not want us to talk about his illness in his wife's presence. As we walked from bookshelf to bookshelf we were quiet and did not want to prolong our visit unnecessarily; nor did we comment on the strategically placed ash trays on the shelves. Are they being used even now or are they just keeping the books straight? At one point in our conversation he said, "I started smoking at 12 with Peacock cigarettes."
We left after spending about two hours with them. Even that would have been tiring for him although he was waving merrily and joking about life's ironies standing on his doorstep.
On the copy of "A Return to Rhyme and other Lines" sent to me he has inscribed.
Sita, With love, Carl Muller, Don't worry about dates.
Writing is forever.