Reports of torture and extra-judicial killings by the Police continue to shock the public; what is alarming, members of the public say, is that the trend is growing rather than abating. Since last year, close to 150 such charges have been made against the Police, including the recent incident reported from Dompe.
Two weeks back, at 11 pm on September 29, the corpse of a 29-year-old family man, Gayan Rasanga, was handed over by police officers to the Dompe Hospital mortuary. Residents say that earlier that day they had heard a man screaming in agony and pleading for his life.
The screams had come from the premises of the Dompe police station. The police had taken Gayan in for questioning in connection with the theft of a motor. Following the death of Gayan Rasanga in police custody, hundreds of angry Dompe residents surrounded and attacked the police station.
The Police had claimed that Gayan Rasanga had died from injuries sustained after falling from a speeding jeep when he was helping police to recover stolen property. The Inspector General of Police, N. K. Illangakoon, has since rejected the police version, saying there was no evidence to support the claim.
Five Dompe police officers, including the officer in charge of the Crimes Branch, a sub-inspector, a police sergeant, and two constables were arrested on October 2. The Gampaha Magistrate has ordered that the police officers be remanded till October 14.
Another death in police custody occurred on Monday, October 3, when a suspect in the killing of a police officer drowned in Bolgoda Lake when leading police officers to the spot where the murder weapon had been hidden, on a small island on the lake.
The suspect, Lalith Peiris, a resident of Modera, Moratuwa, was arrested in connection with the killing of a Modera police constable.
In a separate incident, in Athurugiriya, a former sailor, Asanka Botheju, who had spent 19 days in police custody, was reported to have "drowned in the Kelani River" while leading police officers to a cache of hidden firearms.
Ironically, the "drowned" sailor was attached to the Navy's Special Boat Squadron. These cases have only served to bring back unpleasant memories of other instances of Police brutality, such as the shocking treatment and subsequent drowning of a mentally unbalanced person in the sea off the coast of Bambalapitiya; the shooting by the police of Free Trade Zone worker, Roshen Chanaka, and the killing of two youths in Angulana.
Article 11 of the Constitution states that "no person shall be subjected to torture or to cruel, inhuman or degrading treatment or punishment", while Article 13(4) says "no person shall be punished with death or imprisonment except by order of a competent court, made in accordance with procedure established by law.
The arrest, holding in custody, detention or other deprivation of personal liberty of a person, pending investigation or trial, shall not constitute punishment." Article 13 (5) guarantees the right of presumption of innocence until proven guilty.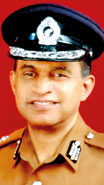 Ex-DIG Nimal Mediwake
Sri Lanka has also signed and ratified the International Covenant on Civil and Political Rights (ICCPR).
According to human rights activist and Transparency International Sri Lanka executive director J. C. Weliamuna, there has been a significant increase in the number of cases of "cell deaths" in recent years.
"The fabrication of charges has become a practice with certain police officers. This makes a suspect a criminal even before he is proven guilty. This is not the police system of a democratic country," Mr. Weliamuna told the Sunday Times.
"These killings raise questions about the role of the judiciary. The police are guilty of systematic abuses. The public should protest and demand an impartial inquiry." Mr. Weliamuna said senior police officers are often seen spending long hours in the company of VIPs, when they should be at headquarters, supervising their staff.
"Political interference in criminal investigations is a big problem," he said. "We have seen instances of criminals dictating terms to the police. Poor supervision by senior officers has resulted in indiscipline in the ranks."
Mr. Weliamuna believes the indiscipline can be traced to frustration among low-rankers angry at a lack of facilities and benefits. "These low-ranking officers are under-trained and over-worked. Some of them work 20 hours at a stretch. They are not provided with proper food and clothing. Parliament is responsible for allocating funds so that low-rankers can get a decent salary and proper facilities.
"Meanwhile, the Attorney-General's Department should guide the police in prosecutions," Mr. Weliamuna said.
According to former DIG Nimal Mediwake, there is a need to raise standards for the police, especially those in the lower ranks and at inspectorate level. "Sub-inspectors, chief sub-inspectors and officers-in-charge [OICs] are the vital players when it comes to investigations," Mr. Mediwake told the Sunday Times. "We have recommended Advanced Level-qualified persons for these ranks, so they will be eligible for higher education at the Police Academy, with criminology, law and practical police work as subjects.
"With better education and training, discipline will grow in the ranks, and interrogation techniques will improve and become more acceptable," he said. "The conviction rate of the police is four per cent. This low figure may be attributed to poor investigation and prosecution processes. In most developed countries, the police first record statements, eye-witness accounts and basic evidence before arresting a suspect. Interrogation is done when there's sufficient incriminating evidence," he said.
The former DIG said police officers who lack sufficient evidence are tempted to adopt "third-degree interrogation methods.""The police should be competent and well trained in investigation. As good investigators, they will have the confidence to conduct interrogations even before lawyers or members of the public. There would be no need for using physical force," the former DIG said.
Sanjeewa Weerawickrema, legal advisor to the Hong Kong-based Asian Human Rights Commission (AHRC), told the Sunday Times that the commission has received reports of 50 cases of police torture in Sri Lanka in 2010, and 102 cases for 2011, so far.
"During the past three decades, conflict-related torture and human rights violations were highlighted. Rights activists are now speaking up against police torture and cell deaths. In Sri Lanka, torture is used to obtain confessions on fabricated charges," he said.
Between 1998 and 2011 the Asian Human Rights Commission received some 1,500 reports of police torture in Sri Lanka.
The Sri Lanka Human Rights Commission (HRC) says that all complaints relating to torture are related to police torture. The Commission's Director of Investigations, Samanthi Jayamanne, said the complaints tended to come from the rural areas, rather than from Colombo.
"As long as the public fails to condemn extra-judicial killings, police will continue to be encouraged," said HRC Secretary Nimal Punchihewa.
When the long arm of the law gets on the wrong side of the law
In an interview with the Sunday Times, former Inspector General of Police (IGP) Ana Seneviratne said inadequate training and supervision, topped by political interference, were the main reasons that led to the police using physical force.
While developed countries used sophisticated and humane interrogation methods, including polygraph tests (pulse rate checks) and truth serum injections, the local police still used physical force as the main method of interrogation.
"I was trained at Scotland Yard. But today, there is no such training," Mr. Seneviratne said. "Police officers are de-moralised. In fact, the majority of police officers have little knowledge of basic laws. They do not use physical force just for the thrill of it, and they are not sadists. It's the mentality of the police.
"The Penal Code says that a confession obtained from a suspect by using threats, offering inducements or making promises is not valid. But junior officers believe that beating a suspect is one way to get information," he said.
He said the country's conviction rate was low because many police stations take the easy way out by reporting that information and clues were not available and further investigation was therefore not possible.
"Our senior police officers rarely file cases and even more rarely they come to courts. It is the low-ranking sub-inspector (SI), inspector of police (IP) and court sergeant who file cases. If senior officers attend court sessions, visited the scene of the crime and looked into investigations, it would boost the morale of the juniors. Then low-rankers would not resort to short-cut methods of interrogation," the former IGP said.
Political interference was also spoiling the image of the police. "Political considerations often prevent police taking action, especially when political associates commit crimes. This affects the process of the law.
Increasing the time period from 24 hours to 48 hours for holding a suspect before being produced in court would also do much to protect suspects from harsh interrogating methods, he said.