PERTH, Australia, Oct 29 (Reuters) - Commonwealth leaders were told today that their summit risked being labelled a failure if they ignored proposals to adopt "meaningful" reforms, including taking a much tougher stand on human rights abuses.
Leaders of the 54 mostly former British colonies are meeting in the remote Australian city of Perth, under pressure to reform the body to avoid it sliding into irrelevance. But few expect them to agree to more than tentative steps on dealing with human rights, an issue which has focused squarely on Sri Lanka and accusations of war crimes in the final stages of its civil war that ended in 2009.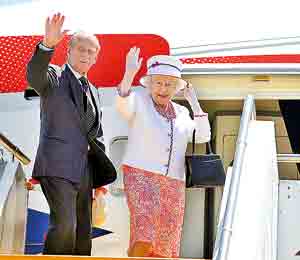 Britain's Queen Elizabeth and Prince Philip wave as they board a plane to depart Australia yesterday after an eleven-day visit and attending the Commonwealth Heads of Government Meeting (CHOGM) in Perth. Reuters
"There is no doubt ... that this CHOGM (Commonwealth Heads of Government Meeting) is expected to deliver meaningful reforms of the Commonwealth," former Malaysian Prime Minister Abdullah Ahmad Badawi told leaders.
Badawi chaired an eminent persons group set up to recommend reforms that would give some relevance to the Commonwealth, which is home to more than two billion people. "If this CHOGM does not deliver such reforms it is our duty to sound the caution to you that this CHOGM will be remembered not as the triumph it should be, but as a failure," he said.
Badawi's panel decided to make its report public with one member, former British defence minister Malcolm Rifkind, calling it a "disgrace" that Commonwealth leaders had not authorised its release themselves.
"The Commonwealth faces a very significant problem. It's not a problem of hostility or antagonism, it's more of a problem of indifference," Rifkind told reporters. "Its purpose is being questioned, its relevance is being questioned and part of that is because its commitment to enforce the values for which it stands is becoming ambiguous in the eyes of many member states," he said.
The group said the Commonwealth in recent years had failed to maintain its strong stance in defence of human rights seen during its campaign for an end to South African apartheid. Leaders spent today in seclusion in the west Australian city's King's Park and are expected to finalise their communique later in the day. Some leaders, including British Prime Minister David Cameron, are expected to fly out before Sunday's final day of the summit.
Though leaders agree the Commonwealth should be more proactive over human rights abuses, they appear to be divided over a recommendation by the eminent persons group that they appoint an independent commissioner to focus on the issue.
The group is also pressing leaders to focus more on issues such as HIV/AIDS as well as climate change and debt that are threatening many of its smaller island members, which make up more than half of the Commonwealth states.
"Whatever the outcome of this weekend, one thing is undoubtedly the case, the issue of the rule of law, democracy and human rights and the Commonwealth's attitude to it, has been the dominant theme of this conference. It won't go away whatever the communqué actually says," Rifkind said.