NEW YORK, Oct 28 (Reuters) - Anti-Wall Street protesters' plans to camp in a New York park throughout the city's harsh winter were dealt a blow on Friday when the fire department confiscated generators and fuel because they posed a danger.
With the first snow forecast to fall today, the Occupy Wall Street movement against economic inequality lost the generators that had been powering heat, computers and a kitchen in the Lower Manhattan camp they set up six weeks ago.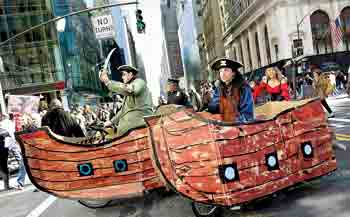 Protesters affiliated with the Occupy Wall Street movement riding bicycles made to look like pirate ships, march to the Bank of America Building at 42nd Street and Sixth Avenue in New York on Friday. The march visited the headquarters of Bank Of America, Morgan Stanley and JP Morgan Chase. Reuters
"They think that taking the 'power' away will take the power away, and that's absolutely not true at all," said Occupy Wall Street spokesman Michael Booth.
The movement has sparked so-called occupations in cities across the United States. But recent evictions in places like Oakland, California, where police used tear gas and stun grenades, and Atlanta, have New York protesters on edge.
However, unlike protesters elsewhere, who rallied in city parks which typically have a curfew at night, those in New York set up camp in a privately-owned park open to the public 24 hours a day and cannot be removed unless the owner, Brookfield Office Properties, officially complains to the city.
New York Mayor Michael Bloomberg said the six generators and fuel were confiscated because they were considered a safety hazard and it was not a bid to remove protesters. "As long as they don't take away anybody else's rights to say what they want to say, or to not say anything, to go about their business safely ... at the moment it will continue," Bloomberg told local radio.
Some analysts said that Bloomberg's strategy toward the protesters was simple -- contain them and ensure there is no violence like that seen in Oakland, where former U.S. Marine Scott Olsen was badly injured in clashes with police.
"Everything is about containing it, if it goes on for a long time they are prepared. Let them live and be well and it will come to an end," said political strategist Hank Sheinkopf."The strategic move is not to have violence." Ken Sherrill, a professor of political science at Hunter College in New York, said any kind of conflict would be bad for the city's image and that Bloomberg was no doubt hoping that the protest would fade as the weather worsened.
"That doesn't mean that the mayor wants to make life easy for the demonstrators," he said. "Other than perhaps ratcheting up the inconveniences, there's not going to be anything more intense and I think that would be ill-conceived anyway." But Occupy Wall Street spokesman Ed Needham said the removal of the generators was "certainly a directed effort to thwart our situation." He said solar powered generators were being brought in to replace those taken.