TUNIS, Oct 29 (AFP) - The Islamist Ennahda party, flush from victory in Tunisia's first free elections, sounded a unifying note and called for calm after violent protests in the town where the country's revolution began.
Ennahda chief Rached Ghannouchi reached out to all political forces following the election where his party took the most seats in an assembly that will rewrite the constitution and appoint a president and a caretaker government.
"Democracy is for everyone," he told journalists. "We ask that all our brothers, whatever their political outlook, participate in the writing of the constitution and the installation of a democratic regime."
"The revolution didn't take place to destroy a state, but to destroy a regime," he said.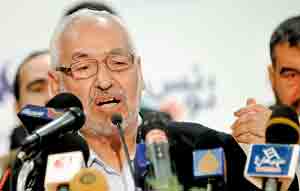 Tunisian Islamist Ennahdha Party founder Rached Ghannouchi attends a press conference in Tunis on Friday. AFP
But as victory celebrations were under way, Ennahda offices in Sidi Bouzid, the birthplace of the Tunisian revolution, were targeted by youths upset after election authorities disqualified candidates belonging to a rival party.
Ghannouchi, speaking at party headquarters, called for calm as the interior ministry announced a dusk-to-dawn curfew in the central Tunisian town. Several public buildings were vandalised overnight, windows were smashed and some threw stones at police.
Latest results showed Ennahda, banned under ousted dictator Zine el Abidine Ben Ali, took 90 of the 217 assembly seats, or 41 percent. Some have voiced concern that the Islamist party would seek to curb women's rights in an Arab country known for a progressive approach on gender equality.
Ghannouchi however reaffirmed his party's "commitment to the women of Tunisia, to strengthen their role in political decision-making, in order to avoid any going back on their social gains." The historic polls nine months after Ben Ali's ouster saw the Congress for the Republic (CPR) and Ettakatol emerge as the biggest parties on the splintered left, with 30 and 21 seats respectively. Both have said they were in coalition talks with Ennahda.
Fourth place, with 19 seats, went to the Popular Petition for Justice and Development, a grouping of independents led by Hechmi Haamdi, a rich London-based businessman said to have close ties to Ben Ali, despite the invalidation of six of the party's candidates' lists.
Speaking to AFP on Thursday in London before the results were announced, Haamdi urged his backers, behind the unrest in Sidi Bouzid, to remain calm.
He said he was surprised by Ennahda's announcement that it would not enter into coalition talks with his party's representatives over his alleged ties to Ben Ali.