Pakistani politician Imran Khan was watched by his ex-wife Jemima on Friday as he launched a stinging rebuke of drone attacks on militants in the country. Khan was speaking at a news conference in Islamabad alongside British lawyer Clive Stafford Smith who is fighting the case for drone victims in the British courts.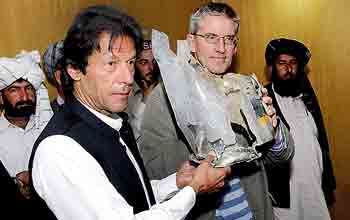 Imran Khan, pictured with Clive Stafford Smith, has launched an attack on drone strikes in Pakistan, claiming they cost many civilian lives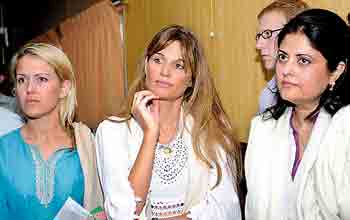 Listening in: Khan's ex wife Jemima was at the news conference in Islamabad to hear his views
Khan, who is chairman of the Tehrik-e-Insaf politcal party, said that many of the victims of the attacks were women and children and that the Pakistani government was responsible for their deaths.
He added that the government should resign if it cannot fulfill its responsibilities to protect the Pakistani people.
Khan added that the nation's air force had the technology to shoot down drones, but added that many of the attacks were backed by the government. Khan told the crowd: 'According to the Pakistani constitution the democratic government is responsible; if the government cannot fulfill its responsibilities then it should give way to other parties.'
Khan and Stafford Smith also showed off the remains of one missile fired from a drone on an attack on the country's tribal region. Khan's speech was watched by his ex-wife Jemima, who it was revealed this morning had helped paid for digital cameras to be given to tribal leaders to photograph drone attacks.
The Times reported that 50 cameras had been given to community leaders who will document each strike with the information pooled in a central data bank.
The scheme has been organised by a group of Pakistani lawyers who hope to document the suffering of civilians in the region. Research from Pakistan has found that almost 800 civilians have been killed by drone attacks since they began in 2004.
The study found that for every militant killed, 15 civilians lost their lives. There have been more than 300 strikes in Pakistan since 2004 Imran and Jemima Khan's battle against drones came hours after the U.S. launched its latest attack on the Waziristan region, killing five Taliban commanders.
They included Maulvi Nazir, who is regarded as one of the group's most influential members in the country. The senior commander identified four of the dead as Hazrat Omar, Nazir's younger brother, Khan Mohammad, Miraj Wazir and Ashfaq Wazir.
The attack on Waziristan brings estimates for the number of militants killed in Pakistan this year to 325.
© Daily Mail, London