With heavy rains expected in the next few months, the Government Agent and authorities in the Nuwara Eliya district are gearing up to face the possibility of landslides and other possible disasters in the Walapane area.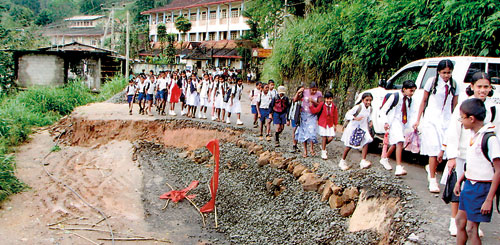 February 2011: The road close to Sri Sumangala Vidyalaya caved in due to heavy rains
In November 2007 the rains left eleven dead and three persons went missing in the Walapone and Hanguranketa divisions of the district. The area is also prone to landslides. In 1983 thirteen persons died in landslides at Ketayapathana, while Wathumulla was affected by landslides in 2006 and in 2007.
The Red Cross and a number of other NGOs continue to provide relief to victims of these landslides. To face this situation the Red Cross has identified a number of vulnerable areas and commenced setting up centres to house victims of landslides in addition to training community based organisations in disaster management.
Ven. Kudaligamuawe Seelavimala Thera of the Subodharamaya said the Red Cross had helped victims of the 2007 landslide. The Principal of the Pussadeva MMV A.K.R.M Dayarathne, said the Red Cross had trained the students of his school to help victims of such disasters.
He added in the event of earth slips or landslides his school would be used as a disaster management centre and a centre to house the victims. The school can house up to 3,000 victims he said. Mr. Dayarathne added the ICRC had undertaken to build a wall around the school for security reasons and provided first aid training to students to help victims of disasters.
He said the school also had adequate communication facilities but added it needed a stand-by electricity generator now that it had been designated a disaster management centre.