The past year, 2011, was declared International Year of Forests by the United Nations. The message was sent out to all countries. Sadly, this message has not been taken seriously in Sri Lanka. Last year was not a good year for forests here, and the year ended with the news that yet another forest is being destroyed – one of the few remaining mangrove covers in Puttalam.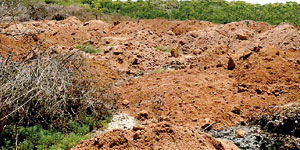 Mangrove land cleared and filled in Puttalam for hotel project.
A five-acre plot of mangrove along the west coast, in Kurukapane, Arachchikattuwa, in Puttalam district, is being cut down to make way for an 80-room hotel. The hotel will be built by a Colombo-based hotel group.
According to Sajeewa Chamikara, of the Environmental Conservation Trust (ECT), much of the mangrove covering has been cleared and filled. No Environmental Impact Assessment (EIA) report was obtained for the project, which makes the cutting of the mangrove covering illegal, even if the land is privately owned.
Under the law, any construction project covering one hectare and above requires an EIA evaluation.
There is a general misconception that mangroves are of no value. Most of these mangrove lands do not have a clear ownership.
The Kurukapane mangrove forest is state-protected land, and comes under the purview of the Forest Department. This stretch of forest, previously under the Divisional Secretariat control, was officially made the property of the Forest Department in a special circular sent out by the Ministry of Environment in 2001.
The Divisional Secretary for the area had written to the Forest Department, asking it to intervene and stop the destruction of the Kurukapane mangrove forest. But no investigation has been conducted by the Forest Department. According to the International Union for Conservation of Nature (IUCN), the Puttalam district has the country's largest mangrove cover, at 3,210 hectares, but these areas are under heavy pressure from development activities.
The boom of shrimp farms in Puttalam and Kalpitiya in the '90s resulted in widespread destruction of mangroves. Most of the shrimp farms have been abandoned.
Residents, mostly fishermen, are doing their bit to save these mangroves. Villagers who did not want their names mentioned said the hotel company project has the "backing" of local politicians.
2011 was one of the worst years for the environment
The past year – 2011 – will go on record as one of the worst years for the country's environment, with increased destructive activity. The Dole banana farm, which encroached on the Somawathiya National Park, adjoining the Sinharaja, Bogahapattiya-Soragune golf course, was only one of the many environmentally destructive activities that were highlighted in 2011.
Environmental lawyer Jagath Gunawardane said the number of environmentally destructive activities, the amount of damage done by these projects, and the unseen political "backing" that usually accompanies environmental destruction, all increased in 2011.
Mangrove Cover in Coastal Districts
District Hectares
Puttalam 3210
Jaffna 2276
Trincomalee 2043
Batticalo 1303
Kilinochchi 770
Hambantota 576
Mulativ 428
Gampaha 313
Galle 238
Ampara 100
Colombo 39
Kalutara 12
Matara 7