A gang that had been operating for two years, stealing items from tyre stores and liquor shops around the country and selling them at low prices, has been arrested by the Criminal Investigation Department.
The gang is believed to have stolen tyres and liquor worth more than Rs. 60 million.
The breakthrough came after a tip-off that expensive imports of liquor were on offer at suspiciously low prices.
Sleuths who had been following the trail for months finally arrested a key suspect, which led to the arrest of a tyre shop owner believed to be involved in the stolen tyres racket. Seven more persons were taken in by the CID, leading to revelations that they had robbed at least 15 to 16 tyre shops, most of them in the Western Province.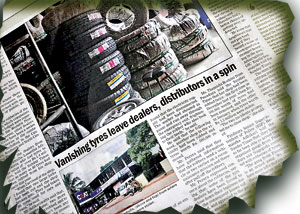 The Sunday Times report in January on a series of tyre robberies
A senior police officer told the Sunday Times that the tyre shop owner revealed he had in his possession tyres stolen from Negombo, Chilaw, Wattala, Kandana and Kiribathgoda, and other areas. He had with him more than 600 tyres, the officer said. He was not the only tyre shop owner who purchased stolen items.
"The modus operandi was that after the tyres were stolen, the names of the brand were changed to avoid identification," the officer said. He said most of the shops were broken into at night and the tyres removed by lorry.
The same team was involved in breaking into liquor shops trading in expensive imported brands.
"The team stole 720 bottles from a shop in Madampe and 291 bottles from a shop in Colombo," he said.
He said a chain of wine stores was selling the stolen items, while the other stolen items were sold at a low rate to restaurants.
The gang members had been operating for two years undetected. In addition to the robberies, the team was also involved in importing duplicate motorcar spare parts and passing them off as the genuine article before selling them to dealers.
The suspects are being further questioned. In January last year, the Sunday Times reported concerns raised about parties involved in the tyre trade when a series of robberies were reported from various parts of the country.