There is no better place for a peek into what products top global brands such as Sony, HP, Samsung, etc. have come out this year, and maybe even further out, than the annual Consumer Electronics Show (CES), usually held every second week of January in the world's exhibition and convention capital, Las Vegas, Nevada, USA.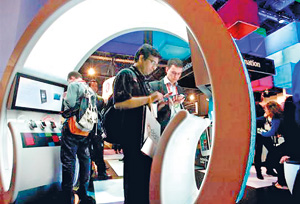 And 2012's edition of CES was no different, with its mix of new generations of popular, existing ranges, previews of entirely new products and, even, the next sea change in consumer electronics and the technologies that will foretell the future for consumers.
Held over four days, between January 10 and 13, 2012, the 44th annual CES featured over 20,000 new products showcased by 3,000 plus exhibitors displaying their wares across 1.9 million square feet of exhibition space. All totalled, CES 2012 attracted in excess of 150,000 visitors, with more than 120,000 visiting from countries other than the US.
Also noteworthy, media reports point to a growing Chinese presence as signalled by hundreds of exhibitors at this year's CES. A fact perhaps adding fire to speculation of increased Chinese movement up the value chain, especially in areas such as the tablet PC market. In fact, there were said to be over 200 exhibitors just from China's manufacturing hub of Shenzhen.
Whereas last year's CES was definitively the year of the Android, this year's CES was initially pitched as heralding an age of better user interfaces and content personalisation. However, ultimately, it appeared that CES organisers were proved wrong by the sheer number of devices touting lightweight as the new key differentiator. Many of these now being possible with the advent of Corning's Gorilla Glass 2; a 20% thinner, as well as being more scratch resistant, etc., version of a type of mobile and tablet glass currently used in many touch screen displays today. From the self-professed 'MacBook Air killing' new generation of thinner laptops, dubbed "Ultrabooks," to the thinner OLED TVs and thinner mobile devices, etc., Gorilla Glass 2's thinness may have, in fact, added buzz to a number of gadgets which would otherwise have proved only tepid in terms of features offered.
CES 2012 also showed off a number of concepts on the bleeding edge of technology, from holograms to interactive virtual displays for cars (more below), some of which are years, if not decades, from the mainstream. While other technology, expected yet - hotly anticipated, such as the launch of Intel's and ARM's newest ranges of processors, for mobiles and computers, also set the tone for an event which, while never failing to thrill die-hard geeks, sometimes fell short of offering real products for the everyday consumers to get excited about.
Surprisingly, this year's event saw few devices featuring Android 4.0 (Ice Cream Sandwich). However, it came as no surprise to anyone that Apple, which famously avoids any official involvement with this event, was more than well represented by a number of accessories geared specifically for iPhones, iPads, etc.
The following are some audience favourites at CES 2012. Some of these will be on shelves within this quarter or the next while others are, as yet, only concepts with no release date in sight. Enjoy geeking out!
HP Envy 14 Spectre Ultrabook
Envisioned as a direct competitor to Apple's thin MacBook Air, HP's Envy 14 Spectre proved to be the hands down audience favourite in the extra thin laptop or "Ultrabook" category this year, beating out other ultrabooks such as the Samsung Series 5 (half an inch thin, 2.5 pounds, Intel Core i5 dual-core).
With pricing said to start at US$1,399 (almost the same as the MacBook Air that costs US$1,299 and up), the 13-inch, 3.75 pounds Envy also offers similar characteristics, and dimensions, to the MacBook Air, with an Intel i5 and 8 GB of RAM and the Intel i5 Processor.
Asus Memo 370T Tablet PC
While the just-in-time-for-Christmas launch of the US$250 Amazon Kindle Fire tablet PC led to an unprecedented uptake of Android tablet PCs in the US, the 7-inch Android 4.0 Asus Memo is all set to do even better at the same price point when it comes on sale later this quarter. This is because of specifications including a new quad-core Nvidia Tegra 3, 1 GB of system RAM, 16 GB of storage, 8 megapixel camera, etc. In fact, this low price/big features offerings may even be priced just right to finally reel in customers who traditionally buy generic Chinese Android Tablet PCs (affectionately known as aPads) when it goes on sale worldwide at a later date.
Basis Band (Healthcare)
One of a number of healthcare gadgets showcased at CES 2012, the Basis Band body monitoring system offers a wrist band, linked to an app on your smart phone, that utilises built-in sensors to measure Galvanic Skin Response (an indication of your stress level), calories burned and the amount and quality of your sleep, while also adding heart rate into the mix (which some competitors do not offer). Worn 24 hours a day seven days a week, the Band Basis is one of several similar body monitoring products promoted this year. Others took the form of arm bands, and chest and head straps.
MakerBot Replicator 3D Printer
Another unique innovation was the MakerBot Replicator compact, open source 3D printer, which allows users to produce three dimensional objects, in two colours. The device costs US$ 1,749. According to MakerBot's launch announcement, it "turns raw feedstock, like ABS (what Lego is made of) or PLA (a biodegradable material made from corn), into the objects."
A similar product which was also showcased at CES 2012, the Cube 3D printer, by 3D Systems, also featured functionality similar to that of a traditional 2D printer in addition to inputs from voice and gesture, via Microsoft's Kinect. These were promoted as the world's first consumer 3D printers.
Qualcomm Halo Wireless Electric Vehicles Charger
Taking consumer electronics outside the realm of mobile phones and PCs was Qualcomm's Halo Wireless Electric Vehicles Charger (WEVC), which allows an electric vehicle to be charged by attaching a charging plate to it and parking it on a charging mat. Done through a process known as inductive charging which is currently also available for smaller consumer electronic products such as mobile phones, etc, this process is achieved by transmitting kilowatts, via magnetism, over an "air gap of hundreds of millimetres while still maintaining high-energy transfer electricity." The charger is said to be able to transfer up to 3.5 kilowatts of power at more than 90% efficiency, which is often even better conduction than wired charged.
Samsung Smart Washer Home Appliance
Also demonstrated at CES 2012 was this novel device by Samsung which allows users to use their smartphone or tablet PC to start and change settings of their smart washing machine, at home. Samsung's Smart Washer demoed the Android at Home platform controlled by Samsung's Galaxy Nexus.
Ion Guitar Apprentice iPad guitar
One of the coolest iPad accessories at CES 2012 was without doubt the Ion's Guitar Apprentice, which looks just like a full-scale electric guitar but is actually a fitted iPad holder and app that, when connected to your iPad, turns it into a guitar. This US$ 99 device is meant to be a learning instrument with the same functionality (buttons represent six strings and 14 frets) of a guitar but without the added complexity of cords, amplifiers, pedals, etc. Further, users can learn how chord placement by following lighted LEDs on the instrument's neck.
OpenMobile Application Compatibility Layer
One of the greatest innovations for the Android operating system at CES 2012 did not actually improve Android offerings but, instead, allowed the 'porting' or use of Android apps on other operating systems. OpenMobile's Application Compatibility Layer (ACL) technology allows Android apps to run on any platform, which enables the more than 400,000 Android apps available today to be used by other operating systems such as Windows, Linux, etc. This will also enable Android apps to be used on all tablets, eReaders, smart TVs, smartphones and connected cars.
Other interesting Android innovations included Lenovo's K91SmartTV, the industry's first HDTV to run Android 4.0 (Ice Cream Sandwich), and Pickitup's iOnRoad Android app, which acts as a driving assistant, traffic monitor and even a proximity alarm. All you have to do is mount your phone on the windscreen with its camera facing towards the road.
Tobii Windows 8 "Gaze" Eye Control
And continuing with Windows, Swedish company Tobii previewed its Windows 8 "Gaze" eye control user interface. Currently in testing and expected to be released for professional applications in just two years, Tobii's user interface showed how users could completely control their Windows 8 Metro view with just their eye movements. Where ever they looked the cursor appeared, ready to be commanded.
Mercedes Benz Augmented Reality Windshield
Also present at CES 2012, luxury car maker Mercedes Benz showcased its augmented reality windshield concept. This enhanced user interface which was mounted on the inside of a vehicle's windshield showed how icons would flash up on the windshield when the vehicle approached restaurants, shops, friends' homes etc. Using gesture controls, drivers of this connected car concept could find out more, in real time, such as whether friends were at home, what menu specials were available or what bands were playing at restaurants, etc. while continuing to drive unimpeded.
Samsung Dual View and Dual Sound HD TV
Another Samsung concept demoed at CES 2012 was its dual view and dual sound HD TV. This provides two users to use the same TV to watch two different TV shows at the same time. The two TV shows are overlaid, one atop the other, and each viewer needs separate glasses (with attached earpieces) to watch the particular show they want to see.
MicroVision's Pico Projector with Touch Interactive Display
While Pico (about the size of a greeting card) projectors have been showcased at CES events for a number of years, 2012 saw a further innovation in this miniature projector platform - the addition of an interactive touch display. However, rather than using a touch sensitive screen, Microvision hones in on the finger movements of users standing next to projected images to manipulate what is being projected, etc.
Fujitsu Waterproof Smartphones/Tablets
A further innovation that proved particularly popular at CES 2012 was three waterproof smartphones and one waterproof tablet by Japan's Fujitsu. Currently only available in their home country, these gadgets are expected worldwide by the end of 2012. The tablet' would cost between US$300 and US$500. Waterproof up to 1.5 metres, for as much as 30 minutes, Fujitsu's offerings include: Arrows Ultra Slim Waterproof Smartphone (4-inch, 6.7mm thick body, Android 2.3 OS, 5.1 MP rear camera, Qualcomm MSM 8255 1.4 GHz processor, 1 GB RAM); Arrows WiMAX High Spec Waterproof Smartphone (4.3-inch, OMAP4430 1.2 GHz dual core processor, Android 2.3 OS, 13.1 MP rear camera and 1.3 MP front-facing camera, 1 GB RAM); Windows Phone 7.5 Waterproof Smartphone (Windows Phone 7.5 Mango OS, 3.7-inch, Qualcomm MSM 8655 1GHz processor, 13.2 rear camera, 512 MB RAM); Arrows High Spec Waterproof Tablet (10.1-inch, Android 3.2 OS, OMP4430 1GHz dual core processor, 5.1-MP rear-facing and 1.3-MP front-facing cameras, 1 GB RAM).
LG Netcast Smart TV
Smart TVs such as this one by LG have also seen upgrades for 2012. The new LG device includes a microphone for voice control as well as a scroll wheel to help make traversing its platform quicker, while also offering an add-on Kinect-style camera which will allow you to play games, channel surf or even increase/decrease the volume on your TV by way of simple hand movements.
Verizon's VGo
Utilising telepresence, the four foot tall, 17 pounds robotic mobile device called VGo allows you to attend important meeting while at a different location. It lets you see, hear and interact with your surroundings by controlling the device's movements through software on your own PC. The robot also features a small 6-inch screen with your "face" on it. Besides the office, this device can also be used for other situations such as in healthcare, to monitor patients at a low cost, or in schools, where students with special needs can attend classes remotely.
Vuzix's Thermal and Tactical Monocular Display (Holograms)
By far some of the best proof-of-concepts displayed at CES 2012 were by Vuzix. Created using funding from the US's Defense Advanced Research Projects Agency, the company's Thermal and Tactical Monocular Display utilises a compact "HD display engine" to project images with high contrast that are visible even in outdoor, daylight situations. According to a report on blog tomsguide.com; "Images are relayed to a 1.4 mm polymer waveguide optical lens that fits over the left or right eye, the lens' surface also featuring input and output hologram structures, giving the wearer an interactive heads up display right out of science fiction." Basically, not yet the visible to the naked eye holograms shown in science fiction fan favourite movies such as "Star Wars" but requiring a lens worn over one eye to see the holograms.