Thieves broke into the Colombo Museum early yesterday and got away with valuable artifacts including swords and gold coins, police said. CID detectives were called in to probe how the thieves got into the highly secured museum.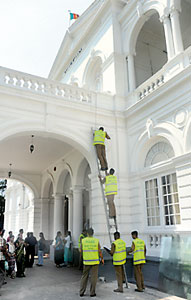 Pic by Saman Kariyawasam
The Cinnamon Gardens police were notified of the incident at around 8.30 am, when the doors of the museum were opened, and officials found that it had been looted The items stolen were from the Kandyan era such as swords and rings on the handles of walking sticks which were used by kandyan kings and VIPs as well as a number of ancient coins.
National Heritage Minister Jagath Balasuriya said yesterday he believed there was help inside-help from the Museum to carry out the robbery. "It could be a contract from antique collectors. We are carrying out a full investigation", he said.
The National Museum's Director General Nanda Wickremesinghe said there were CCTV cameras in place with night-vision capabilities and they are hopeful of nabbing the culprits soon. Police media spokesperson Ajith Rohana said top detectives had been called in and they hoped to identify the suspects through finger-print techniques and the use of sniffer dogs.
He said the Bandaranaike International Airport had also been alerted to prevent anyone from taking the stolen artifacts out of the country. Superintendent Rohana also appealed to the public to provide any information that might help nab the suspects. Meanwhile the museum will remain closed till Tuesday.