"Switch off a bulb at your home during peak hours and save electricity," a message widely promoted by the Ministry of Energy, as a measure of conserving domestic electricity, is receiving a good response, but is often blatantly ignored by commercial establishments and State institutions, the Sunday Times learns
From casinos to shopping complexes, bright lights are on throughout the night.
| | |
| --- | --- |
| | |
| Dr. Kithsiri Dissanayake | R. Padmasiri |
Street lights illuminate not only at nights, but even during the day, ceiling fans rotate above empty chairs in halls in State institutions, at night, computers, printers and photocopiers are not switched off in offices, resulting in electricity wastage.
According to statistics, domestic consumption is about 3,651 Giga Watt-hours (GW-h) followed by industrial consumption of 3,148 GW-h and commercial consumption of 2,224 GW-h. Street lighting takes 130 GW-h.
The highest consumption of about 1,900 Mega Watts (MW) is between 6.30 p.m. and 9.30 pm, and this is the reason why officials are appealing for thrifty domestic usage during these hours. Even during the day, between 8.30 a.m. and 4.30 p.m., consumption peaks to about 1,500 MW, the Sunday Times learns.
The rapid increase in energy drain in commercial establishments and State institutions has prompted the Ministry of Energy to enlighten State and private sector employees on electricity usage.
Minister of Energy- Champika Ranawaka this week said about 12% of the national income of the country was spent on the import of fossil fuels for electricity generation, and that, 25% of the energy supplied to meet user demand is being wasted due to inefficient use of the resource.
Minister Ranawaka also stated that municipal councils and pradeshiya sabha's should strictly enforce the lighting of street lamps from 7 p.m. to 5 a.m. He said that the normal selling price a unit of electricity was Rs 13.37, while electricity generation cost Rs. 21 a unit.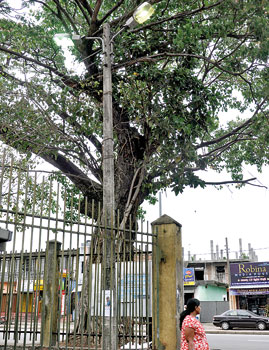 Waste: A street light on in broad daylight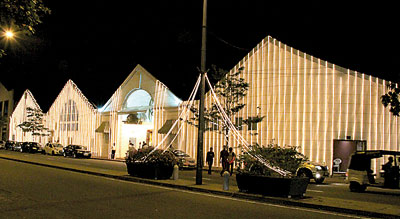 Unnecessary lighting at a casino. Pix by Indika Handuwala and Susantha Liyanawatte
"Air conditioning accounts for 70% of the energy consumption of an office building. Therefore, special attention should be given to energy conservation," the minister said. In an interview with the Sunday Times, Chairman- Sustainable Energy Authority, Eng. Dr. Kithsiri Dissanayake said, "Though the public are responding to our request, the message of saving energy is not being taken seriously by State and private institutions. The argument often is that they pay for the poswer and therefore, they can use as much as they want," he said.
According to him, in many State institutions, ceiling fans operate for many hours and are not switched off during lunch breaks or meetings outside the institution. "Pedestal fans and table fans are more energy efficient than ceiling fans. Therefore, those working in offices with ceiling fans should be concerned about electricity wastage," he said.
He said teams from the Authority will make surprise visits to such offices and instruct them on proper energy usage techniques.A circular was issued recently to ministry secretaries, provincial council secretaries, heads of departments and corporations to appoint a staff officer as energy manager to monitor energy consumption patterns. According to the circular he/she will have to maintain monthly reports of electricity consumption and submit the reports to the authority.
"If electricity consumption or fuel consumption of a particular month does not show a 10% reduction from the average monthly consumption, the reasons for that have to be identified and the target has to be met the following month," the circular said.
Heads of institutions were also asked to promote awareness among the staff. He said It was the practice of local council politicians to put up street lights but some of them were unnecessary leading to wastage of electrity.
The Sunday Times learns that of an average domestic consumption 43.58% is for lights, 21.35% for television and 17.49% for refrigerators, According Energy Management, Sustainable Energy Authority Director R. Padmasiri, Compact Florescent Lamps (CFL) bulbs should be used to light up households and there is a growing demand for them. In 2011, 22.5 million CFL bulbs were imported into the country.
He said domestic power saving had an instant impact on the national grid--switching off one 60 watt (W) bulb during peak time from 6.30 p.m. to 9.30 p.m. can save the country Rs. 640 million a month. "In washing machines, it is advised to use the spinner only if it is essential, otherwise, opt to dry clothes in the sun. We have visited several houses to find that refrigerators contain only a bottle of water or a can of ice cream," Mr. Padmasiri said.
He said it was best to avoid the use of water pumps, washing machines, irons during peak hours, and as the refrigerator is the main consumer of electricity, switching it off for at least two hours a day was recommended.